Giving life
World leading manufacturer of medical training products and medical devices, Laerdal Medical, expands its portfolio and looks towards its manufacturing operations in order to save lives
Founded in the 1940's as a small Norwegian publishing house, the Stavanger based company has gone through a process of evolution to get to the leading medical supplies manufacturer it is today. In the early part of the 1950's the company began manufacturing realistic play dolls from soft plastic, but it was a dramatic family event that prompted Laerdal to apply its experience to the medical industry. At two years old, the son of original founder Asmund Laerdal nearly drowned. This was to be an event that drew to Asmund's attention the general lack of knowledge of resuscitation techniques. Today the son is the chairman of Laerdal Medical, a company that manufactures medical training and first response medical devices including CPR and trauma simulation mannequins, a range of birth, new born and infant simulation technologies and supporting systems. The company remains committed to expanding its portfolio through continuous innovation in order to achieve its vision that no one should die or be disabled unnecessarily during birth or from sudden illness or trauma.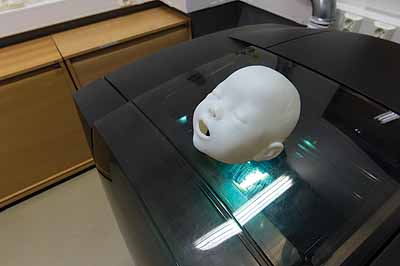 At present the company operates across the globe employing over 1400 people with comsales offices in 23 countries, and R&D and manufacturing at four sites. It manufactures an extensive range of products serving primarily professional health care, volunteer, first aid, education and military sectors. Undoubtedly the most famous example of Laerdal's portfolio, and one of the first, is Resusci-Anne. The mannequin is supplied throughout the world and is based on the principle that if students of first aid were faced with a life-size and life-like mannequin, they would be more inclined to learn the lifesaving procedure. Over the years since, the mannequin has formed the basis for a range of variants from small, more portable versions to highly advanced simulators capable of replicating a number of responses. In support, all can be monitored by remote simulator systems for highly focused medical training.
When Manufacturing Today Europe last featured Laerdal back in 2008, the company's vision was to invest in new technology, world-class methodology and operational competence. One important technological advancement, which has had a significant impact on the market, is the development of the company's SimCenter, which was launched in 2011. The system works alongside patient simulators and provides a fully integrated simulation management platform to be used in advanced medical training procedures. The system includes an online store, which makes a range of training scenarios available and a developer centre for software developers to create more scenarios. A management centre allows for the complete monitoring and development of individual training programmes, and a SimView platform integrates audio and visual systems to provide instantaneous monitoring increasing the effectiveness of a focused debrief. In 2012, in adherence to its focus on continuous improvement, the company followed SimCenter with SimPad, which integrates the system into tablet form. Crucially, the pad can be used alongside less advanced training systems making it much more accessible to sectors outside professional healthcare training, and also makes it easier for educators to tailor training programmes to the individual requirements of their students. The introduction of these systems not only proves the leading position Laerdal has in driving the industry forward, but also serves to illustrate the advanced state of its operational and manufacturing processes.
The vast range of models and simulation tools covered by Laerdal is indicative of the rest of its portfolio. What makes the company unique is this focus on both high and low end products, catering for a broad spectrum within the market from first aid basics, right up to professional medical training and trauma management and also medical devices. However, this spectrum means that Laerdal has to operate a very streamlined manufacturing process across all facilities. By providing highly specialised equipment, alongside mainstream training devices the company experiences both low and high demand levels. By manufacturing only orders that have been sold, the company has developed a refined system of lean manufacturing techniques with the aim to produce high quality products at low volume and with short lead times. Aside to this there is also a strong focus on Strategic Sourcing, supplier development and partnerships as well as outsourcing. Due to the diverse portfolio there is a need to creating better flexibility and a more agile response and support to the demands driven by the extensive product development activities. Leveraging of the buying power through global Category Management of selected component categories is also imperative and is a good basis for developing an even stronger supplier base.
Over the last years, the company has also invested in rapid prototyping and rapid tooling systems and technology, including in house 3D printing. The manufacturing units are participating directly in the product development projects, and makes prototypes for the project teams. The prototypes are used for design assessment and reviews as well as thorough design for manufacturing assessments and planning of manufacturing set-up. In doing so products are developed quicker and design and manufacturing solutions were found more efficiently.
Laerdal has got to where it is today because it is able to identify the right needs in the global healthcare market and is able to use its streamlined and efficient design and manufacturing process to respond. Despite this world leading position, it remains aware that the market must be continuously improved in order to achieve its life saving mission. Looking forward, it focuses on two things: the continued development of manufacturing operations with a strong and streamlined supplier base, and increasing business in Emergency care and Resuscitation through focus on solution selling and products and systems to make medical training more accessible and effective across the world. By doing so the future not only looks bright for Laerdal, but also for the state of the healthcare across the globe.
Laerdal Medical
Products: Specialist medical training and first aid equipment
Sites: Four
Employees: 1400