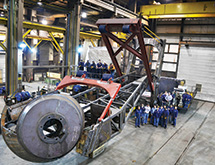 Times are tough in the industries that L&H Industrial serves, but the company has not let turbulent economic times become a setback. Rather, it is working closely with its customers to offer superior solutions and service.
The Gillette, Wyo.-based company is a multifaceted organization known for heavy equipment manufacturing and repair, field service, and design and engineering. L&H Industrial's plethora of offerings, coupled with close relationships with customers, has been a major component of the company's long-term success for more than 50 years.
L&H Industrial was founded in 1964 by Leon Wandler and Hank Barney with six employees. Six years later, the company began performing coal mine repair work and ultimately shifted its focus to serving local coal markets.
The third-generation family operated company works primarily in the mining, oil and gas and railroad markets but also provides custom solutions in other fields. Most notably, L&H Industrial retrofitted the massive crawler NASA uses to transport spacecraft to the launch site. The company drew on its experience improving industrial undercarriages to manufacture, machine and install more than 1,300 parts on the crawler.
"We've got the capacity to work in that industry," says Jim Clikeman, senior vice president. "The lower rollers on the transporter's trucks were very similar to the work we perform on the undercarriages on mining shovels. We work in a number of different industries and draw from our experience and capacity manufacturing and repairing from other industries."
Indeed, it is L&H Industrial's versatility and willingness to adjust to industry challenges that have helped it grow from a small welding and repair shop in Wyoming to a global solutions provider with locations in both the United States and abroad.
L&H Industrial's manufacturing team works closely with customers. Likewise, the field services and design and engineering departments interact with clients to produce machine components, assemblies, modifications and technologies that improve overall machine safety and performance.
Outperforming OEMs
"Our customers want one option for service," says Vice President Jeff Wandler. "We are able to do as good or better a job than the OEMs." In fact, offering superior service to the OEMs is one way L&H Industrial has distinguished itself, he says. "OEMs can go away and the customer has no support," Wandler says. "We can replace the OEMs. We can step in."
Customers prefer L&H to OEMs because the latter often charge higher prices, offer less efficient service and have poor warranty resolution, he says.
Additionally, L&H specializes in custom manufacturing, unlike heavy equipment OEMs that rely on higher-volume production. In the mining, oil and gas and railroads markets and when performing custom solutions, the company performs heavy machine builds, rebuilds and upgrades that require newly manufactured standard or improved components, including retrofits for existing machines as well as legacy machines, Wandler says.
In fact, repairing and rebuilding machinery is a significant part of L&H Industrial's current business, as many customers delay the purchase of new machinery. "When times are tough, people repair machinery, and that's what we're really good at," Wandler says.
L&H Industrial has considered moving into new markets to offset the decline in the sectors it has long served. But making such a transition is not easy. "It takes years to move into a new industry," Clikeman explains. "It's difficult to do. It takes time." Entering new markets is tough primarily because L&H Industrial lacks experience and recognition in other segments, he says. Instead, the company would be better served to stay the course until the industries it serves begin to rebound. "We're living to fight another day," Wandler says.
L&H Industrial has also assembled a worldwide distribution network with providers that share the same mission, vision and values that it has. With global locations and distribution centers, L&H Industrial says it can deliver the parts around the globe.
Versatility and Growth
L&H Industrial has expanded greatly within the past two decades, starting shortly after the company changed its name from L&H Welding and Machine to L&H Industrial.
It opened an office in Chile in 2007 and a facility in Mexico the following year. In 2009, it forged a partnership with Vulcan Industrial of Gujarat in India. L&H Australia opened in 2010 followed by L&H Canada in 2012. Today, the company has offices on five continents and more than 400 employees.