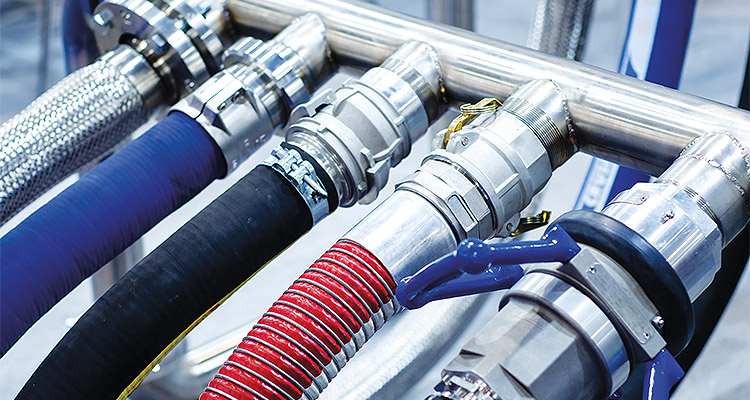 Lamons is leveraging opportunities from its last 75 years to facilitate the next
As one of the largest, privately held gasket, seal, bolt, and hose assembly manufacturers in the world, Lamons works tirelessly to provide industry-leading safety sealing and attachment solutions across the globe.
The company's geographical advantage aids it in offering 24/7 support to its clients, whenever or wherever they may need it, which is one of the many reasons it successfully celebrated turning 75 last year.
"William Lamons established the enterprise as a distribution company for another business, Flexitallic, which is actually our largest competitor today," begins Marc Roberts, CEO. "He initially entered the oil and gas and petrochemical industries by supplying really simple gaskets, but over time we began to grow through acquisitions around the globe, and steadily extended our product range to meet the sealing requirements of a number of other sectors too.
"Slowly but surely, we've added every possible element to our arsenal that a customer could need to seal a joint, which has enabled us to become a one-stop shop. We expanded into hoses in 2016, on account of their use being synonymous with our typical clients' activities.
Expanded offering
"We narrowed it down to the absolute, full-metal-jacket range, which not only withstands higher temperatures and pressures than its competitors, but also has a higher profit margin," he goes on. "This was part of a rightsizing approach that occurred during my tenure and enabled greater scrutiny of our cost structure. We first rightsized our footprint, before addressing the company overall, to align ourselves with the market spaces on which we are most focused."
He continues: "Although we have long-standing relationships with customers such as ExxonMobil, some of which are close to 30 years, in 2021, we brought on Kris Beezley, Senior Vice President of Sales and Strategic Business Development, to lead our efforts on the renewable side.
"This came shortly after our transition from being publicly traded to being owned by a private equity group in 2019, which gave us the flexibility to execute a strategic plan we created in 2018 to diversify our market spaces.
"As the entire energy market is transitioning, we have come to realize that, whether it happens in our lifetime or that of our children, we're coming to the end of the traditional sources we've been reliant on for the last century.
"We're now heading towards geothermal, solar, wind, and hydrogen solutions, which is why Kris' addition is so crucial," he adds. "We're by no means abandoning our traditional business, as it's the foundation that's affording us the opportunity to diversify, and arguably, certain members of those sectors are leading the way. We're just adding more to our product families, to ensure that we can still be a part of the energy market no matter how the landscape looks in another 75 years from now."
Environmental strategy
Lamons is currently looking to expand its Houston-based headquarters to facilitate the implementation of its shift towards renewables, as well as suitable acquisition opportunities to support its entry into the sector.
Elsewhere, the organization has recently invested in a new location in Corpus Christi, TX, as an addition to its six other sites that cater to its Gulf operations.
"On the technology side," explains Kris, joining the conversation, "we have been making significant improvements to our system capabilities. A lot of our Fortune 500 customers prefer to use EDI-based transactions and have automatic reordering systems in place.
"We have devised several mechanisms to fulfil these requirements, including a business-to-business portal in which they can easily organize their purchases. All our advancements in this segment are in place to ultimately make it easier for our end customers to do business with us.
"However, as we're gearing towards new product-type introductions, we're spending a lot of time researching how we can become verticalized in these new markets; to enhance our offerings organically through our own design efforts."
"Additionally," Marc adds, "I see us growing on the technology side as we get deeper into this new realm and attain a more thorough understanding of its requirements. But similarly, it's equally important to ensure that the capabilities of your team and processes evolve at the same rate.
"Through these steps, I am fully confident that we'll be able to gain the levels of access to these spaces that we're aiming for, as you really need all three legs of the stool to be standing, during this kind of journey.
"There's a bit of an oxymoron in our industry today, as although companies such as Lamons found their feet with refineries in the traditional oil and gas arena, we actually have a huge focus on sustainability.
"By measuring our scopes 1 and 2 closely, we know exactly where we're currently at,  and we've leveraged this knowledge to develop our environmental strategy. Once we have adequately lessened our own carbon footprint, we're going to drive it further down our supply chain.
"Then, going forward, we'll ensure that all the products we bring to the marketplace in the future have the lowest possible carbon footprints. This will involve a lot of work with our supply chain partners, even down to the packaging that we use, and for which we're already investigating several returnable options.
"Through looking closer at our operations, here at HQ," Marc concludes, "we have determined that we use around 142,000 gallons of water each month. Now, based on the square footage of our roofs, calculated against Houston's average rainfall, through a rainwater reclamation system, we would actually stand to collect around 185,000 gallons.
"By filtering and treating this newfound source of water in-house, to make it potable, we would be able to not only lessen our footprint in terms of the resources that we draw upon, but also in terms of the chemicals and energy that go into preparing them.
"It's projects like this that mean so much to Lamons, because no matter their size, each of them are steps in the right direction towards a solution to the current environmental climate. I believe, as a planet, we're at a crucial inflection point, and it's going to take businesses such as us to lead the way. There's no time to sit back and let others do the work, we want to do everything we can to support the movement."