Made in the Midlands
Lander Automotive is a leading supplier of manufactured products for vehicles, specialising in fluid and air transfer parts
In 1877, William Lander formed a business in his attic, making bread trays and toast racks from wire. Little did he know that, 140 years later, the fifth generation of his family would go on to specialise in fluid carrying assemblies for vehicles, as well as a number of other parts that are sold throughout the world from Lander Automotive, the company named after its founder.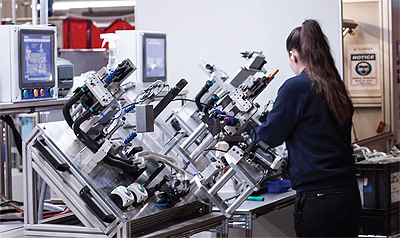 However, while William may be gone, the fifth generation of the family maintains the ethos of a 'family run business' and, as Managing Director Peter Tack insists, this has some big advantages in the modern world: "The organisation is a lot more agile, and this allows for best practice to be introduced quickly. It also means that if an employee has a good idea, it can be taken up without the need for a lengthy application process that could take months for any improvements to be approved."
The company remains based in Birmingham, providing full manufacturing and engineering support. Lander is very focused on efficiency, and there is a strong commitment to lean manufacturing principles and quality control: "This is an important selling point. Stock and variation are our enemies, and the lean approach is something that the team works on continually. The organisation's operational excellence model is based on the European foundation model. Whilst there are no self-marking activities, the principles of this approach are taken on," Peter affirms. There is a directness to how the group handles its work, but equally there are opportunities for people to contribute: "There is space for discussion, but we are strict on managing by data and facts. Equally there is room for people to experiment, and a desire for learning and development. This allows room for our employees to make mistakes if need be, and learn during the process."
Part of this commitment involves taking on 65 new apprentices at the time of writing, an effort that won Lander the National Apprenticeship Award: "The group was delighted with this award as Lander was competing with a number of different industries. Re-populating the workforce has been a priority because a number of welders and other technically multi-skilled employees were approaching retirement age, so there was a need to change that demographic and we did not wish to rely solely on temporary support," Peter explains.
The numbers bear this out as from the initial 65, nine people have moved into functional roles within the first 12 months, showing that not only do the apprentices get much needed experience, but the jobs are very much there for anyone willing to put the work in for them.
On top of the apprenticeship award, Lander also recently won an MX Manufacturer award and Peter is proud that the company's efforts were recognised: "This was in recognition of 'Supply Chain Excellence', and a lot of time and effort was dedicated to improving the process. Lander purchases materials from around the world, so it is important to minimise waste in the pipeline and it is something the company will continue to work on going into 2018," he declares.
This is part of Lander's approach, referred to as 'adaptive engineering solutions'. While chiefly known for fluid carrying systems, the company is looking to diversify and it is this philosophy that is allowing it to increase its product portfolio: "Instead of just giving customers the parts that are regularly associated with Lander, such as the engine and vehicle fit assemblies, there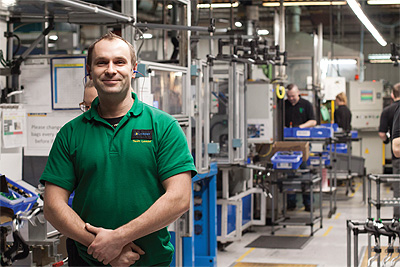 are other vehicle applications that can be supported," Peter states. He also pinpoints the reason for this growth in product options: "As our customers grow there is the desire for suppliers to increase added value. For Lander, this is supported by employing over 50 people with engineering qualifications who can create the engineering solutions to solve problems for a range of clients."
Environmental and safety factors are always present in the decision-making process of the business: "This falls under people and partnership development, whenever working with a third party it is important to have environmental considerations in mind," Peter confirms, though he admits this is an ongoing process: "There is an interaction with health and safety generally, the working environment is our primary consideration to ensure safe operation. In 2018, there will be new activities targeted to reduce our carbon footprint as well as reducing logistic cost and handling issues by sourcing parts from closer to home.
While Lander will continue to be based in Birmingham (and indeed the organisation is proud to be a UK manufacturer), the goal will be to expand and seek out new horizons in 2018: "In the first quarter of next year a new Slovakian facility will be established. As well as maintaining generic growth from existing customers, it will also encourage partnerships with new organisations. This is good news for British manufacturers due to the fact that there has been demand from customers in Thailand and Romania, so being able to provide for these new contracts is a strong signal that Lander can compete in a larger marketplace and there will be growth beyond that," Peter states excitedly.
What won't change is the continuing focus on the individuals that allowed for these big contracts and new markets to happen, something that Peter is clearly passionate about and is keen to emphasise as much as possible: "When you walk around the facility you can see clearly what we are all about. The work that happens here is not just about the product manufactured in a factory, but the continual development of the people that make it happen. It is not just about future planning, there is a drive to be 'best in class' in all disciplines of the business. The organisation is very focused on achieving KPIs, which are used extensively throughout the business."
It is difficult to imagine what someone from William Lander's time would make of the modern world. The range of communication and ability to travel for a Victorian in the 21st century is something that H G Wells would struggle to come up with, and the city itself would be unrecognisable to a Brummie from that time in history. But thankfully, even in this era of instant messaging, emojis and worldwide travelling, the same drive and dedication still exists. While there may be talk of global capabilities and expanded markets at the heart of it, whether it is toast racks or engine parts, this is still a company run by a need for precision, care and dedication.
Lander Automotive
Products: Specialises in fluid and air transfer automotive parts