A case of best practices
By applying the most effective lean production techniques, Lantech Europe has developed thousands of variations of its products to guarantee that customers are always provided with the right machine at the right time
From the moment Lantech was established in 1972, the Kentucky-based company made an impact on the entire world trade. Its owner, Pat Lancaster, invented stretch wrapping, thus completely changing the way pallets of products are unitised for shipping. Today, 80 per cent of pallets worldwide are stabilised by stretch wrapping, a fact that further denotes the
revolution Lantech sparked nearly 50 years ago. On the other side of the Atlantic, a company called Rembrandt Packaging was set up in 1985, when its founder was determined to manufacture the best case erector the world had seen to that point.
As both companies' products were met with enthusiasm by buyers, Lantech and Rembrandt Packaging had their appetite whetted and the two set their sights on the other's market – Lantech would target Europe, and Rembrandt Packaging would demonstrate aspirations to appear in the US market. After unsuccessful attempts to make a breakthrough as individual entities, the businesses decided to come together, so Lantech bought Rembrandt Packaging in 2001, thus forming what we know today as Lantech Europe.
"The European branch of the company, located in the city of Cuijk in the Netherlands, has maintained its competence in the production of case equipment over the years, while the facility in our global headquar ters in Louisville, Kentucky, continues to specialise in stretch wrapping," Lantech Europe's Managing Director, Frank Wijers clarifies. "Following the acquisition, lots of opportunities emerged for us in the US market, which was so big that our sales grew significantly almost immediately," he remembers. Making the most of this progress, Lantech opened a small office in Australia, and in 2017, it expanded into China, too.
Having grown into a truly global company with sales offices scattered all over the world, Lantech has set itself the ambitious task to provide extensive training to its local representatives, so that the latter can respond to customer requirements quickly and efficiently. "We firmly believe that every client needs and deserves to have access to local support after they have received their product from us," Frank insists. "This is the reason why we do our best to train our people, so that they can always be there to help, be it with pure maintenance, or if there is any issue with the machine. Our training consists of three stages – the first teaches people how they can simply use the machine, the second deals with providing basic support, and the third covers a full certification programme, which enables the trainee to fully maintain the whole machine. We see investing in our employees as a key step towards ensuring future growth.
"I think it is possible to standardise our proposition to those customers that operate from offices in multiple countries by offering them local support, regardless of where they are. We also make sure that we train our staff to sell the perfect solution at all times. We really have lots of variations for each product and it is not always easy to configure the right one at the right moment, and this is precisely what we want to do. To advance this, we are currently working on some new configuration tools that can be used without the need of knowing every single detail of the machine."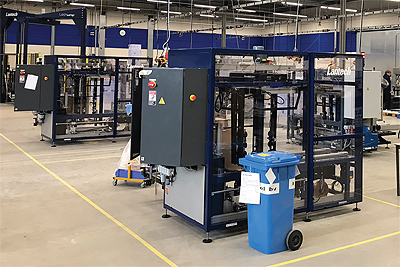 So, what led to the development of such a rich diversity of products? The answer lies in the manufacturing processes Lantech applies across its facilities. "The Louisville factory would initially use the batch production method, but once we started to grow rapidly, we could not carry on doing this, so approximately 20 years ago, we switched to lean production techniques that were quickly incorporated in the European organisation, too," Frank says. "Today, we follow all the best methods of lean production, such as one-piece flow, just-in-time, and maketo- order. We combine these with a modular machine build-up approach that enables us to apply a smart customisation process. For example, if a customer needs a high-speed machine, we can put a different module from the one used for a low-speed machine. This flexibility and modularity means that we can build lots of variations and, I believe, this is where we add real value, because we can offer customised machines and shorten lead times," Frank remarks.
In an attempt to give us a clearer notion of how Lantech puts these principles in practice, he singles out the application of the recently introduced lean wrap technology that flags the company's means of production. "It is much easier for us to manufacture using a human machine interface (HMI) that helps us build a standard for every product. For instance, we can set parameters for a pallet that we expect to carry bottles, therefore is quite heavy, and the machine can come up with suggestions of what wrap patterns will be possible in this specific situation. It is key for us to create predictability and know exactly what the customer will need at any moment, so that we can minimise material waste and the risks of damage during transportation."
Lantech Europe's services find wide application in a variety of industries, particularly food and beverages, and the pharmaceuticals industry, but Frank reveals that an area that has seen a momentous growth in recent years, is ecommerce. "It is not all that complicated to explain why this is happening," he states. "More and more people are shopping online and all these products need to come in a case or a tray, and also stabilised, of course. Moreover, there is a general trend of strong consumerism, and ecommerce, in par ticular, is growing like crazy, because it is so easy to order something and get it delivered to your doorstep two days later."
As Lantech Europe has outgrown its capacity, the company has undertaken steps to relocate to a new facility – a move that will be completed in 2018. "The new factory is not specifically for new equipment, but we are setting it up with a focus on sustainability. It will feature LED lighting and a highly efficient climate control system, and the next step is to investigate the possibilities of using solar energy to power it," Frank reveals. "We hope that this new facility will help us grow further. Our long-term objective involves the continuation of training our people all over the world, and on the production side, adhering to our technological principles, in order to amplify our capability to build the right machine at the right time," he concludes.
Lantech Europe
Proucts: Stretch wrappers and case equipment (erectors, sealers, and packers)