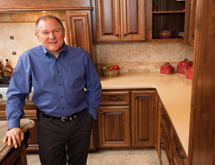 For Lanz Cabinets, it was a change in focus from single-family to multifamily dwellings that triggered rapid growth for the second-generation family company founded in 1960.
"When we took it over it was pretty small," says President Brent Lanz, a member of the company's second generation. "There were about eight to 10 employees manufacturing custom cabinets. It was a mom-and-pop type thing. Since the 1980s until now, we've built it up to 360 employees. So we've really grown over the years. That happened when we changed the focus from single-family to multifamily. Although we still maintain the single-family component of the business, the real growth came from multifamily sales."
Now, about 90 percent of its business is in providing cabinets to architects and developers for multifamily buildings and the remaining 10 percent to single-family homeowners.
During the 1980s, the economy was marked by high interest rates. This hampered the new home market, leading Lanz Cabinets to target rental properties as customers. Other good customers have been military housing and senior housing.
"People choose us because of the durability of our cabinets," Lanz says. "We have thicker materials and use a lot more wood. Everything is made right here in the factory. We start with the raw materials, do our own milling of wood and pretty much all the assembly, finishing and sanding is all done right here in-house."
Lanz Cabinets also utilizes modern technology for computerized cutting and software-designed cabinets. In addition, as it has grown, it has increased its ability to serve larger customers.
"A big developer will want to know: 'Can you handle the size of this project?' 'Can you produce on-time deliveries with good-quality product on the job?' When you are talking about well over a million dollars per order, they want to make sure you have capacity and financial strength to handle the size of the order," Lanz explains.
To do a good job, Lanz Cabinets must meet production schedules, otherwise it risks delaying entire development projects. Cabinet installation usually occurs toward the end of development production schedules, followed by trades such plumbers, electricians and countertop installers. So if the cabinets are late, it could derail the entire process. Lanz Cabinets takes pride in offering on-time installation and service, which other cabinetmakers don't always do, Lanz says.
Family Legacy
Lanz Cabinets was started in 1960 by Darrell and Mary Lanz and taken over in 1982 by oldest son Brent and his wife Lori Lanz.
It has offices across the West Coast and produces about 6,000 cabinets per week. In addition to the 125,000-square-foot production facility, headquarters and adjacent showroom in Eugene, Ore., it also staffs field service centers in Lakewood, Wash.; Sherwood, Ore.; Denver; Sacramento and Rancho Cucamonga, Calif. Its sales efforts are split into the four regional quadrants of the Seattle, Portland, Northern California and Southern California areas.
Better Demographics
For Lanz Cabinets, the market has picked up significantly. "At this point, it's very strong," Lanz says.
Low interest rates have contributed to more projects. In addition, demographic changes have spurred growth in urban living, which, in turn, has triggered new multifamily housing. Tighter mortgage standards also spark more multifamily developments.
Some of the challenges for Lanz Cabinets include regulation, foreign competition and rising healthcare costs. To compete, it relies more on technology and lean manufacturing techniques, Lanz explains. Cabinets are built to order and moved by roll track conveyors directly into trucks to eliminate secondary handling. Cabinet Vision software has been helpful.
Customer service is a top priority. Lanz Cabinets is there following project completion to ensure new cabinets perform to the highest industry standards, the company says. It offers detailed warranties and cabinet care instructions for customers.Replacements parts are always available at local customer service centers.
More Colors
It is now producing smaller batches of cabinets with more colors and designs, and the old days of producing 100 identical cabinets are over, Lanz says. Now, it is likely to fill orders with 10 different colors and 10 different layouts as more kitchens have different designs, floor plans and color schemes. It designs cabinets to fulfill ADA requirements and coordinates with countertop manufacturers.
The forefront of the cabinet industry is located in Italy, Austria and Germany, with cabinetmakers there leading the way in terms of new designs and styles, Lanz says. One recent change has been a trend toward darker finishes, he notes.
In all, Lanz is most proud of its ability to stay competitive while working domestically when most cabinet-makers have moved offshore. Through its team approach, it continues to meet the increased quality expectations of its customers, Lanz says.