Eastern promises from Larox
Larox is a leading manufacturer of industrial filter technology, specialising in solid and liquid filtration equipment and solutions.
Primarily dealing with clients situated in the mining and metallurgy and chemical processing industries, the company prides itself on delivering complete solutions that offer high quality, yield, value, and consistency. The business has a number of filter trademarks, including Larox, Ceramec, Hoesch, Pannevis, Scanmec, and Scheibler, all of which are built on one of three pressure systems: over-pressure designs, including automatic vertical pressure filters; horizontal filter presses and polishing filters; or under-pressure designs, including either horizontal vacuum belt filters, ceramic disc filters and conventional vacuum disc and drum filters.
Larox has recently made the move to expand its operations into the Far East, adding to its engineering and manufacturing facilities located in Lappeenranta, Finland. President and CEO Topi Karppanen outlines the progress: "Through consistent market demand, we have made the decision to establish a subsidiary in China. This will allow us to take care of our customers in this location, while at the same time starting to source activities, components, and structures, and the assembly of filters to be sold in the Chinese and Asian markets. The main market we operate in will be the chemical process industry, which is supported by the slightly smaller mining and metallurgical industry. These are the target sectors that Larox works with, and the company has been present in China in some form since around 1983.
"It is of note that China is the world's largest single filtration equipment market at the moment," Topi states. "Forming a facility in the Far East is a very significant step for Larox, and it is our first subsidiary situated outside of Europe where engineering and assembly belongs to the scope of activities. The new site will assemble the final product, and deliver it to customers in China. So far, we have focused our scope of engineering and manufacturing operations primarily on Europe, as supported by our main manufacturing facilities situated in Finland, with outsourced manufacturing also completed by our partners in central and eastern Europe. In this sense, the Chinese subsidiary will be unique, as it is able to complete both manufacturing and assembly services."
Alongside this penetrative move into lucrative Asian markets, Larox has also announced it will be opening a service centre south of Moscow, providing customer service and spare parts to clients operating in Russia. Topi comments on the situation, and potential future horizons: "The company recently announced that it is forming a service company in Russia, which will store spare and consumable parts and the personnel will work alongside clients in this location. Our move into both China and Russia underlines our commitment to work closely with businesses in these areas, and both of these sites will be up and running around some point in early 2009. Of course, the board of directors will always decide where Larox moves next, but I think that we must be aware of the potential in emerging market areas across the globe, and this will be at the top our agenda. We currently have agencies in India and Brazil, and our expansion into China and Russia emphasises our decision to look outside of Larox's established markets around the globe. It is important not only to sell our products in these markets, but also to be physically present in some form, be that selling, serving customers, manufacturing, assembly, or engineering, or a combination of all."
The last 12 months have also seen the organisation break its own record for the largest individual order received not only once, but twice. In July 2007, Larox agreed to deliver filters to the Talvivaara nickel mine in Sotkamo, Finland. Costing approximately 10 million euros, the company delivered several Pannevis horizontal vacuum belt filters to the mine, which is the largest known sulphide nickel resource in Europe. The Talvivaara Project has an annual nickel output of 33,000 tonnes, and the decision to work with Larox underlines the company's expertise in providing leading mining filtration equipment and technology. This record was broken in November 2007, when the business announced it had received a contract offer valued at 19.5 million euros, to provide equipment to MMX Minas-Rio Mineracao for its Minas-Rio System project in Brazil. Under the details of the agreement, Larox will deliver several units of large size Ceramec Capillary Action Disc Filters for iron ore filtration over 2008 and 2009.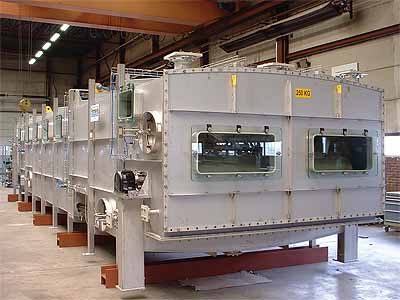 As Topi elaborates: "I think the average business order is growing as a figure, particularly on the mining and metallurgical side. Larox will continue to aim to be a good supplier of equipment for large contracts in these industries, built on the reputation we have established via our previous work. Larox also owns 49 per cent of Larox Flowsys, and we use their product as a vital component in our filter products, and our service organisation flows through their distributionchannels in some parts of the world. We have a common chairman on the board of directors, so both companies are closely linked, but remain largely independent."
Turning to the future, Topi is keen to comment on some of the obstacles Larox may have to overcome in progressing successfully: "One of the major challenges we must face in the future is recruiting highly skilled personnel around the world. We are making significant structural changes to the way that we operate, so there is always a learning curve. There is also a degree of unpredictability in the global economy at this time, but this has not affected our industry too heavily, and I do not see any foreseeable slow down in relation to our business.
"I would like to see Larox continue to penetrate the emerging markets as opportunities arise, both in terms of dealing with customers and sourcing supplies. I would also like to see our turnover eventually double through networking with partner companies, so that we can attract the big business of the mining and chemical industries and receive repeat business," he concludes.
Larox Oyj
Products: Industrial filter technology
Sites: Finland, China, Russia, and global partners
Employees: 500 globally
www.larox.com