Longstanding business relationships and the ability to manufacture many of the products it distributes have contributed to LaSalle Bristol's position as an industry leader. "Our focus is on providing customers quality products on-time, every time," says Rick Karcher, CEO of the Elk­hart-based company. Karcher joined the company in 2007 as its CFO, and was promoted to his current position in January 2009. Before arriving at LaSalle Bristol, he worked for several years at Owens Corning, he says.
LaSalle Bristol distributes and manufactures products for the factory-built housing and recreational vehicle industries.
Products distributed by the company include Congoleum vinyl flooring, ClosetMaid shelving, Delta and Moen faucets. The company also manufactures and distributes its own faucet products under the Utopia brand, as well as air-handling and ductwork products under the Force­flow brand.
"Of the products we sell, we are probably the leading supplier of those to the manufactured housing and RV industries," Karcher says.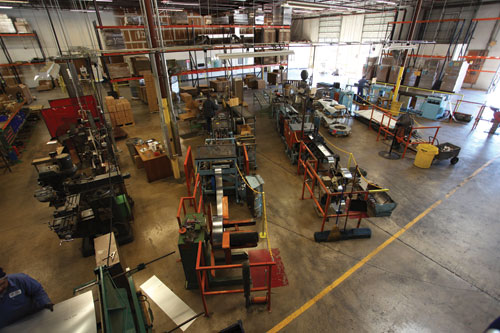 "We have very long-term relationships with all of our major customers and top vendors," he adds. "For ex­ample, our relationship with Con­goleum goes back over 40 years."
LaSalle Bristol operates 16 distribution centers and five manufacturing plants across the country. Many of the distribution centers were opened in the 1950s and 1960s to supply RV and home manufacturer Skyline, which opened plants in markets near those centers. Sky­line remains a top customer, Karcher adds.
Meeting Customers' Needs
LaSalle Bristol manufactures its in-house products under two company subsid­i­aries – BPC Manufacturing, based in Plymouth, Ind; and LaSalle Air Systems, which has locations in Bristol, Ind.; Lakeland, Fla.; San Antonio, Texas; and Riverside, Calif. BPC produces products primarily for the RV market, while LaSalle Air's products serve both the factory-built housing sector and the RV market.
BPC Manufacturing molds and assembles faucets and other plumbing components using 20 injection molding mach­ines ranging in size from 80 to 500 tons. LaSalle Air produces and distributes HVAC components including fiberglass and aluminum ductwork.
The company changes and adapts its product lines to fit customers' needs and changes in the industry, Karcher says. One way this is done is through the use of computer-aided design.
"The focus in RVs in recent years has been toward lighter-weight travel trailers," he adds. "We're seeing more and more emphasis on weight and materials and adapt our products accordingly."
"As designs change in homes, we can adjust the types of products we produce to adapt to those changes fairly quickly."
Driving Efficiency
Both the BPC Manufacturing and LaSalle Air Systems divisions have implemented lean manufacturing practices including single-minute exchange of die (SMED) and 5S. BPC recently established cell manufacturing for faucet production. BPC Manufacturing is ISO-9002 certified, a status it first attained in 1996.
"We've changed the flow of the products from how the raw materials are procured to what each crew member does on the assembly line," Karcher says. "Cell manufacturing allowed us to improve our productivity in the manufacturing of our faucets dramatically."
On the distribution side, LaSalle Bristol plans its inventory around customer demand. "We try to drive our forward days of supply down as low as possible without affecting our customer service, which is a challenge because we're carrying roughly 20,000 SKUs and stocking those in 16 different centers across the country," he adds. "We've had to be really efficient in how we order and where we stock products, and that is reliant on a lot of good communication from the salespeople who are talking to our customers, as well as our buyers in the purchasing department who are ordering products from our vendors."
The company's forward days of supply are the days of supply it has on hand based upon its sales forecast going for­ward.
"The inventory we hold today is for tomorrow's sales, so we look at the sales forecast for the next three months and calculate how many days of supply we have on hand to cover the forecast as opposed to looking backward," Karcher says.
Many of the company's manufacturing clients practice just-in-time inventory management, requiring LaSalle Bris­tol to meet their needs on short notice or provide emergency deliveries often.
"We'll have customers call up and say they're running out of one of our products, and our sales staff will run out and personally deliver to them," Karcher says. "Our customers are running lean in terms of inventory and expect us to have what they need just in time."
Looking Forward
Lean manufacturing and inventory control are two of the ways LaSalle Bristol has addressed the downturn in the economy. The company was hit particularly hard as a result of the flagg­ing housing market, Karcher says.
The number of RVs and factory-built homes has dropped by more than half since the onset of the recession in 2008. To adapt to these changes, La­Salle Bristol reduced staffing from 600 to 308 employees and closed two distribution centers. On the plus side, the company increased its market share in decorative lighting products for factory-built houses.
With the economy beginning to rebound, LaSalle Bristol looks to continue its focus on lean operations and product quality while also pursuing future growth opportunities.
"We're always looking for small manufacturing businesses that could complement our operations," Karcher says.
LaSalle Bristol is a subsidiary of Arran Isle Limited, a United King­dom-based building product distributor. Arran Isle's Hardware division, headquartered in England, distributes market leading brands including Carlisle Brass, Mila and Eurospec throughout Europe, according to the company.