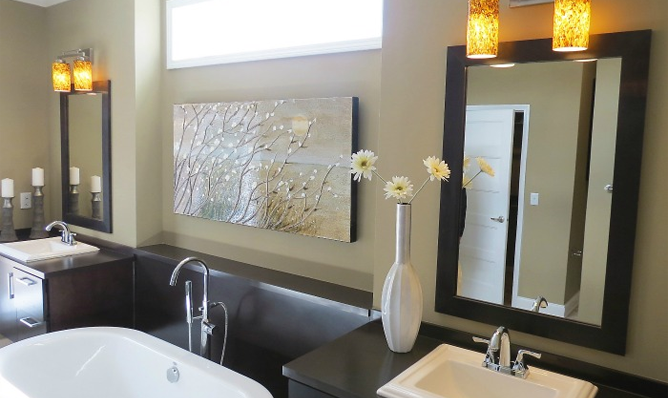 As one of the leading providers of building and plumbing products to the RV and manufactured housing industries LaSalle Bristol faces some strong competition. Nevertheless, President and CEO Rick Karcher says, LaSalle Bristol stands head and shoulders above those competitors because of the company's unwavering focus on delivering on its promises to its customers.
The company has existed in its current form since 1996, when parent company Arran Isle merged two of its acquisitions, LaSalle-Deitch and Bristol Products. However, Bristol Products had been serving customers with plumbing products since 1947 and LaSalle-Deitch supplied building and decorative products beginning in 1961, so the company has had a long-standing presence in the industries they serve. LaSalle Bristol has combined its own internal brands with those of well recognized branded companies to offer a product line that includes lighting, ceiling fans, flooring, air-handling equipment, plumbing, and building and exterior products. Karcher says the company's customer base includes some of the most recognized names in manufactured housing and recreation vehicles. "We sell a wide variety of products to OEMs in both of those markets," Karcher says.
Working together with industry designers to anticipate trends and with upper level customer executives in strategic planning is part of LaSalle Bristol's commitment to putting service first and offering value as well as being an organization that can get things done for its customers.
High Performance
"The core of our business is our on-time, in-full service performance," he says. "We believe that we have the best service performance to our customers in the industry." In 2015, LaSalle Bristol shipped nearly 12.5 million parts per month with a fill rate of 97.7 percent, according to the company. One of the biggest reasons for that success is the company's network of distribution centers, which are strategically located to serve the greatest number of customers throughout North America as quickly as possible.
A subsidiary of Arran Isle Ltd., a management owned, financially solid global company, LaSalle Bristol also has the infrastructure in place to optimize its import sourcing, which results in faster and more economical service for its customers as well as quality assurance and cost productivity. LaSalle Bristol has five full-time employees based in China, where it focuses on import sourcing directly from suppliers in Asia.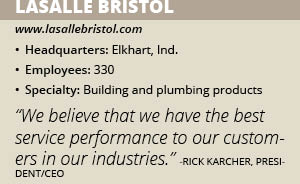 LaSalle Bristol also ensures that it provides customers with the best possible products and service because it has its own in-house manufacturing capabilities for plumbing and air handling components. For the flooring and lighting sides of the business, LaSalle Bristol has technical experts who work out in the field, collaborating with leading industry designers to develop the best possible products for the market's needs. All of this adds up to a significant competitive advantage for the company, according to Karcher. "It's service, it's design and it's technical expertise, and it's import sourcing expertise," he says.
Adapting to Changes
Although LaSalle Bristol still holds a strong position in the marketplace, that doesn't mean the company has been able to ignore some of the ongoing challenges in the industry. Karcher says one of the biggest challenges facing the company and the entire industry today is consolidation, as many smaller independent OEMs are being acquired by larger conglomerates.
"We've had to adapt to that, and what that's really done is challenged us to be a lot more professional in how we market and sell to our customers," Karcher says. "We've really retrained our whole sales organization to sell on value."
Karcher explains that with the dynamics of the marketplace shifting, customers' relationships with suppliers have changed. The days of meeting with customers over a round of golf and lunch are over, and today's larger customers are looking for whomever can provide the best value overall. "In the old days, it was all about price and relationships," Karcher says, adding that customers are more willing to buy directly from manufacturers than in the past, and LaSalle Bristol has to be able to demonstrate its value for their supply chain.
Growth Mindset
However, Karcher notes, LaSalle Bristol is adapting to the new marketplace successfully, and he expects big things for the company in the future. "We're going to be growing," he says. "We're actively exploring additional markets to look at for growth opportunities that could leverage our distribution network across the country."
He notes that this includes looking for new product categories that LaSalle Bristol could add to its current offerings. "We're definitely in a growth mindset," Karcher says.