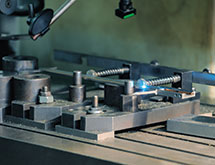 Maintaining a high level of customer service is not a new thing for the manufacturing industry; in fact, most manufacturers have found that quality service is a key way to remain competitive. LaserStar Technologies takes it a step further, however, by addressing "client pain."
"We serve a variety of different markets, and our first goal always is to understand what the client's pain is," President and COO James Gervais explains. "We need to understand what their real need is, what problems are they having and what application they need help with."
A manufacturer of laser sources and systems, LaserStar serves the medical device, electronics, automotive, aerospace, tool and die, jewelry and dental markets with technology for welding, marking, cutting, deep engraving and motion systems. The company continually strives to enhance the quality, performance and innovation of its laser products to help ensure its customers are operating at their highest potential. Based in Rhode Island, LaserStar also has operations in Florida and California.
"We have so many different options available that we spend a lot of time upfront to understand our clients' needs and wants," Gervais says. "There are so many different variables depending on the industry that we are always working together.
"The other value that LaserStar brings to the market is that we are a direct sales organization. End users don't have to muddle through layers of information sharing – we draw on years of expertise when problem solving, which benefits them."
Driving the Market
LaserStar's dedication to quality and innovation, as well as its commitment to working closely with customers, is all part of its effort to remain competitive. "There is a lot of competition, so we really have to listen to clients' needs, as well as their budget," Gervais explains. "At the same time, we need to be aware of where the market is taking us, in terms of the manipulation of hot light."
The company usually takes its products through a 24- to 30-month life cycle, so it is constantly looking to cannibalize its own products and finding ways to improve the quality while reducing costs. "We strive to forecast, steer or drive the laser market to ensure we are first or second in our target marketshare and in meeting the needs of our clients," Gervais says.
The company maintains this by heavily investing in engineering. LaserStar is able to mass-produce its standard products, but it also performs more custom work. Gervais explains customers frequently come to LaserStar that already own one of its machines but want the company's help in other areas. Therefore, the company has its engineering team broken into two parts: one that provides support and enhances its standard parts, and another that focuses on complete solutions and developing additional capabilities and new ways to bundle its products.
In addition to its focused engineering teams, LaserStar's operations as a whole are organized to ensure it is working as efficiently as possible and best serving its customers. The company uses lean manufacturing techniques, just-in-time scheduling and turns its inventory quickly. Gervais notes that it continually works to balance quality with price.
"That is a constant focus," he says. "Not every company in this country can make every component, so we are continuously looking for quality vendors. Germany, Italy and Japan are our biggest competitors, so we have to remain strong against them. We always want to fully understand our own strengths. Can we do this ourselves? Do we have the tools in our toolbox to do this? Can we control the quality better?"
LaserStar ships 30 to 35 percent of its production overseas, and takes pride in the amount of production sold directly into the United States. The company boasts producing the highest-quality micro-welding lasers that are 100 percent produced in the United States.
"The manual welding laser systems, we've been manufacturing them since the '90s," Gervais says. "We produce more than 400 of those machines each year. I can safely say that we are the only company producing them 100 percent in the United States. Because of that, customers are dealing directly with the source and benefit from our application knowledge base. We also have a very diversified laser marking product line allowing clients to select a base laser marking system or a highly sophisticated multi axis programmable marking workstation."
Growing Demand
Gervais explains the past six years have been challenging as the market came out of the financial crisis, but LaserStar weathered the time well because it listens to its customers and works with them. In the last 12 to 18 months, he notes, the market has been very robust, which is yielding greater optimism. The company also continues to invest in new methods and technologies.
"We're working with new laser source technologies for all ranges of applications," he says. "This will allow us to remain on the cutting edge of product development and meet the ever changing needs of our future target markets."
LaserStar also has remained a major player in the market during rough times because of its marketing. Gervais notes "the Internet has been tremendous" because potential customers can passively research its products' capabilities and technical features. LaserStar also produces its own product and process videos to educate its customers, as well as promote its operations.
"This is a business that we built from scratch 25 years ago," Gervais says. "Over the years we have engineered new products and enhanced existing products in our portfolio. A large part of our new business is a result of referrals and we are very proud of that statistic. Organizationally, we have facilities in three states (Rhode Island, Florida and California) allowing us to service our clients on a national level.
"Lastly, we realize that all employment is temporary, yet we have many longstanding employees with 10+ and 20+ year tenure. We built this business from the ground up, and we know that we are only as good as our customers are satisfied."