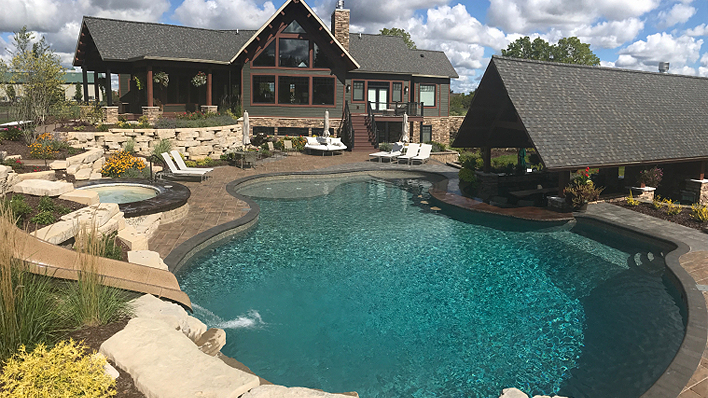 Latham Pool Products sees an increase in demand for fiberglass pools.
As the largest manufacturer of inground residential swimming pools and components in North America, Latham Pool Products sells more than 20,000 new pools and roughly 100,000 liners annually.
There's a reason for that. Aside from more than 60 years of pool manufacturing experience and state-of-the-art driven technology, Latham is known as an innovator in its industry.
The Latham, N.Y.-based pool manufacturer has introduced many new ideas and inventions to the industry. Among them, it invented the first thermoform step that allows people to descend into a pool using steps versus a ladder.
"We were also the first to market the ultra-seam liner which is the world's strongest liner with seams you can't see," Latham CEO Scott Rajeski says. "That was a manufacturing technique we developed to make a stronger liner more aesthetically pleasing to the pool owner."
In addition, Latham was the first to offer custom colors for fiberglass pools. Before Latham, a fiberglass pool came in two colors – white or blue. "We developed custom colors that give you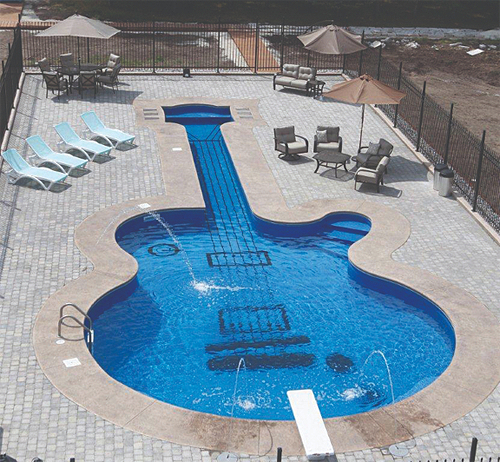 the ability to pick out the color of the water you want," Rajeski adds. "Do you want a Caribbean looking color? A deep blue sea? Or maybe a dark mountain pond color? If you can dream it, we can build it."
In fact, one rich customer – who happens to be a famous entertainer – dreamed up a pool in the shape of his guitar. Latham delivered. The guitar-shaped pool was manufactured in Caribbean blue and guitar strings were painted on its floor. Lathaninfo
Latham pools are available in an extensive variety of sizes and shapes with various custom options that include tanning ledges, benches, waterfalls, spas, bubblers and bars with underwater bar stools. Then there's custom color, tile and lighting to enhance the overall look of the pool.
A Growing Demand
Roughly 50 percent pools installed annually are made of concrete. The others are either made of fiberglass or a vinyl liner pool constructed with either a steel or polymer wall system. The latter two are the types that Latham manufactures. Although vinyl liner pools are still popular, the fiberglass model is catching up quickly.
"The fiberglass pool is quickly becoming one of the most preferred pools in the industry," Rajeski says. "It has an overall lower cost of maintenance than either a concrete or a vinyl pool. You never need to replace the liner like with a vinyl pool and you never have to resurface the pool as you do with a concrete pool."
Concrete pools have to be resurfaced every 10 to 12 years at a significant cost. Vinyl pools require a liner replacement every 8 to 10 years. In addition, both vinyl and concrete pools are susceptible to staining and algae. That's not the case with fiberglass, which is low maintenance and sports a smooth surface compared to a concrete pool that feels much rougher to the touch.
"You won't be scraping up your skin or ruining your bathing suit in a fiberglass pool like you do with a concrete pool," Rajeski says.
Finally, fiberglass pools are much easier and faster to install. "This creates more installation capacity for the builder," Rajeski adds. "It can take three to six months for a concrete pool, vinyl can take from two to four weeks but fiberglass can be done within a week – and sometimes within one to two days with some of the best builders out there."
Due to these reasons, Latham is seeing demand for fiberglass pools growing two times the rate of overall new pool starts. Plus, the company believes that its reputation has helped those numbers grow.
"In the fiberglass arena, we've always been the leader for manufacturing and construction techniques," Rajeski says. "Without giving away the 'how,' we produce a much more durable and longer lasting pool than the competition because we use advanced composite materials."
Leading Brands
Aside from fiberglass and vinyl lining pools, Latham is also known for pool accessories. It manufacturers automatic safety covers, sold and mesh safety covers, above ground liners, three lines of pool steps, spas and tanning ledges.
Founded in 1956, the company has 14 brands that include some of the industry's leading brands such as Viking, Trilogy and Blue Hawaian. Its products are distributed through authorized dealers, value added resellers and wholesale distributors such as POOLCORP, one of the largest global distributors of swimming pool supplies.
Although it doesn't install the pools it manufactures, Latham has its own fleet of delivery vehicles and can deliver a fiberglass pool to its desired destination. Also, the $300 million company sources globally for its raw materials used to produce the various types of pools.
It employs roughly 1,300 people and has 20 locations throughout the United States and Canada. "There are about 75,000 inground pools built each year," Rajeski says. "We sell 20,000 plus pools per year."