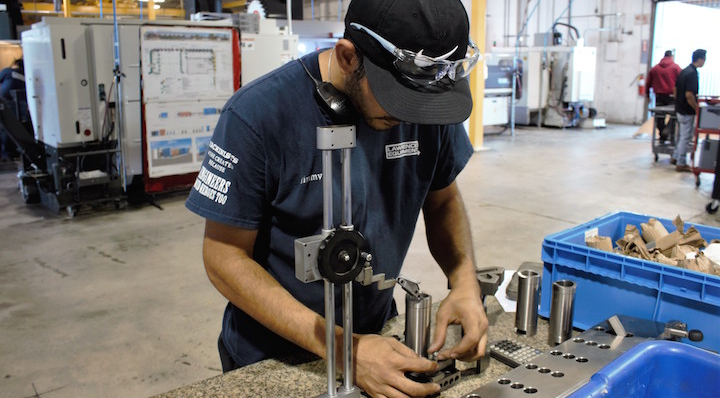 Every culture uses flat bread in its cooking – for Hispanics, the flat bread might be a tortilla; for the Middle East, a pita; and for others, a wrap. Although each type of flat bread is different, their similarities outweigh their differences. So the business of manufacturing automated flat bread production machinery is international.
John Lawrence, owner of Lawrence Equipment Inc., estimates that the company's equipment is sold in more than 50 countries, including in North America, western Europe and the Middle East. Customers range from small retail stores and family run restaurants to the largest Fortune 500 companies manufacturing national flat bread brands.
That consistency allows Lawrence Equipment to manufacture standardized equipment for the flour and corn tortilla markets as well as pizza and other flat bread manufacturing facilities. The company, celebrating its 40th anniversary this year, says it is the premier manufacturer of flat bread machinery in the United States and Europe. It designs, engineers and manufactures the equipment that produces most kinds of flat bread and many fried snacks throughout the world.
Lawrence Equipment reports that it has been a key innovator for the tortilla and pizza industries and has been awarded more than a dozen patents. It also says it has the best organized staff and inventory of spare parts, and is the fastest to respond in the industry.
Among the equipment the company manufactures are machines for automatically manufacturing flour and corn tortillas, chapatti, roti, wraps, pizza and snacks such as tortilla chips. The company offers a two-year manufactured parts warranty and sells used equipment.
Manufacturing Plants
Lawrence Equipment operates a 110,000-square-foot manufacturing facility at its headquarters in South El Monte, Calif. Another 285,000-square-foot manufacturing facility is in Banning, Calif., and a service office is in Breda in the Netherlands. Lead times to receive equipment are approximately 14 months. "We're trying to cut that in half," Lawrence says. "Right now, we're making a whole lot of progress. In six months, we'll have it down to half."
Among the manufacturing improvements that Lawrence Equipment is making is purchasing machines from Haas Automation, which manufactures CNC machining centers, lathes, rotary products, five-axis and mold-making machining centers, tool room machines and gantry routers.
"We bought 10 machines from Haas at once, bought five more and bought two more since then," Lawrence says. "Gene Haas came out with quality, and he gave American manufacturers a value, which was a machine with exceptional service. It's a little high, a little pricey, but the service is incredible, and the machines' performance is incredible." Lawrence Equipment also has purchased new pulse welders.
Machine Testing
Once a flat bread manufacturing system is completed, it is assembled and run for a week to test its performance. "After we test them, we tear them apart, go to the site, hook them up and show the customers how to run and service them," Lawrence says.
To open up floor space for the additional equipment, modular closets have been installed in the factories to store much of the company's parts inventory. "That freed up a huge amount of manufacturing floor space," Lawrence emphasizes. "It really helped us. The cost of ground is high, and you can't get it because of regulations." The company also increased its fleet, adding a dozen environmentally friendly electric vehicles and a half-dozen natural gas trucks.
Lawrence Equipment's employees perform the sales, engineering and the majority of the manufacturing of the company's products. Lawrence attributes the 40-year-old company's longevity to "the hard work of the people that work here. There's no mystery to it."