Industrial service specialists
Leadec offers a wide range of industrial services from a single source
Leadec, a uniquely positioned provider of outsourced services to the UK automotive industry and the wider transport sector, will be promoting its extensive range of services at Automechanika Birmingham 2017 at the NEC in June.
Formerly known as Voith Industrial Services, Leadec will be exhibiting two wheel and tyre assemblies, as well as promoting its key production, facility, and supply chain services.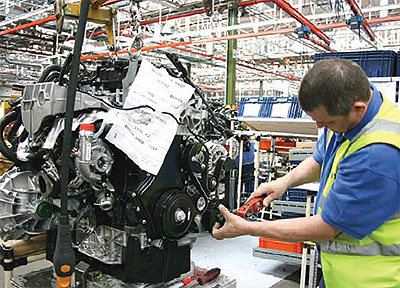 "Automechanika is a significant event for us because it is an opportunity to highlight our change of name and our new Leadec brand," said Phil Spencer, sales and business development director for almost ten years.
"However, it is also important for both existing and potential customers to recognise that Leadec retains essentially the same management, organisation, and quality of service with the same people who have grown the company successfully over the past decade," said Phil.
Over the past five years the company has acquired new customers and increased its turnover in the automotive sector from approx. £30 million to over £100 million. The number of employees, working mainly at customers' sites, has increased from 700 to 2500.
Last September Voith Industrial Services was acquired by Triton Capital Partners that specialises in the private equity investment of medium-sized businesses in northern Europe with total sales of nearly €14 billion. The previous owner, Voith GmbH, retains a 20 per cent stake in Leadec.
Globally the Leadec workforce consists of about 16,600 specialists working in more than 200 locations across 14 countries. In the UK Leadec's clients include major automotive manufacturers such as Jaguar Land Rover, Ford, Vauxhall, and Bentley. Among clients in the supply chain are BP Castrol, Plastic Omnium, and Getrag Ford Transmissions.
At Automechanika Birmingham on stand 19D70 Leadec will be focusing specifically on three types of services to the automotive sector and first tier suppliers. "First there's on-site services – where we work totally on our customers' sites – that include facilities management, managed processes, and technical cleaning of paint shops," said Phil. "In fact we are the world leader in this field carrying out technical cleaning services in paint shops in over 90 car plants globally.
"Secondly, there's assembly services where we have our own brand new dedicated wheel and tyre assembly operation in Coventry. And thirdly, there's projects for companies that are setting up in the UK or expanding or altering their operating facilities. It often involves construction and civil engineering work, and can involve disassembly and re-assembly, or the setting up of new production lines."
Leadec has developed a close relationship with Jaguar Land Rover over many years and recently secured two key contracts as well as winning a prestigious Jaguar Land Rover Quality award. The first contract involves 900 people working on a range of services at Jaguar Land Rover's UK manufacturing plants at Solihull, Castle Bromwich, and Halewood. The work includes technical cleaning services in paint shops as well as electrical, heating, ventilation and air-conditioning maintenance. Other services include janitorial and office cleaning, waste management and buildings.
The second contract with Jaguar Land Rover is for a major facilities management operation for their new state-of-the-art Engine Manufacturing Centre at Wolverhampton. The contract comprises a detailed specification for cleaning, waste, grounds maintenance, landscaping, and winter services. It also includes the maintenance of all facility equipment such as boilers, heating and ventilation systems, chillers and refrigeration equipment and water treatment.
Leadec also has a long-standing relationship with Vauxhall which dates back to the 1990s. It started with cleaning and then small assembly works and grew to assembling safety-critical modules including axles, struts, front corners and sub-frames. Leadec engineers also helped to design and develop a new lay-out for part of the engine assembly line at Luton for the new Vivaro van, in collaboration with GM and its chosen partners. Leadec manages and controls all incoming material for the engine dress process. Employees prepare engine kits, and assemble the gearbox and ancillary parts to the engine.
Leadec's new state-of-the art £5 million wheel and tyre assembly plant in Coventry – the most technically advanced in the UK – was commissioned last summer to meet the growing demand from luxury, premium, and volume automotive manufacturers. The new facility covers 150,000 square feet and is 50 per cent bigger than the old plant it replaces. The latest automated technology completes a wheel and tyre assembly in just 12 seconds compared to 20 seconds on the old line. The Coventry assembly operation is the only one in the UK that can handle wheel sizes between 16 and 24 inches, and can produce 2.5 million assemblies a year on three shifts.
The company's technical expertise and processes from large car plants have also been transferred to the bus and rail sectors. Its Make Ready Services package for cleaning buses and garage facilities includes overnight preparation, exterior and interior cleaning, fuelling, coolant top-ups and shunting vehicles for the following day's service.
In the rail sector Leadec provides similar cleaning services for Alstom-maintained trains on the West Coast mainline operated by Virgin Trains and incorporating Serco Caledonian Sleeper, Northern Rail and East Coast contracts.
Leadec
Services: Provider of outsourced services to the UK automotive industry and the wider transport sector