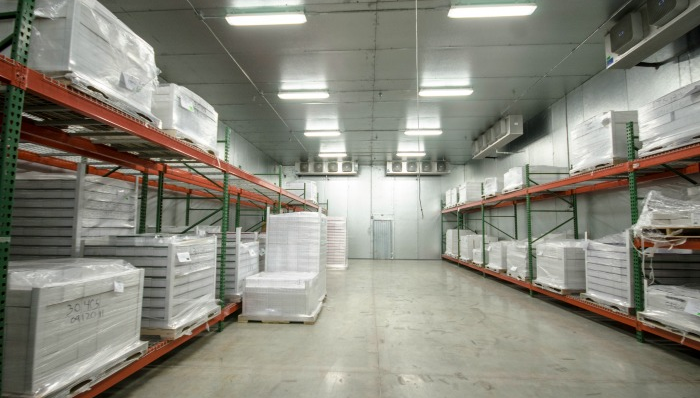 Leader Tech was founded in 1984 and has progressively built a worldwide reputation of highly engineered EMI shielding products. Today, the company employs more than 120 team members in its 42,500-square-foot facility in Tampa, Fla.
"We are relentlessly improving our capabilities and products to become our customers' partner of choice when they require EMI shielding solutions," Director of Quality Systems and Manufacturing Technologies Gary Mandile says.
Setting the Stage
Leader Tech has achieved a number of milestones over the years. In 1994, it patented its standard CBS product line that leads the board-level shielding industry in performance, flexibility and value. Then came the Slot-Lok line of circuit board level shields, which offers cost-effective shielding solution with near-limitless design flexibility.
In 2007, Leader Tech acquired Ferrishield, offering a full line of patented Ferrite Suppressors, RF Absorber Pads and RFID Shielding. Four years later, it opened a brand-new state-of-the-art elastomer manufacturing facility and became the only MIL-SPEC approved and certified manufacturer of all 12 conductive elastomer formulations. All of these capabilities make the company a strong partner for its customers.
"We work closely with customers from early in the design phase, and our engineering support is second to none," Mandile says. "Our extensive network of industry sales professionals extends across all of the country and overseas. When customers need a solution, they can connect directly to engineers that are experienced and knowledgeable on EMI shielding design. This type of support is what sets us apart from our competition."
The company is also doing everything it can to build on relationships with vendors and suppliers. Leader Tech is willing to invest to make its suppliers the best they can be, particularly in terms of knowledge and support investment. The company believes in training its suppliers on quality expectations and works hard to build a culture of collaboration.
"For example, we recently worked with a supplier that had difficulty in processing our parts," Mandile says. "Due to the extensive labor and rework costs, their quoted piece prices were going through the roof. Our engineers worked with their staff to develop a proprietary loading system that reduced their labor by 75 percent, and we manufactured the equipment right in our own facility. These types of success stories are only possible if you understand your suppliers and are willing to make that investment."
One of the many initiatives that Leader Tech is currently working on is related to packaging. Mandile says packaging can become an afterthought in the design and review of a component. Leader Tech has found that the industry standard packaging is just not sufficient for the vast majority of its customers.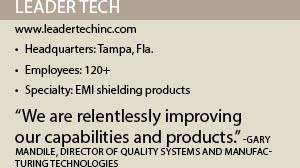 "The scenario is this: spend countless hours designing, developing and manufacturing a highly engineered, tight tolerance, custom made component and then place it in a one-size fits all, industry standard package that may or may not get the part to the customer in the same condition as it left our facility," Mandile says. "That's just not smart. We have made the investment and allocated resources to develop the equipment and processes to manufacture our own custom packaging and tailor make protective and robust packaging solutions for our customers' parts."
Because of this, Leader Tech now has the ability to offer custom, low cost packaging that in many cases are less expensive than off-the-shelf standard offerings. It is that mindset of continuous improvement and customer satisfaction that drives all company initiatives.
Always Moving Forward
As the company looks to the future, it is well aware that many U.S. companies are moving manufacturing and production facilities to China and Mexico.  Although many feel there is no way to compete on price in some cases, Leader Tech feels that it is making very good inroads when it comes to competing on value.
"We want to offer a value proposition that's currently not available when dealing with our competitors in China or Mexico," Mandile says. "Our tooling and design expertise speaks directly to our value. Engineering support is another facet of our company that exhibits our credibility in the EMI shielding community."
Additionally, Leader Tech has embraced laser technology as the future of metal cutting. In the last two years, it has invested in four laser cutting centers that have revolutionized the way it approaches blanking and cutting of its sheet metal and elastomer materials. Between fiber and CO2, Leader Tech has the ability to cut almost any material with a precision only dreamed of in the punching world.
In addition, Leader Tech can now utilize more of its sheet area and have realized a cost savings of more than 25 percent in material usage. Literally within minutes, the company can produce laser cut prototypes for its customers and have them to their doorstep the very next day.
"Investing in these laser centers was critical for Leader Tech to stay in front of the demanding tolerances and exacting specifications of our aerospace and defense partners," Mandile says. "As the technology grows, we see Leader Tech continuing to push the envelope of laser capabilities."
When Leader Tech thinks about its most crucial challenges and priorities in the years ahead, the company is quick to remember that a company is only as good as it's people. Because it can be a challenge to find skilled technicians, toolmakers and operators, ensuring that it can train and develop the next generation of workers is a real priority for Leader Tech. The company is currently developing an apprenticeship program for its skilled trade positions, as well as working with local state and community colleges on internships to provide a conduit for talented workers to find employment within our company.
"Leader Tech was awarded Top Workplace of 2015 by the Tampa Bay Times, and we want to continue that tradition for years to come by investing in our team members and providing an opportunity to excel and contribute to our success," Mandile says.