Three-dimensional success
Recognising the benefits of additive manufacturing technology, KLM Engineering and Maintenance (KLM E&M) has invested in state-of-the-art solutions from Leapfrog 3D Printers
The aircraft repair industry faces many engineering challenges that standard solutions cannot address. KLM E&M is one of the largest aircraft maintenance providers affiliated to an airliner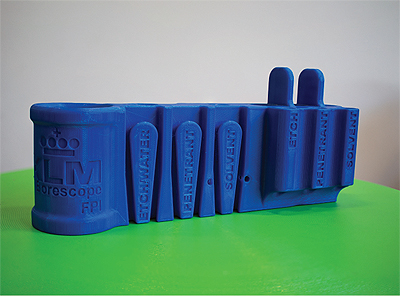 in the world, and it works with over 5000 staff in this field alone, all working on various tasks from prototyping and testing components to ensuring that all planes are fit for travel. The main goal is to certify quality, while keeping costs low.
To better address the challenges that it was facing, KLM E&M adopted 3D printing to enhance its operations. It uses 3D printing to test new designs and for tooling, as the versatility that 3D printing offers, such as speed and cost reduction, is unparalled in the market.
Having more control over the development stages in all key areas means that KLM E&M can provide a complete end-to-end quality assurance system. This also includes rapid prototyping tasks, where tooling and components need to be designed, built and tested internally without any delays in the company's operations. 3D printing is a technology that has rapidly developed to achieve those needs.
The biggest challenge faced by KLM E&M is the issue of unplanned repairs. Unplanned repairs occur over 50 per cent of the time during inspection in a given year in the industry. This means that in most cases, companies are forced to react to this challenges or have a large inventory of spare parts. Given that a standard passenger plane has over 30,000 components that at any point can fail, due to damage or obsolescence, KLM E&M needed the abilty to quickly access spare parts or test components, in order to avoid costly delays for its clients. Additive manufacturing was the direction that KLM E&M took to gain an advantage over its competitors.
Five years ago, KLM bought a Leapfrog Creatr to improve its rapid prototyping lead times for internal tooling. It used the Creatr for tooling and to print cabin components to test before production, and this was the first step that the business took to address the issue of unplanned maintenance. Additive manufacturing gave KLM an advantage that improves lead times across the company, and after using it for years, KLM reported that it was extremely satisfied with its 3D printer.
Thanks to the success of the first installation, KLM recently purchased Leapfrog's latest machine, the Bolt Pro, to further develop its production capabilities. KLM understood that Leapfrog built upon the great foundation laid by the Creatr series and improved upon it. The Bolt Pro has two independent extruders that can print with two materials and the ability to print two identical parts at once; this feature allows KLM to faster depoly its parts and tools across the company. Additionally, the Bolt Pro has the ability to print with high-temperature engineering materials that KLM needs for its operations, which requires parts that are highly durable.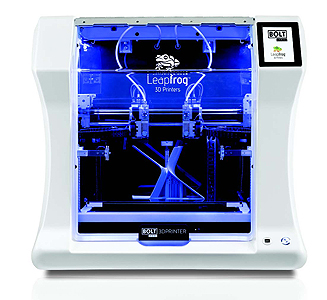 Mr Ottevanger, Process Engineer at KLM stated: "The Bolt Pro is much more reliable than the first 3D printers on the market. Though 3D printing it is still not entirely plug and play, the majority of the prints produced by the Bolt Pro are flawless the first time. The dimensional accuracy of the prints is very good."
Implementing 3D printing is one of the most cost-effective means of eliminating long lead times in manufacturing. Companies that outsource spare parts face issues in the supply chain which can cause delays, but moving rapid prototyping tasks in-house at a fraction of the cost of traditional methods like CNC machining adds to the competitive advantage for KLM E&M. Furthermore, having an in-house 3D printer Printersmeans proprietary designs can remain within the company.
"I certainly recommend the Bolt Pro because of its rigidity, its large print bed and the two print heads which double the print speed once more similar parts are needed. I think the Leapfrog Bolt Pro is very suitable for engineering in prototyping and even producing small series of plastic parts," added Mr Ottevanger
Leapfrog 3D Printers is a manufacturer of professional 3D printers based in the Netherlands. Founded in 2012 by Martijn Otten, it aims to design and manufacture printers that give the ultimate 3D printing experience. Martijn Otten is also the Managing Director of AV Flexologic, a global leader in high-end, high-precision, and high-quality flexo plate mounting equipment, plate making equipment and supporting equipment; and MD of Allflexo b.v. which specialises in the production and distribution of products for the flexographic printing industry.
https://www.flexologic.nl
https://www.lpfrg.com
https://www.allflexo.nl