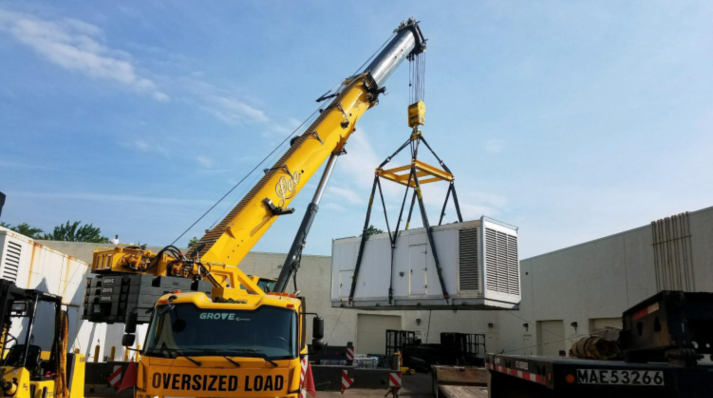 Lee Industrial Contracting
Lee Industrial Contracting specializes in helping manufacturers avoid the hassles and headaches associated with moving heavy machinery and relocating or restructuring their plants.
The Pontiac, Mich.-based company, which will be celebrating its 30th anniversary next year, is a one-stop-shop that offers industrial turn-key solutions.
"Being turn-key sets us apart," says Rachel Ahlgren, marketing specialist. "We self-perform all trades in-house. We have our own electricians, riggers, pipe fitters and foundations staff. This allows us to speed up projects because we control the timeline. We don't have to wait for another contractor to finish before we can begin our portion of the project."
Lee Contracting is a fast-growing national company with a heavy presence in the Midwest. In 2015, its annual revenue totaled roughly $95 million. In 2016, that number climbed to more than $126 million.
"We are continually growing our customer base and our staff," Ahlgren says. "During the last 5 years, Lee Contracting has experienced 20 percent growth year-over-year and we are projected to continue growing 20 percent each year over the next 5 years."
Heavy Duty
Lee Contracting's turn-key solutions include machinery moving, plant relocation and plant restructuring. Its turn-key process includes disconnecting, disassembling, rigging, hauling, placing and reconnecting the equipment.
The company has multiple in-house departments available for plant relocation. Its experienced department estimators review sites and offer solutions to increase productivity and upgrade functionality on the shop floor.
As a one-stop shop, Lee Contracting guarantees minimal downtime due to its ability to work around fully operational production lines.
Account managers work closely with individual customers to ensure budgets are adhered to in the quoting and execution processes of a project. The company also provides each customer with a dedicated project manager who coordinates all trades on-site.
"Our customers expect their projects to move seamlessly, quickly and safely," Ahlgren says. "That's what we offer our customers every day."
Potent And Powerful
Over the years, the company has amassed an impressive number and variety of moving equipment. That includes 324 fleet vehicles, 85 fork trucks, 82 man lifts, 21 pieces of excavation equipment, seven gantry systems, seven die carts and seven cranes.
Standing out among its cranes is the Grove GMK5250L, an all-terrain crane with a maximum lifting capacity of 300 tons. It has a maximum boom length of 240 feet and a maximum jib length of 69 feet.
"Having this crane in our fleet expands our service offerings to our customers," Ahlgren says. "It also makes us unparalleled in the industrial contracting industry."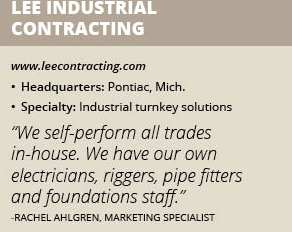 The Grove GMK5250L, which costs more than a $1 million, is designed with a self-rigging auxiliary hoist, saving time and costs associated with operating an assist crane. Its outrigger positions provide more flexibility for job sites and allow the crane to be positioned in tighter spaces.
Another superstar machine among Lee Industrial's elite fleet is the Goldhofer, a hydrostatically powered modular transporter that can accommodate weights up to 500 tons and is regarded as an extremely adaptable and economical transport system.
"It's something unique. Not many companies have a Goldhofer trailer," Ahlgren says. "It's a 10-axel self-propelled machine. The axels move independently of each other allowing it to move sideways. It's often used to move heavy equipment from one side of a plant to another."
In June, Lee Contracting used the Goldhofer transporter to move a 450,000-pound crane from a wind turbine farm in Harbor Beach, Michigan.
"It was the first time that we have used all 10 axels on the Goldhofer," Ahlgren says. "We moved it about 2.5 miles."
Above And Beyond
Lee Contracting started off with a 43,000-square-foot building in Pontiac, Mich. Today, the company has more than 710,000 square feet of space. In 2015, the company became 100 percent employee-owned.
To better serve its customers, the company is open 24/7 all year long. Its vision focuses on exceeding its customers' expectations by utilizing turn-key solutions, partnerships and its empowered employees.
That vision was rewarded when Lee Contracting was named GM Supplier of the Year by General Motors at the auto manufacturer's 26th annual Supplier of the Year awards ceremony in April. GM recognized 132 of its best suppliers from 17 countries who have consistently exceeded GM's expectations, created outstanding value or brought new innovations to the company.
"Being named a GM Supplier of the Year is truly an honor," says Mike Hahn, account manager. "Every single one of our employees works hard every day to ensure that we provide our customers with the best service possible. This award from one of the largest automakers in the world encourages us to continue providing world-class service to all of our customers."
GM's Supplier of the Year award is reserved for suppliers that distinguish themselves by going above and beyond GM's requirements, providing customers with the most innovative technologies and highest quality in the automotive industry.
"We are very proud of our whole team for making this happen – especially our guys in the plants," Ahlgren says. "They have really raised our profile."