Trusted problem solver
LEFFER is on a never-ending quest for broadening its expertise that will help it remain the go-to manufacturer for a number of international companies
Throughout the years, LEFFER has patiently honed its trade, and quietly developed a proficiency that makes it a competent partner for projects in numerous industries. Founded in 1946 by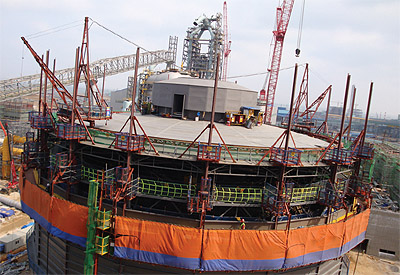 the mechanical engineer Hans Leffer, the company is still a 100 per cent privately-owned, family business, run by Hans' sons and grandsons.
"We have four business divisions today – machinery, pressure vessels and heat exchangers, structural steelwork and gasholders, and industrial services, each operating its own design and engineering offices," Managing Director Andreas Leffer begins. "It is an international business, because the majority of our products are exported. We offer highly-specialised and customised products and solutions to our clients for critical applications in the civil, energy, petrochemical, and steel industries."
At the dawn of LEFFER's operations, the manufacturer was predominantly occupied with repair works it was tasked to do locally, in Saarland, in the wake of World War II. "A lot of civil work was being done in the early days, such as bridges, steel bays, and storage tanks. Soon after, we began to serve the local mining and steel industry, because our region used to be a coal mining and steel producing area. From the 60s onwards, more and more international business started to come our way, especially for pressure vessels and heat exchangers for power stations and refineries. Later on, we were engaged with the nuclear industry, which shaped the basis of our quality standards to which we refer today," Andreas narrates.
Towards the end of the 70s and early in the 80s, LEFFER began to expand into new business areas, which today represent the company's portfolio. Andreas details: "The end of the 70s saw us develop our first specialised machines for the civil engineering industry that drilled large diameter piles for foundations. Around the same time, we started to deliver industrial services, mainly for steel plants and refineries, but also for the food industry. And in the 80s, we acquired MAN's waterless gasholder business to make it another specialty of ours.
"Today, we have our own brand for the products we manufacture in the machinerydepartment, and we want to be associated with the specialised equipment we build. Our big strength is in the construction of heavy duty machines and accessories to drill fully-depthcased large shafts with up to 3.8m diameter. These piles find application in the foundations of tall and heavy buildings like skyscrapers and bridges, erected in difficult environments, where earthquakes are likely or the soil conditions are poor. The drilling method we employ is vibrationfree, meaning that our machines are suitable for drilling piles even in city centres, close to existing buildings. The company has also earned a good reputation in the heat exchangers and pressure vessels sector, where we mainly serve the oil and gas market, and the petrochemical industry. We are able to provide the complete supply chain for key components needed in onshore and offshore applications – from a mechanical and thermal design, up to transport management," Andreas explains. Roughly half of the company's employees are deployed permanently on field sites, performing a wide range of installation works, part of LEFFER's industrial services. He adds: "We have many years of experience in erection work, which might involve pressure pipework, components, vessels, columns, and structural steelwork for chemical and petrochemical plants or waterway steel construction."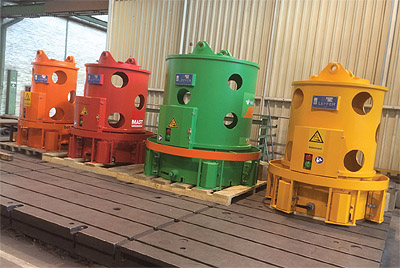 The business has some well-defined principles that separate it from other companies, and contribute to its ongoing success. Andreas sheds light on these: "Our philosophy encompasses the DIY (Do It Yourself) approach, in a way that we want to do as much as possible on our own, withour people. This is the reason why we have very few subcontractors. It is also helping us broaden our skillset. Due to the diversity of our products, we learnt to perform almost every assembly, machining, welding, NDE, surface preparation, and coating activity, on our own." He continues: "We are viewed as a reliable partner, because we are very flexible in our operations. It is crucial for us to deliver our products on time, but what sets us apart is the ability to swiftly respond to emergency orders, where equipment needs to be manufactured or replaced at short notice. We worked hard to make the organisation lean and straightforward, so that we can be available 24/7, and customers can easily reach our management team, or the people directly responsible for their project. We are aware that our clients need our equipment to execute their own critical operations, so we want to instil confidence in them that we are a trustworthy provider who will always be there for them."
Following a good last year for the business, 2018 promises to be even more exciting. News came in recently that LEFFER is going to build the world's strongest hydraulic casing oscillator. The machine is projected to supply a torque of 23,000kN-m with a lifting capacity of 11,780kN. To power the oscillator, LEFFER will also supply hydraulic power packs, providing enough hydraulic output to ensure the safety and efficiency of the working process. The substantial undertaking fits in the line of permanent investments the company makes, aiming to ensure its competitiveness. "We continuously invest in new technologies, especially in machines for various CNC machining operations, as well as welding technologies. We always want to optimise our production facilities, and have the best equipment to keep us relevant and successful," Andreas concludes.
LEFFER
Products: Manufacturer of pressure vessels, heat exchangers, structural steelwork, gasholders, and a range of machinery and accessories