Leggett & Platt Components Europe Limited
Springing into action
Leggett & Platt Components Europe Limited remains at the forefront of innersprings design and manufacture for the bedding industry through a constant drive to enhance its products
Leggett & Platt Components Europe Limited is part of the US group Leggett & Platt Incorporated's International Bedding Components Division, which was formed in 1998 in line with the group's strategy to position itself as the largest supplier of innerspring components to the bedding and furniture industry in key locations such as Europe, South Africa, the Middle East and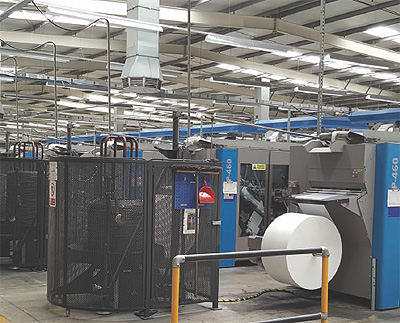 Asia-Pacific. The company works from two UK sites, with a main plant in Barnsley that focuses on the production of pocket spring units and another in Barnoldswick, which produces open-coil type units. The latter of which specifically produces Mira-Coil units for Silentnight – an organisation that it has had a long and highly successful relationship with over the years. Due to the scale of Leggett & Platt Components Europe Limited's two facilities, more than 30 million springs are produced over the course of a week.
Benefiting from being part of the largest innerspring manufacturer in the world, Leggett & Platt Components Limited is able to share knowledge and tap into innovative concepts and ideas that stem from its corporate IDEA Centre, as well as other plants located across the globe. Additionally, thanks to the financial strength of its parent company, Leggett & Platt Components Europe Limited's two plants in the UK have been strengthened following an investment of approximately £18 million in machines, facilities and warehousing over the last five years. Furthermore, when Manufacturing Today Europe last featured Leggett & Platt Components Europe Limited in October 2016, the company had invested more than £100,000 in the learning, development and training of its employees over the last two years.
Over recent months, the company has continued to grow its business through further investment, as Mike Holmes, Managing Director at Leggett & Platt Components Limited comments: "In the previous article we had just installed five advanced pocket-coiling machines and had plans in place to install more. Since then, we have installed an additional five coilers and more capacity on top of that; this investment has allowed us to continue to service all of our customers at the highest level. Alongside our investment in advanced pocket-coiling machines, we have also received the first-of-its-kind pocket-coiling machine. For IP reasons the features of the machine can't be discussed, but I can say initial product trials have proven very exciting; it is an example of cutting edge technology that demonstrates Leggett & Platt's pursuit of innovation and technology. Innovation continues to be key for both us and our customers, and the ongoing investment in new equipment and innovation has continued, culminating in a successful exhibition at Interzum in May 2017."
The company's latest innovation is high-resolution Softech micro-coil technology, which has allowed the company to go high definition with a surface resolution of up to 1380 springs per
square metre. Recommended for use as a performance layer instead of foams and other layering options to deliver a more durable comfort that responds to individual movements, Softech adds extra comfort while increasing coil counts, lasts longer than other comfort layers without sagging or settling and also creates an even support surface. Softech also offers active support as it responds to natural body movements and keeps sleepers from rolling together at night, thus minimising partner disturbance.
As part of a group described as the driving force in bedding technology since it invented the bedspring in 1885, Leggett & Platt International Bedding Components' commitment to innovation and investment is no surprise, as Mike notes: "The continued investment into our UK production facilities ensures that our capacity keeps pace with demand whilst allowing us to develop new products and ideas in partnership with our corporate-based innovation hub – the Leggett & Platt Idea Centre. Obviously, we continuously strive to improve the quality of our products and have just been accredited with the OEKO TEX 100 standard. We have also recently begun to export products into Europe in line with our plan to reduce our dependence on the UK market."
Having recently taken on the role of Managing Director, Mike is keen to use the management experience he honed in South Africa as well as his international business know-how to drive export initiatives at Leggett & Platt Springs UK. On top of this core activity, he will also be ensuring all areas of the business keep up with the fast pace of the industry to ensure customers are satisfied. "We want to give existing and future customers what they need, when they need it, whilst bringing new products, innovation and also building closer and stronger partnerships with clients and suppliers alike. We are growing, which is very positive, and means we are also providing employment for more people; this includes starting four adult apprenticeships in 2017 on a structured training and degree programme while we continue our technical apprenticeship in partnership with the AMRC in Sheffield. Moving forward, we want to continue to be a business with transparent ownership that constantly strives to improve," Mike concludes.
Leggett & Platt Components Europe Limited
Products: Innerspring components