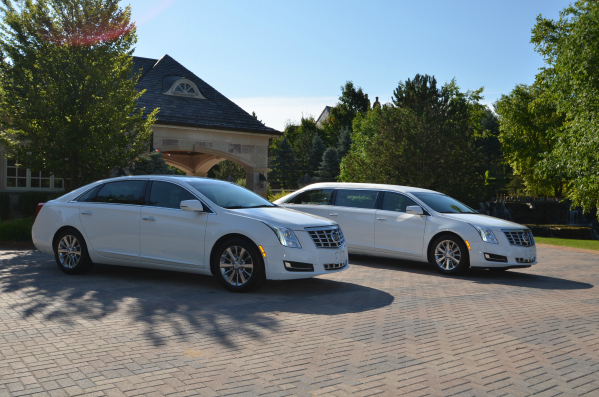 The Moloney family of companies spans over eight decades of manufacturing leadership. The Moloney name in America's manufacturing industry dates back to 1931 when Raymond T. Moloney founded Bally Manufacturing, which became the world's largest manufacturer of coin-operated gaming equipment. Today, its global presence is highly recognized in the manufacturer marketplace.
From there, Earle F. Moloney Sr. founded Comar Electric Company, which became known for designing and producing components for the Apollo Space Program. Additionally, Moloney Sr. founded Molon Motor & Coil Corporation, a premier designer and manufacturer of sub-fractional horsepower motors and gear motors.
With more than 60 years of electrical motor expertise, Molon has successfully applied numerous engineering refinements and technical innovations within a wide range of industries. Today, Molon still specializes in custom AC/DC motors and gear motors, and its products are used in applications such as vending machines, medical equipment, appliances, valves and pumps.
Then, Earle Moloney founded Moloney Coachbuilders in 1968, pioneering the extended wheel-based luxury limousine industry. The company also set high standards for armored security vehicles and served six U.S. Presidents, many heads of states and high profile personalities, including the Queen of England and Elvis Presley.
In 1969, Moloney acquired the assets of Lehmann-Peterson Corporation. At that time, the company was best known for building classic stretches like the Lincoln Continental's of the 1960s-era. The company continued in the sedan conversion business and today produces the Cadillac XTS-L, which has an additional seven-inches of rear leg room and extended rear doors making entry and exit easy.
"Safety has always been Moloney's top priority," Vice President William Kennedy says. "Lehmann-Peterson was recognized as the first non-OEM stretch limousine, which was unveiled at the 1962 Auto Show in New York. Lehmann-Peterson gained a lot of notoriety when Moloney acquired the company, employing George Lehmann and Bob Peterson to produce a high-quality vehicle.
"Today, we are still producing elongated luxury vehicles," Kennedy continues. "Our markets are targeted towards the private sector or the executive traveler of the industry, not the party type vehicle where the OEM design can sometimes be lost. Some companies design vehicles, but forget about the passenger's comfort and that is not the case with Lehmann-Peterson."
Lehmann-Peterson's XTS-L combines OEM design and quality with its trademark structural integrity. The vehicle has an all-steel roof and doors, and contains no composites. According to Kennedy, it is a three-way win for Cadillac, dealerships and customers.
"We have received unsolicited testimonials from both dealers and customers who say what a phenomenal car this is because it has great styling and extra roominess they did not expect," he explains. "In the case of the XTS-L, those extra inches make all the difference to the customers. For example, Dan Hampton, an NFL Hall of Fame football player and former Chicago Bears player, is 6 foot 5 inches and 264 pounds. He was able to sit in the back seat of the seven-inch stretch and told us that it was the first time he was able to sit in the back seat comfortably. Some companies design cars and forget about the passenger's comfort. That is not the case with Lehmann-Peterson."
In addition, Lehmann-Peterson produces a myriad of luxury elongated vehicles, including 55- to 70-inch stretch limousines. The Arlington Heights, Ill.-based operation also caters to the funeral industry, building a 48-inch people mover that meets or exceeds Cadillac OEM specifications.
Setting Standards
With more than five decades of automotive coach building experience and as a Cadillac Master Coachbuilder, Lehmann-Peterson has set the standard in the manufacturing of specialty extended vehicles.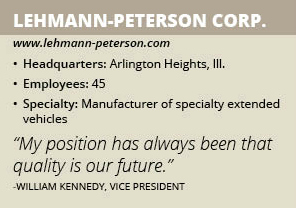 "We keep the original OEM design and brand identification, continuing our tradition of building high-quality professional vehicles," Kennedy says. "Earle Moloney and Lehmann-Peterson have made their mark in the coach building industry. Moloney is a hands-on owner and actually grandfathered the limousine industry having built over 14,000 vehicles that bear the Moloney name. This has always set Lehmann-Peterson apart from our competitors. You do not have many people in the industry with that kind of experience and longevity."
Lehmann-Peterson's product is backed by a four-year/50,000 mile conversion warranty. As a Certified Master Coach Builder, that approval from Cadillac allows the company to elongate its vehicles.
"We concentrate strongly on building a safe and quality product while providing a good warranty," Owner Earle Moloney says. "My philosophy has always been to never compromise safety."
That philosophy for quality and safety was started years ago when Moloney directed the crash test of a Cadillac limousine in 1979 to illustrate the safety of the company's manufacturing methods.
"We crash tested a corporate limousine into a steel barrier at 31 miles per hour," he says. "The vehicle safety score was 100 percent and it exceeded the safety standard at that time, even surprising the Cadillac engineer."
Valuing Employees
Lehmann-Peterson's most valuable investment comes from within the company. "It is all about our employees and it starts from the top down," Moloney says, noting that many of Lehmann-Peterson's employees are skilled craftsmen and have been employed with the company for more than 35 years.
"Every employee has a special skillset," Kennedy says. "What is important is that our employees share their skillsets with each other. This is a constant, ongoing process, allowing one craftsman to train another. All they have to do is listen, watch and learn. "It's a winning combination from the people on the floor doing the manufacturing, right up to the management," he continues. "It's called teamwork, which is what our company was built upon."
Building Relationships
Lehmann-Peterson is not focused on selling products at the lowest price.
"Quality is what is most important to us," Kennedy explains. "We have a very thorough vendor selection program and they have to meet qualifications for us, just like we do for our customers, too. "We have quality standards that suppliers must live up to," he adds. "When we select our vendors we then focus on building good, long-lasting relationships and constantly are assessing their performance."
Future Growth
As a privately owned company, Lehmann-Peterson prides itself on setting its own guidelines for growth.
"We have had a steady growth pattern over the years and follow industry changes, but we evaluate how we fit into those changes," Moloney says. "Right now, our niche is developing the vehicles mentioned earlier and we regularly invest in improvements to our facilities and production processes."
Moloney notes that growth strategy is important because of today's economic climate. "Our current economic condition and how we look at our strategy can be summed up in three words: Made in America. We have a huge American flag proudly displayed on one large wall of our facility," he explains. "We're proud of that tradition, which goes all the way back to the '30s with Ray Moloney, my father, and all the companies they founded in the family who throughout the years employed thousands of people.
"Our 100,000 square foot state-of-the-art facility emphasizes our commitment to manufacturing leadership and serves as a testimonial to our trademark 'quality is our future,'" he continues. "I think pride and quality craftsmanship are important factors in our success, as well as strong leadership and safety. When we take a look at our company, we are proud of what we see."