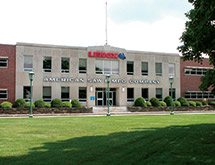 lenox, a newell rubbermaid inc. brand
For more than a century, LENOX has set itself apart through innovation and by doing more than merely selling a product. "When we're talking to plant managers and operations managers, we try to deliver a solution that's going to help them be more productive and increase the efficiency of their sawing department," Director of Marketing Matthew Lacroix explains.
Based in East Longmeadow, Mass., LENOX designs, tests and manufactures industrial band and circular saw blades, power tool accessories and hand tools. The company started operations in 1915, when entrepreneurs John Swanson, Carl Ericson and Carl Davis founded the American Saw & Manufacturing Company and marketed products under the trade name LENOX.
"They identified that the world needed a good supply of high quality hacksaw blades," Senior National Account Manager Brian Rooke explains. "In a small, industrial building in downtown Springfield, [Mass.], they began production."
The company's first product was a hand hacksaw blade that a century later, remains an integral part of LENOX's product line. Eventually, ownership of the firm was fully assumed by the Davis family, which grew it through decades of investment, product and manufacturing innovation, and a strong desire to add value to customers' operations, Rooke says.
During both world wars, "They endured shortages of critical raw materials that made just getting through the week a challenge," he says. "Every  step of the way, they added waves of innovation and expanded their product line to better serve our customers."
These included a line of hole saws in 1959. In 1965, American Saw purchased an electron beam welder, enabling them to be the first to produce American-made bi-metal band saw blades in high volume production. LENOX now offers the broadest portfolio of bi-metal band saws, which comprise the majority of the band saw market. The offering further evolved to include carbide tipped blades in 1985, which are still growing at elevated rates.
Although the Davis family no longer owns LENOX, the company employs a number of families whose members have long worked for it. "My own family – between my siblings, my father, cousins and extended relatives – have 130 years of service and counting," Rooke says.
The Right Combination
LENOX has more than a 30 percent share of its market, Lacroix says. "The way we've gotten there has really been a combination of high-performance products and industry-leading service," he says.
Typically, LENOX's sales team will consult with end-users and develop an understanding of their applications and goals. "Some people want to cut longer or faster. Others want better part finish, so they require less downstream processing on more costly operations," he says.
LENOX then creates products for that particular application. "Once the consultation is done, we have a Sawing Solutions Group that will come into their facility, tune up their saw and make sure that saw is in top working order so you can get the most out of our tooling," Lacroix says.
The company's associates help install the blade, adjust sawing parameters, like the band speed and feed rate, and walk through proper sawing techniques, like blade break-in procedure. "[We] make sure we're helping the customers find the best performance and achieve their cutting goals," Lacroix says.
This allows LENOX to provide an "umbrella of selling solutions," Vice President of Sales Craig Vogel says. "We think we've found something the whole marketplace is calling for."
Pushing Improvements
LENOX has invested strongly in its capacity, productivity, quality and safety, Director of Operations Dave Robinson says. With more manufacturing operations requiring more products, "We're getting pushed for time," he admits. "The current manufacturing methodologies aren't new to us, but the time frames we're pushing to deliver at are. We're pushing what we know and continue to get better at it."
LENOX has gotten better by investing more than $100 million in its Massachusetts-based operations and creating a strategic plan to establish where it should be in the next three years. "[We broke] it down into bite-sized chunks, mainly focused on lean manufacturing techniques," he says.
The company's lean journey has enabled it to identify critical pieces of equipment. By focusing on these bottlenecks, LENOX has been able to increase throughput and drive inventory down in excess of 30 percent. "The good news is we're down that much, which helps us reinvest in other areas of the business," Robinson says.
LENOX is also coming off its best year ever in terms of safety. "Last year, we made nearly 10 billion tooth tips," Robinson says. "All it takes is one to catch somebody. In 2007, we had 40 OSHA recordable accidents. Last year, we had three."
A Growing Segment
LENOX recently invested $12.5 million in carbide band sawing technology. "We've come out with several new products over the past year that are really changing what we deliver to our customers," Robinson says. "It bodes well for everyone involved."
The company's investment was driven by the carbide band segment's growth, Lacroix says. "They're very well suited for the harder-to-cut metals," he says, noting that this trait makes them ideal for aerospace and automotive applications. "Carbides are harder, tougher and more durable than a bi-metal blade."
LENOX offers the MAX CT carbide band saw blade, which has " launched and is doing very well," he reports. "We're also launching Cast Master XL this month, which will deliver superior performance in high-speed aluminum cutting applications."
LENOX  also invested in technology to make these products, including a Vision System, which looks at every carbide blade that leaves the facility, Robinson says. "It tells us how we're doing, tooth by tooth," he states.
"We've also focused our product engineers on the development of new carbide products as well," Lacroix adds. "Because of the aircraft being produced, we're seeing more need for products like MAX CT, [with] more aggressive tooth geometry and sharper teeth.  The team at LENOX is laser focused on delivering products and services that help our end users increase the productivity of their sawing operations."