Making the complex, simple
Lentus Composites offers its customers market leading composite support, from the design phase through after sales services, and everything in-between
Lentus Composites is an engineering led manufacturer of composite products, assemblies and systems for a range of industry sectors. As part of the Polar Technology Management Group, Lentus engages with its customer at whatever level is appropriate. The company has capability to design, analyse, produce prototypes, as well as carry out qualification testing and put parts
into low or high volume production. This vertical integration of the complete design and production cycle forms Lentus' position in the market today. It has the mission to create a composite business that delivers a strong mix of rapid product development and delivery alongside established industry qualified and stable manufacturing processes.
The company designs, develops and produces composite components and complex engineering assemblies typically where the composite elements are the enabling technology within the wider system. Composite design, system design and composite to metal joining are particular areas of expertise for Lentus' design team. It can deliver one-off F1 components in a matter of days through to high volume components and assemblies delivered line-side for MRI applications on time, right first time, every time, every day. Lentus can select the right tools and techniques to develop and manufacture products to suit every customers demanding application. Offering a complete design, engineering and development capability Lentus is not just a manufacturing business, it works in open partnership driven by clear communication and targets and excels in delivering on its commitments.
Lentus operates in a diverse marketplace of many sectors and the team has vast experience of operating in these industries. One area of significant activity is the manufacture of components for Medical Scanners (MRI) and scientific equipment. Motorsport is an area of considerable activity where rapid response quality and delivery are very important. Lentus operates in the sports equipment industries as well as the medical and veterinarian sector. There is an increasing requirement for advanced composite components in the automotive industry for both structural and styling applications. With a strong Aerospace heritage within its team Lentus is poised to sign its first major Aerospace contract to supply critical high speed rotating components for commercial jet engines before the end of 2016.
In order to deliver its products, Lentus has a wide repertoire of processes at its disposal. These processes are selected and optimised for each product whether the requirements is for a filament wound part with specific properties, a multi-axial winding for a pressure vessel or an autoclave cured pre-preg part for an Formula 1 chassis component. Whatever the product Lentus' engineering team will review the requirements for performance, cost, volume and quality and select the most appropriate process from its range. Lentus has the depth of scientific and technical knowledge to adapt processes or develop new processes to suit each project.
Whether it is for the automotive industry, aerospace, medical, or industrial sector, Lentus applies its skills and expertise to a number of composite based solutions. The company has developed its position in the market, and made itself a reliable and consistent supplier to its customers. Managing Director of Lentus Simon Odling discussed some of the key strengths of the business: "We have a diverse range of manufacturing technologies, and a strong engineering team, and we have great capabilities. However, what I would say is a really key feature of Lentus, is the vertical integration we offer, this means right through the whole process we work on every aspect – from design, development, concept, right to volume manufacturing. This enables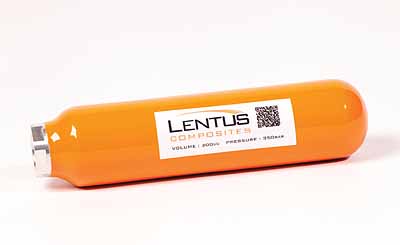 our customers to come to us at any point within the product lifecycle – it can be at the very early stages, or can already have a complete design ready for production. We ensure that the best outcome is always achieved by working with each individual customer – throughout  he life cycle of the product, as opposed to many of our competitors that tend to only offer the manufacturing aspect."
It is no wonder then, with such modern facilities and equipment, and with a talented team ukof engineers that Lentus is expecting a positive future, and Simon provided further details on this: "Our big focus as a business is to continue to growing the business by utilising the capabilities and equipment that we have in place here – we have made heavy investments in technology and the facility over the past two years. This means that we are well positioned to take advantage of this and further develop the existing product lines we currently have, while also branching out and expanding more into other sectors. Lentus has in the past two years built the platform for the company to now accelerate from, we have everything at our disposal to ensure a successful future."
Simon concluded on what was expected in the coming years: "As a business our five year plan takes us to a turnover of between 15 million and 20 million pounds, and an expansion of staff to around 200 employees. Within this period we will diversify significantly, and while maintaining our position in the medical and scientific and motorsport sectors will also make strides in the other sectors Lentus is already growing in." The company might be relatively new, having begun only a few years ago, however the combined experience by those that work there demonstrates that it understands the industry. Simon laid out the vision Lentus has for its future, and there seems little reason to doubt the likelihood of achieving this. The company displays a strong knowledge of the technical and engineering side of the business, while also placing a great focus on its customers and service. Lentus provides the very best expertise, products, and service – from start to finish.
Lentus Composites
Products: Composite products