Wired up
One of the world's leading specialists of silver and nickel plated wire and strands, LEONI Temco Ltd maximises the strong potential it has for further growth in the market through quality, innovation and agility
"LEONI Temco Ltd. is allotted to take over more and more of a key role within LEONI Business Group Conductors and Copper Solutions' global business to provide, in close co-operation with its customers, high-quality and innovative copper and alloy based solutions in the UK and European markets. This strong vision of the whole LEONI Business Group, as well as of
LEONI Temco, means the actual role of purely supplying products and services has to be enhanced to become a comprehensive solution provider for our customers," says Brian Cutts, Managing Director at LEONI Temco.
LEONI Temco's history dates back more than a century ago to 1906, when Harold Smith began manufacturing wire and strands at Trafalgar Colliery. Following a slump in the market, due to the end of World War One, Harold founded Temco in 1920. Focused on making fine stainless steel and nickelchrome wire, the company was incorporated under the Companies Act 1929 in 1947 and progressed into the electroplating of silver and nickel onto copper wire.
What followed for the company over the years, up until 1996 when it was acquired by Leonische Drahtwerke AG (LEONI), were a series of firsts as it blazed a trail in the wire and cable market. For example, in 1986 the company became the first wire manufacturer in Europe to introduce doubletwist bunching for the manufacture of nickel plated copper true concentric and unilay strands and the first European wire producer to achieve ISO9001 certification in 1987. Since its acquisition by LEONI, LEONI Temco has enjoyed a period of investment, with the installation of Europe's only 27 per cent nickel-plating line in 2007, the installation of a cutting edge multi-wire drawing and stranding technology in 2010, and a new ERP system in 2016.
"Nickel-plating is applied to wire products due to its excellent corrosion resistance properties and, in particular, its durability and stability at extremes of temperatures. Of significant importance, and a speciality product of LEONI Temco, is 27 per cent nickel plated copper (NPC), which provides unsurpassed levels of performance. The plating thickness of 27 per cent (by product weight) gives temperature protection of up to 750 degrees Celsius, as well as providing superb corrosion resistance at negative temperatures such as those prevailing in the stratosphere at as low as minus 60 degrees Celsius. Because of these benefits, the 27 per cent NPC is increasingly used in a wide range of applications such as aerospace, military and industrial heating products," Brian continues.
He adds: "Since the installation of the plating line in 2007, a highly-dedicated team of technologists has continually strived to keep improving the process. The plating chemistry has been carefully optimised, thus guaranteeing a nickel-plating structure that is completely uniform and concentric. Furthermore, process control is of paramount importance in ensuring the best nickel-plating quality for subsequent wire drawing. Due to the differences in hardness between the nickel plate and copper substrate, ductility is a particularly critical aspect and is precisely managed, whilst simultaneously maximising the production capacity of this key machine."
Today LEONI Temco is a specialist manufacturer of silver and nickel plated wire and strands for distribution to cable makers across Europe. Its customers are active in a number of sectors such as automotive, aerospace, industrial solutions and telecommunications. An additional speciality lies in the company's wide range of alloy wire products, which find extensive use in infrastructure, automotive and heating system applications. At LEONI Temco, the customer base is divided into internal and external; internal includes LEONI business groups and divisions, while external includes some of the major worldwide cable producers. At present the company is enjoying an increase in demand from Germany, France and the UK.
Thinking about the characteristics of LEONI Temco that have contributed to its ongoing success, Brian comments: "We have had perpetual strong success through brand definition in the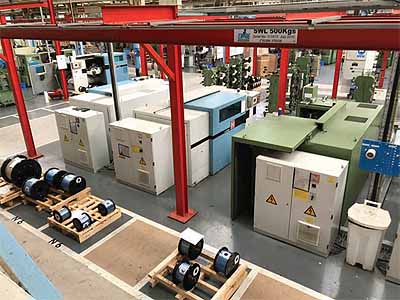 early years of the company, with TEMCO becoming the brand of quality; joining LEONI, the company went on to gain another connection to quality. On top of this, the business and its employees have not been afraid of change and in more recent years have relished the challenges that have come along. We also have a small family culture here that supports the business from day to day as the team maintains a common goal to succeed for themselves and the next generation of platers, wire drawers and stranders in the Royal Forest of Dean."
Although these strengths have played an integral role in LEONI Temco's success, the company's unique selling point remains its nickel plated copper and alloy wires, for which it has a long and pioneering history. No stranger to investment and technological advancement, the company has evolved with the market to ensure the supply of top-grade nickel plated products that satisfy the demand for consistent quality and high product reliability. "Alongside our cutting-edge production line, we also have sophisticated testing techniques that ensure the plating chemistry and process controls are always optimally balanced, thereby depositing precisely the required quality and quantity of nickel, without variance, at any time throughout the lifespan of the electroplating solutions. Such monitoring also allows effective control of plating thickness within tight tolerances, which is an ever-present challenge for the conservation of resources and waste minimisation. These efforts have proven successful in improving quality, capability and capacity well beyond the original design parameters of the equipment acquired in 2007," says Brian.
With 2017 already showing growth in business volume for LEONI Temco, mainly from the automotive sector, the company is keen to expand further in the automotive signal cable market and pursue increased miniaturisation potential within this sector and other transport segments. "We also want to increase nickel plated products due to the introduction of multi-wire technology and see higher volumes in 27 per cent nickel plated copper and aerospace silver plated copper products. Looking to the future, our strong vision is to enhance LEONI Temco's role of purely supplying products and services that showcase the company as being a comprehensive solution provider for our customers in the field of high-quality and innovative copper and alloy based solutions in the UK and European markets," Brian concludes.
LEONI Temco Ltd
Products: Specialist manufacturer of silver and nickel plated wire and strands