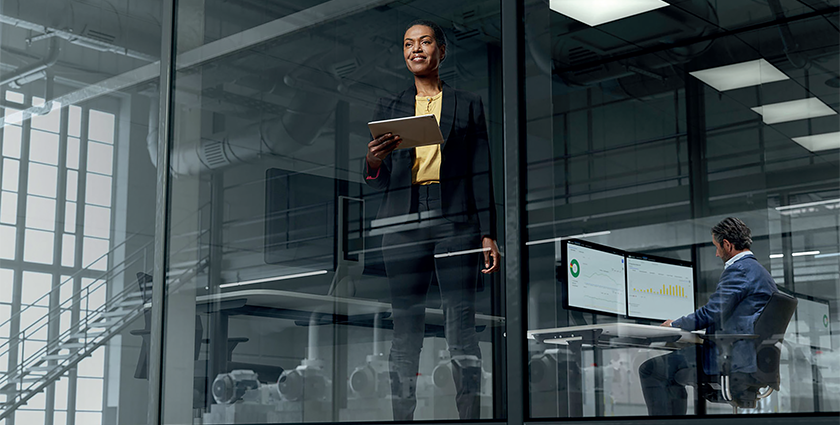 Digitalization and sustainability are two of the biggest drivers of change across industries today1, with an estimated $7 trillion being spent globally on digital transformation between 2020 and 2023.
In 2022, ABB commissioned a global research study which asked more than 700 key decisionmakers from 12 industrial sectors about their digital transformation and sustainability strategies. Ninety-six percent said digitalization was essential to sustainability, but despite almost unanimously agreeing on the importance of it and the pandemic accelerating most companies' digital plans, just 35 percent of those surveyed were implementing industrial IoT at scale.
The fact is most industrial assets are still not connected, and only a fraction of the enormous volume of operational data that industry generates is being used to drive decisions. Manufacturers are missing out on the power to make better decisions using the visibility and understanding that comes with connectivity and analytics – but why?
Making the business case for digitalization
The first challenge our customers face is making the business case for digitalization. Decisionmakers want to see a clear return on investment, and there seems to be a misconception that economics and profitability don't go hand in hand with sustainability.
That is not our experience; thanks to advances in industrial IoT technology, manufacturers can work smarter, not harder using digitalization. It can make operations more efficient, and the same equipment can give more output using the same – or less – energy. Digitalization is an incremental effort too – the more you do, the more you see the value of it.
Some early adopters are sharing the value of digitalization to their businesses through white papers, so industry knowledge is increasing all the time. This can be used to making a more compelling business case, particularly around how digitalization overlaps mega trends like sustainability.
Creating trust in digitalization
Cybersecurity is another major barrier to implementing IoT solutions at scale. Keeping digital systems safe and secure from unauthorized access is incredibly important, and the first thing customers must consider. But we also need to be able to trust the data the system generates. After all, if you are basing decisions on the data provided, it has to be accurate, and nobody should be able to influence it.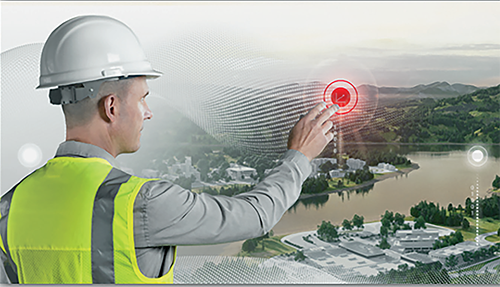 When we started our digital journey with our ABB Ability™ digital platform, cybersecurity was, and still is, top of the agenda. That's why we partner with companies like Microsoft who have invested a great deal in the security of their systems, adding our own guidelines and test protocols as an additional layer to their rigorous security. Without trust in the security and integrity of the data collected by digitalization, actionable insights are on unsteady ground.
Skilled people are needed to implement digital solutions
Digitalization is not just about computers – it needs human knowledge to succeed, from developing the strategy to setting goals. It also needs the input of people with operational knowledge of how assets behave and the input of skilled people who can understand the data collected, clean it and contextualize it into actionable insights. These are distinct skill sets; people with both operational technology and information technology knowledge are few and far between.
Overcoming the skills challenge is not simply about attracting Millennials and Gen Z who are digital natives, as they need to have experience of operating the hardware too. To bridge the knowledge gap between operating technology and information technology, we provide a learning portal with a wide range of training material, that is essential to upskill the workforce. Without suitably skilled people, the insights digitalization offers cannot be understood or actioned.
Reducing energy costs and the transition to renewable energy
The current energy crisis has certainly sharpened manufacturers' focus on how and where they use energy and how this can be done more cost-effectively. Less fossil fuels and a greater integration of renewable energy is essential to reaching net zero targets, reducing costs and becoming more self-reliant. What many don't know is that digitalization is key to making this a reality.
Renewable energy sources are intermittent, but of course manufacturers still need to power equipment when the sun isn't shining, and the wind isn't blowing. Battery energy storage systems (BESS) can be used to store excess energy so that it can be used when generation drops off; digital tools are needed to regulate this new era of self-supply and demand.
As well as meeting sustainability goals, both renewable energy and BESS integrations are tangible outcomes, which can be measured against digitalization investment to show ROI and quantify savings achieved.
New innovations to bring down barriers
Digitalization is always evolving and there are developments on the horizon which will further open the door for manufacturers to implement it. Advances in edge and cloud computing and new business models will shift the emphasis from paying for everything upfront to paying for services on subscription. By moving from CAPEX to OPEX, these cutting-edge technologies will become more affordable.
Advances in Artificial Intelligence and Machine Learning will move digitalization systems on to the next level of functionality, so a system can learn how to read its own data and take actionable insights unsupervised – for example, turning off an asset if its monitoring system detects lead-to-fault conditions.
The impending roll out of 5G will also make digitalization faster. It has better latency and more bandwidth to send and receive information faster, and action it quicker by sending control signals back to take corrective actions.
Looking ahead
If we fast forward five to ten years, we will see a greater convergence of digitalization and sustainability. Together, these megatrends can move the dial on the 35 percent of companies who have implemented IoT at scale, to match the 96 percent who see digitalization's importance to a net zero and profitable future. With new business models, advances in technologies and services and more quantifiable outcomes, the question over digitalization for manufacturers will not be why, but why not. v
1 https://telecoms.com/507803/digital-transformation-spending-forecast-to-skyrocket-to-6-8-trillion/

Sherif El-Meshad
Sherif El-Meshad is Digital Lead, Electrification at ABB. Electrifying the world in a safe, smart and sustainable way, ABB Electrification is a global technology leader in electrical distribution and management from source to socket. As the world's demand for electricity grows, its 50,000+ employees across 100 countries collaborate with customers and partners to transform how people connect, live and work. It develops innovative products, solutions and digital technologies that enable energy efficiency and a low carbon society across all sectors. By applying global scale with local expertise, it shapes and supports global trends, delivers excellence for customers and powers a sustainable future for society.
www.abb.com/electrification