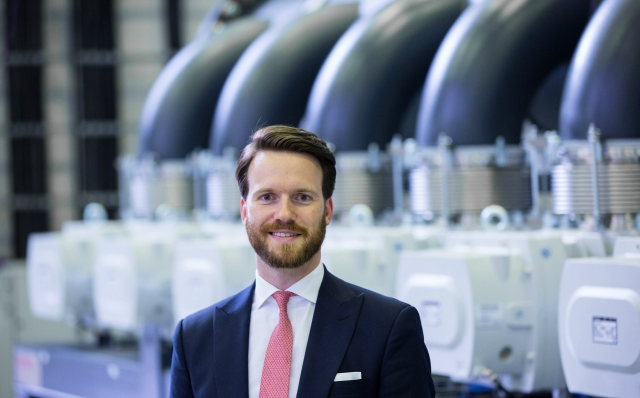 Before satellites are launched into space, they are tested to ensure they can operate in the extreme conditions of space. Leybold plays an important part in the success of satellite missions, with its vacuum technology.
This also includes testing satellite thrusters by recreating "the ultra-low pressures you would find in outer space," Leybold North America President Carl Brockmeyer says. "We are truly a pioneer, not just in the industry, but also in the vacuum technology itself."
Based in Export, Pa., Leybold provides vacuum solutions for research, as well as manufacturing and analytical processes. "It is actually the oldest vacuum company in the world," Brockmeyer says, adding that the firm began operations in 1850.
He explains that Leybold has a long history of pioneering cutting edge products, most notably, the invention of the first molecular pump in 1909. The molecular pump is the forbearer of modern turbomolecular pump technology.  Another recent example is the DRYVAC series, a dry compressing vacuum pump product line.
"A lot of the technologies that we developed decades ago are still in use today," says Brockmeyer. "However, innovation has always been our forte as we continually focus on pushing the envelope of our existing technologies to deliver world class products. We pride ourselves on being the leader in our field." Today, the company is part of the $12 Billion (2016) Atlas Copco group.
In the Loop
Leybold's technology is being used in the realization of the Hyperloop concept, which aims to transport passengers at ultra-high speeds through a low-pressure tube. The technology, Brockmeyer notes, is similar to placing a conventional train in a long tunnel. Leybold's vacuum technology helps to reduce the pressure inside the tunnel that would otherwise resist the speed of the vehicle; allowing the train to run much faster or at conventional speeds with reduced energy requirements.  "A simple example of this is when you drive your car on a highway and hold your hand outside the window.  You can feel a significant impact of the wind pressure, which actually   slows your car down," Brockmeyer says.
"This is another example of how Leybold plays a critical role in helping realize extra-ordinary technical concepts," he says.
Enabling Greatness
The company has achieved its market position by providing more than just standard utility products. "It is much more than your household vacuum cleaner," he adds.
"With our technology, we enable the processes of our customers, increase their production efficiency and help them take their research to the next level," he asserts.
For example, the 2017 Nobel Prize for physics was awarded to research that confirmed the existence of gravitational waves. The optical components that actually detect the gravitational waves are placed in an enormous vacuum chamber at a pressure that is one trillionth of that on earth. "Our technology makes this possible," he adds.
Leybold focuses on more than just product innovation. "For the longest time, people have only relied on having the best product," Brockmeyer says. "But I believe today, this is not sufficient anymore."
Instead, he explains, the company has to be an expert in its clients' businesses so it can better provide the solutions they need. "We can't have our salespeople selling solely on our product features and benefits," he says.
"We have to speak the language of our customers and understand their applications so we can add value to their business as a whole," he explains. "Quite often, our customers are aware that they have vacuum related issues, but they are not confident in their ability to address those issues.
"That is where our know-how and application expertise are imperative in helping them find the best possible solution," he says.
A Broad Reach
Leybold caters solutions and services "to the broadest range of industries that one can imagine," Brockmeyer says. These include the automobile and aerospace industry, food and beverage industry, research institutions, analytical instrument OEMs, semiconductor industry, to name a few.
"Alloys that make up the raw materials of the airplane rotors have to be hardened and treated under special vacuum conditions," he says.
"All digital displays are coated under vacuum conditions as well," he continues, adding that most architectural glass is coated using Leybold vacuum equipment.
"The glass facades in some of the largest buildings in the world including those in Dubai and New York were facilitated by our vacuum solutions," he adds. "Chances are, that your sunglasses are coated using our technology as well."
The food and beverage industry also uses Leybold's technology for production and processing. This includes hermetic sealing of packages. "Most packaged items you would find in a supermarket are packed with the help of vacuum technology," he says, noting that this helps prolong the freshness and shelf life of goods.
Leybold also offers turnkey systems for high vacuum research and pilot-scale experiments. These include experimental systems for thin-film coating, dactyloscopy and space simulation under the flagship UNIVEX product series.
Their latest product offering, the M-UHV Platforms, comprises of modular solutions for ultra-high vacuum research. The M-UHV Platforms facilitate a wide range of analytical techniques, including x-ray photoelectron spectroscopy (XPS), mass spectroscopy, scanning electron microscopy (SEM), scanning tunneling microscopy (STM) and many others. The product line has applications in research pertaining to metallurgy, surface science, catalysis, photovoltaics, interstellar reaction studies, semiconductors and combinatorial material studies, to name a few.
Up to Standard
Manufacturing quality and workplace safety take top priority at Leybold. It strives to comply with all the major regulations, including ISO 9001, ISO 14001 and OHSAS (ISO45001) for all its production sites, worldwide.
Another forte of the company is a dedicated division that not only provides technical consultation to the clients, but also conveys the client requirements to their Systems division. "With this approach, we are able to design, engineer and assemble custom systems that address the exact, and complex requirements of our customers," Brockmeyer says.
"This truly sets us apart from our competition as it offers an extremely unique value proposition to our customers and the concerned industries in general. At the same time, it allows us to assess the core market requirements from a vantage point, which generates excellent feedback for our product development teams."
Product Passion
Brockmeyer is a longtime veteran of Leybold, having joined full time in 2012. He is proud of the company's staff, many of whom have worked there for over 30 years. "It shows me one thing: great passion for the brand, the products, towards our customers and the markets that we play in." Brockmeyer says.
Brockmeyer, who has lived on four different continents and in more than 10 different countries, has worked alongside many employees in his career. But he holds Leybold's in the highest regard. "I have seen my fair share, but this passion is unparalleled to what I have seen in my young career," he declares.
He adds that this enthusiasm is a key factor to the innovation at Leybold. "We are nothing without our talent," he asserts. "Every single employee here is a talent and should be treated that way."
Good Investments
Leybold recently made investments in its North American operations that will help strengthen its partnerships and footprint. "Our team here will continue to do that in 2018 so as to be closer to our customers," Brockmeyer states.
The company plans to invest in its marketing efforts by taking a look at how it communicates with its sectors. "The traditional approach of feet on the ground is great and important for all the complex solutions we sell, but it doesn't cut it for all the markets we are present in," Brockmeyer says.
"There are plenty of prospective customers who don't know our brand and offerings just yet," he explains. "Once we get the foot in the door, we're actually quite successful."
But doing that is becoming more and more difficult, Brockmeyer admits. "This is why we have to keep innovating and continue to set ourselves apart from the competition," he states. "We want to be closer to our customers in order to serve them better."
Leybold also plans on keeping abreast with the technology. "The world is simply changing," he says. "Fifty percent of the jobs our kids are going to do don't exist yet. Our challenge is to evolve with a changing environment and lead our industries going forward.
"We have to plant our seeds today for technologies, business models and applications where we don't necessarily know how we are going to earn revenue yet," he says, noting that the company recently invested in augmented reality technologies to provide remote services.
"We're also invested in connected devices and how we can make our vacuum systems more intelligent," he says. "These are the kind of technologies, business models and cases that we are investing into, so that our customers can benefit down the road."
Exciting Times
Leybold enjoyed strong business in 2017. "It was a great market environment," Brockmeyer notes, adding that this was not driven by one particular industry or trend. "It was the overall industry that was very favorable."
Moving forward, he says, Leybold's growth will be driven by clients upgrading to more energy efficient technologies. "There's a lot of technology installed in the United States and worldwide that is 20 to 30 years old," Brockmeyer says.
"There's new technology out there that is more cost efficient and easier to maintain. Some of our solutions offer more than 25 percent energy saving potential," he explains, noting that many of Leybold's products allow customers to gain more in terms of ergonomics and energy.  "Those are definitely factors driving our growth."
Brockmeyer sees a strong future for Leybold. Recently, he participated in an industry survey where 100 percent of the CEOs polled, shared a positive outlook for 2018. "We have exciting times ahead," he says.
While it is exciting to be in a growth phase, "It's just not enough to grow with the market," Brockmeyer says. "We want to be ahead of the market. This is what we at Leybold are excited about."