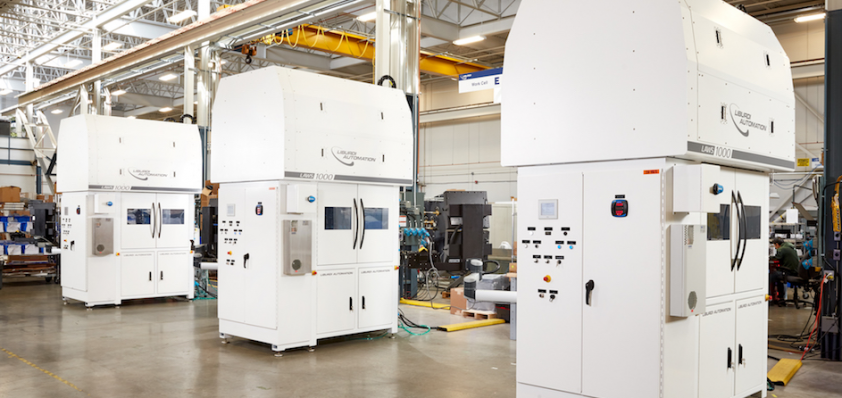 When it comes to automated, vision-based welding systems, Liburdi Automation has stamped out a name for itself in the metallurgical engineering industry.
Liburdi manufactures high-precision, vision-based welding systems, multi-axis articulated motion systems and controllers for welding applications in turbine, aerospace, nuclear, industrial and automotive industries.
"We get involved with a lot of applications for welding in a radioactive environment," Director of Marketing Bob Tollett says. "For example, for those that don't want to put a human at risk, we can design mini robots with vision systems who can go into a reactor and find a defect and repair it."
It specializes in the design, build and implementation of custom solutions for complicated applications. Liburdi will also assist its clients with certifications, big data management and help them implement the system.
"Our package contains everything from design to the integration of a system," Tollett says. "We don't just give them a standard product off the shelf and say goodbye. We offer complete solutions."
Custom Elements  
Not only does Liburdi boast extensive metallurgical, engineering, robotics, controls and vision expertise for new product development and turnkey welding solutions, but it specializes in custom-tailored systems.
"I would say that 95 percent of our systems have a custom element in them," Tollett says. "We'll work with the customer to see what they need to make it applicable to their environment. That's one of our strengths."
Liburdi's automated vision-based welding systems include LAWS, Dabber and Pulsweld power sources. LAWS systems are the industry standard for welding compressor and turbine blades and vanes. "LAWS is probably the more well known in the market for us," Tollett adds. "It's a truly automated system that has vision technology."
The company offers several versions of LAWS systems – all of which include integrated robotics, welding and vision features. Its LAWS vision system has three-dimensional imaging and processing and obtains torch path and weld parameters. It is fully integrated with a PC-based robotic controller for real-time monitoring during the weld process.
"We have 3-D vision, not just 2-D vision," Tollett says. "That's one thing that differentiates us." The Dabber automated welding systems are widely used for seal and rotor applications.
Liburdi also manufacturers a Pulsweld line of precision welding power sources which are renowned for accuracy and repeatability, with proven performance in aerospace, nuclear, medical, automotive, tube mills and research and development applications. The company says Pulsweld power sources, along with Liburdi's patented Variable Polarity systems, are the technologies of choice for critical aerospace welding applications such as space launch vehicles.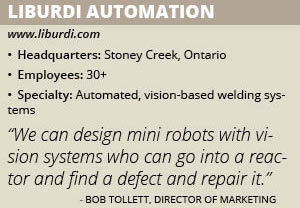 The welding systems can be integrated with wire or powder fillers, complete cell repair, integral vision controls and a choice of a power source process. These include laser (light amplification by stimulated emission of radiation), PAW (plasma arc welding) or GTAW (gas tungsten arc welding).
"Each stands for a different process," Tollett says. "In the welding world, those are the principal areas."
Offering More 
Liburdi offers clients a number of different services that include welding expertise, in-house equipment repair and training.
It offers welding expertise to a variety of industries on a contractual basis. Weld process development using LASER, PAW, GTAW and GMAW techniques are all available as part of the company's collaborative facilities approach. Utilizing Liburdi's in-house metallurgical lab, engineers can work with clients to create weld schedules and necessary operations procedures for hardware.
The company also helps its clients with code-related nuclear applications, aerospace repair development and first article pre-production welding.
Liburdi also services and repairs all of its automated systems in addition to legacy products from Venable, Merrick and Hobart Dabber. From power source calibration to equipment trouble-shooting and power electronics, Liburdi has the equipment and technical staff in analog and digital electronics to solve various problems.
Training is another large part of Liburdi's services. The company offers education about products in operations, maintenance and servicing at two locations: Mooresville, N.C., and Dundas, Ontario. Training is given in a classroom setting and then taken to the shop floor so that trainees experience real-world scenarios.
Industry Pioneers 
For more than 30 years, Liburdi has pioneered in the development of advanced metallurgical processes and technologies to solve the challenges faced by the aerospace, nuclear, oil and gas and energy industries.
"We started as a consulting company for OEMs," Tollett says. "It involved expert testimonials for the aerospace industry. In the mid-'80s, people started asking us to do repairs for gas turbine engine components."
Through innovation and dedication to quality, Liburdi has become the recognized leader in gas turbine repair and life extension technologies, as well as a leading supplier of welding systems.
International qualifications are important for high-tech regulated industries. Liburdi is a certified supplier under AS9100 (Aerospace), ISO9000, Transport Canada Approved Maintenance Organization (FAA), Nadcap, and the International Controlled Goods Program.
The company is prequalified and an authorized supplier for major corporations including commercial airlines, gas turbine engine manufacturers, international and national oil companies, power generation operators and contractors for both nuclear power and conventional energy. mt