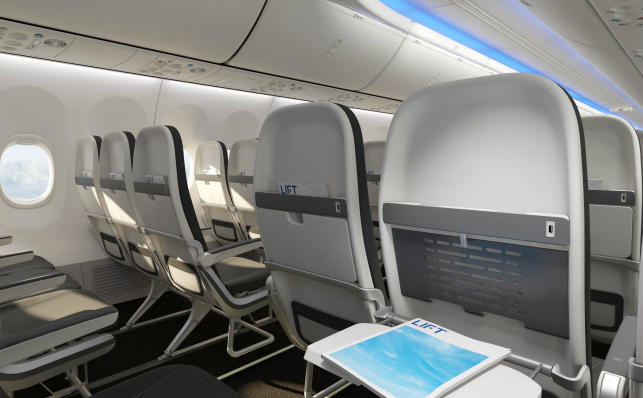 Plane passengers not only want a seat that is comfortable, but also one makes them feel safe and secure. LIFT by EnCore, based in Huntington Beach, Calif., aims to do all those things with its products, Vice President of Development and Strategy Elijah Dobrusin says.
"We want to have an outstanding holistic product," he declares. "We spend a lot of time on making the product comfortable, [as well as] on the aesthetics, the overall design and the maintainability. It should be a complete package."
LIFT is part of the EnCore group, a group of dedicated aerospace companies that Jim Downey and President Tom McFarland founded in 2011. Today, its divisions also include EnCore Interiors, which offers galleys, monuments and interiors; EnCore Composite Structures, which manufactures composite assemblies; and EnCore Mexico in Tijuana, Mexico, which supports all EnCore operations.
LIFT was formed in 2014 to answer the need for commercial seats in the aerospace industry, Dobrusin says. "We saw there is a lot of demand … and there's not of suppliers," he says. "We felt like it was a really great industry to get into."
"We're in a unique position to capture some marketshare," McFarland adds, noting that EnCore's reputation helped LIFT recently become the exclusive catalog supplier of tourist-class seating for Boeing's 737 NG and 737 MAX planes.
The seats will be comfortable while being in accordance with airline requirements, Vice President and General Manager Aram Krikorian asserts. "The airlines are in tune with their customer base and what their passenger expectations are," he says. "Our products need to be at the cutting-edge and really favorable to operators and the end-users."
Wise Investments
LIFT is still in the early stages of production on the 737 seats, Dobrusin says. However, it displayed the first prototype at the Hamburg Aircraft Interiors Expo in 2015. Afterward, Boeing approached Lift about partnering on the seating for the 737.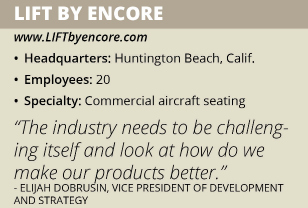 "We spent the past year developing the seat specifically for the 737 spatially and aesthetically," McFarland recalls. "Our partnership was announced at the Aircraft Interiors Expo in April 2016, along with the prototype seat representing the collaboration effort of the past year.
"If you don't start out with something great, you'll never make it great on the other end," he says. "That's really been our focus on how to engineer it right from the start."
As part of that focus, LIFT invested in a dynamic acceleration sled that tests the safety of the seats, in a similar fashion to the way seats are tested in the automotive industry, McFarland adds. "You put dummies in the configurable seat you're going to deliver, shoot it down the sled [and] simulate a crash condition," he explains.
"There's some pretty stringent regulations in that venue," he says, noting that only a few companies in the world have their own in-house capability to conduct the tests. "We can control our own destiny there."
LIFT's recent investments also included a new 100,000-square-foot facility in Mexico. "It's something we had success with in the past," McFarland says, noting that EnCore is only an hour-and-a-half from the Mexican border.
The facility, which took only 18 weeks to build, will take advantage of the quality workforce EnCore has in Mexico. "They're going to do sub-assemblies for us and help keep us cost competitive," Dobrusin says, but notes that all design, development and seat final assembly will be completed in Huntington Beach.
Doing it Better
LIFT is still a relatively new company, but Dobrusin is proud of what it has already accomplished. "We're making an impact in the industry and have people saying, 'Hey, these guys are trying to do it better,'" he says.
"The industry needs to be challenging itself and look at how do we make our products better," he says. "If we can do things a little bit different than other people are doing and be a market disrupter that's exciting for our future."
Part of that process includes taking feedback, Krikorian says. "[We look at] what's resonating with the airlines and what they want to see improve," he says. "Even as we're starting out with our first seating product, we're already thinking in those terms."
LIFT will expand its product portfolio for the next five years to include a full of seating product from economy class to business class, Dobrusin says. However, "We don't want to be the biggest company," he notes. "Our intent is to be a great company as judged by our customers and our employees."
Both Downey and McFarland share this philosophy, he notes. "They want to have an environment where people want to work here," Dobrusin says. "Next for us is to keep growing our product range and grow our company in a way that makes sense."
McFarland also predicts continued success for the EnCore group. "We started five years ago with zero sales," he recalls. "We're hoping to do more than $100 million this year.
"Growth is inherently natural to us," he continues. "The challenge is making sure we continue to execute on that growth. We want to make sure we do what we say and execute."