How Tridonic is delivering smart, sustainable lighting solutions across the globe
Part of the Zumtobel Group (Zumtobel), Tridonic is a provider of efficient lighting solutions for both indoor and outdoor uses. With a focus on sustainability, the business has been a driving force in the development of smart lighting systems for over 60 years, and is a market leader for professional applications, including the education sector, office buildings, hotels, restaurants, and retail outlets, as well as outdoor applications such as street lighting or high-bay solutions in transportation and logistic hubs.
While Zumtobel acts as the parent company, Tridonic operates as a separate legal entity based in Dornbirn, Austria.. It supplies lighting control systems to customers around the world, from its state-of-the-art manufacturing locations in Dornbirn, Austria, Niš in Serbia, Shenzhen, China, and Spennymoor, UK. We sit down with Richard Strode, Tridonic's Managing Director, and Stuart Sloane, Operations Director, to explore the company's latest developments and sustainability initiatives.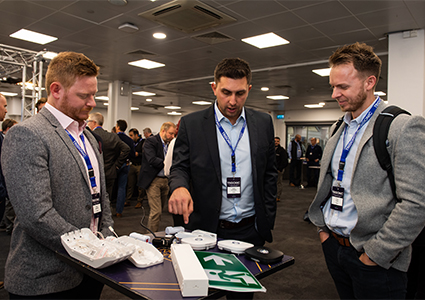 Smart solutions
Tridonic's story began in 1956 with a small office and a handful of enthusiastic engineers who had an ambitious idea to develop and sell compact magnetic ballasts. It has occupied a position at the forefront of market development ever since; introducing electronic ballasts in 1978, digitally dimmable ballasts in 1991, and LEDs that use COB technology.
"Our route to market is via the luminaire OEMs and more recently through system integrators," begins Richard. "The technology we deploy has changed significantly in the 50-plus years we've been operating. Specifically, with the progression of light sources moving from fluorescent to LED, we had to adapt our technology from magnetic to electronic, digital ballasts."
Through mass production and digitalization, Tridonic is now on a journey of connectivity. Today, the business has established a leading role in the industry's emergency lighting solutions. It delivered
the first emergency luminaire in 2017, later developing a wireless emergency system in 2021.
"In the last 15 years, LED changed technology completely with the requirement for AC and DC converters to drive the LED modules," Richard explains. "But the latest evolution is with controls and solutions, as our devices become much smarter and are rich in data, with systems connecting via wired and wireless networks making the interoperability between multiple building platforms possible.
"The extraction and use of such data, coupled with sustainability challenges and predictive maintenance, have propelled us into multiple opportunities beyond lighting. We're using the lighting network to leverage sensors around space utilization and air quality, for example, and the UK is our center of excellence for emergency lighting, as we design, manufacture, and distribute these products across the globe, all from our factory in Spennymoor."
Today, Tridonic designs, manufactures, and distributes LED drivers, LED lighting modules, multiple sensor platforms, emergency lighting invertors, and associated batteries, as well as complete control solutions in either wired or wireless formats for various applications, sectors and environments.
"We offer our clients in-depth training and provide commissioning support, aftersales service, and all facets to support the uptake of our products and solutions," Richard elaborates. "We regularly get involved with discussions on topical challenges and opportunities as the lighting industry continues to evolve around the building performance agenda."
Circularity strategy
Turning to sustainability, Richard explains: "Electronics are the most complex raw material in a luminaire, so we decided to pursue Cradle to Cradle (C2C) certification, as part of the Cradle to Cradle Products Innovation Institute, on our latest LED modules and drivers to aid our customers in producing C2C-certified luminaires.
"The entire process starts at the design stage and aims to adhere to the following principles: reduction in the number of components through innovative design, removal of toxic materials, an increase in recycled and recyclable content, and the highest efficiency to maximize the product's service life.
"Obtaining C2C certification not only covers the physical manufacturing process, but also the production methods, to ensure they have the lowest possible environmental impact," he continues. "It also looks at social elements, such as sourcing materials from certified suppliers and and ensuring positive impacts throughout the supply chain.
"So, we had to consider each stage of the process, ensuring that we could deliver a top-quality product with the lowest environmental impact within the realms of what technologies and materials are currently available," Richard recalls. This contemporary design philosophy will be maintained throughout the company, with Tridonic aiming to achieve C2C certification for all its premium products by 2030.
"Sustainability is about the balance between environmental, social, and economic factors," Richard states. "As a major lighting component manufacturer, it is our responsibility to demonstrate the highest principles to the market and support all stakeholders. Our customers can now source C2C-certified LED modules to help them create luminaires that are the same high quality but have less environmental impact."
Stuart agrees: "We're aiming to achieve our own target of climate neutrality by 2025 (Scope 1 and 2), while supporting our customer base and wider network of contractors to obtain the most efficient lighting solutions. We're also focused on recycling; we aim to adopt fully recyclable packaging by the end of 2024 and achieve an internal waste recycling rate of 95 percent by 2030."
With sustainability and energy efficiency at its core, Tridonic is delivering solutions that eliminate the need for consumers to use less sustainable products, meeting the needs of today's market, as well as future demand. Richard elaborates: "By ensuring that our products can deliver the required operational performance at installation, we help to minimize the carbon impact of a lighting installation not only when first delivered, but through its entire operating cycle. Most of our products have Environmental Product Declarations (EPDs) that show the environmental performance throughout their life cycle.
"As our products become more 'data rich,' our ability to impact building performance in areas of sustainability, health and wellbeing, and compliance, becomes more tangible," Richard concludes. "The industry continues to evolve, and so our opportunity to provide data analysis and dashboards expands, ultimately changing the direction of the business to a more services-oriented offering."
Stuart adds: "We will continue our path of digitalization, increasing connectivity and data analysis. Within our manufacturing processes, we will continue to drive automation while upskilling current employees to prepare the business for the next generation."