The United States Department of Agriculture reported a total of 131 recalls last year that affected more than 20.8-million pounds of food. In April, more than 200-million eggs were voluntarily recalled – reportedly the largest in the United States since 2010 – over fears of salmonella.
In 2009, Johnson & Johnson heard complaints about a musty odor coming from Tylenol Arthritis Pain caplets and retraced its entire supply chain. What it found was the pill packages had likely been contaminated by trace amounts of a fungicide used to treat the shipping pallets that carried them from the factory to the warehouse and finally the retailer. The company lost $900 million.
Recalls are a major threat to food companies. It not only costs hundreds of millions of dollars, but also damages reputations, which might be far worse in an industry where consumers demand transparency and cleanliness. Lightning Technologies founder, President and CEO Jeffrey Owen says these problems may have existed at this magnitude years ago, but the ease of communication through social media today makes recalls much more visible.
"We have developed an IoT solution that allows retailers, growers and consumers to really understand what's going on with the products they are purchasing in the grocery stores, restaurants and in Big Box retailers," Owen says. "Every time there's a recall, the suspected source can be from a lot of things, including pallets."
Owen founded Lightning Technologies in 2015 to disrupt mature and stagnant industries with "The One Thing that Changes Everything™. " The Oxford, Mich.-based company was born from his insight to acquire a chemical formulation that the company refined and retested until it became commercially viable and ready to market. The proprietary and highly unique coating, trade-named ExoBond™, can dramatically change supply chain commerce around the world.
To co-develop a program on how to pool, sell and distribute pallets coated with the protective formulation in the supply chain, Owen turned to Rex Lowe, founder and CEO of GARD Pallet. Lowe has been in the pallet industry for 28 years and is considered a pioneer of modern-day pallet pooling.
Lowe says the Lightning-GARD pallet will not only bring positive disruptive change to the food industry, but also the pharmaceutical, healthcare, aerospace and electronics industries. "Jeffrey asked me to come and look at this pallet and I was extremely impressed," he remembers. "I thought it was such a good idea that I left the plastic pallet company of which I had co-founded and was the President."
The Reinvented Pallet
The Lightning-GARD pallet is made of a specially engineered wood, but it is encapsulated with a polyurethane coating that makes the wood durable and easy to sanitize. Lightning Technologies is calling it the "world's first 10-year pallet." "We have gone through extensive lab testing and real-life simulations at Virginia Tech and feel comfortable in making the claim it will last 10 years," Owen says.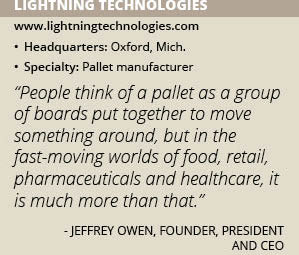 Because of the proprietary coating, the pallets are lightweight, fire-retardant and virtually indestructible. "We are putting the coating on the outside of the pallet that increases its strength twofold and encapsulates the pallet making it impervious to bacterial growth and other things causing recalls," Lowe explains. "It is very hygienic. Unlike plastic pallets, we have no irregular surfaces or voids that provide harborage for bacterial growth. It's not indestructible, nothing is, but this dramatically increases the strength and durability of pallets. I've never seen anything like it."
Owen recognized very early on that they had an innovative product solution to address the changing needs of a very large market. However, he also understood that while innovation is an important first step, you must also be able to manufacture extremely large quantities with consistently great quality and "lightning-fast" throughput.
He turned to FANUC, the world's largest manufacturer of industrial robots and automation solutions. Together, they have developed Lightning Technologies into a sophisticated advanced-materials and industrial-technology company with highly automated robotic manufacturing, assembly and coating operations.
This advanced manufacturing process of Lightning Technologies creates a Lightning-GARD pallet that has consistent, repeatable structural and dimensional integrity that reduces downtime and improves performance in Automated Storage and Retrieval Systems as well as other automated production and distribution operations.
Lightning Technologies operates two manufacturing facilities in Michigan and is also building two facilities in Europe to begin producing its pallets overseas. The company expects to have 10 facilities by 2022 to keep up with demand and ensure that production capabilities and product-support infrastructure are available globally.
Lightning Technologies can also add components to its coating that allow it to be antimicrobial. The company focuses on innovation daily and is working to develop more additives that will allow for additional capabilities and levels of customization.
"We are working closely with our suppliers and testing facilities to certify critical factors important not only to the consumer, but also the major manufacturers and retailers," Owen says. "The spray technology is basically unlimited in how it can be used."
Easily Track and Trace
The Lightning-GARD pallets include a GARD-exclusive and proprietary radio-frequency identification device (RFID) embedded into the product before coating to provide the most advanced ability to track and trace its products. The RFID will accurately measure and report impact, temperature and humidity to ensure safety in the food supply chain.
A customized dashboard allows the producer and retailer customers of the Lightning-GARD pallet to track and trace throughout the product's entire journey, eliminating any darks spots in the supply chain. "The customer feedback we are getting is that the pallet is performing beyond specifications," Lowe notes. "We offer a premium product for a competitive price."
Controlled Growth
Lightning Technologies and GARD have a succinct plan for growth over the next five years. "We won't grow for the sake of growth," Lowe says. "We want to use our logistics platform where it most benefits our customers. We plan on being global and our growth will be fairly rapid, but it will be with those companies that meet our criteria as well."
The company plans to work with a select group of partners that it is working diligently to choose, including both suppliers and customers. Lightning Technologies-GARD already have significant contracts from well-known suppliers and is just beginning its mass production.
"As we all think about cleanliness and the health of our children, our pets and ourselves, it's becoming a major factor in supply-chain management to present the product to the consumer in a controlled and hygienic manner," Lightning Technologies' Owen says.
"Today, there are a lot of unknowns as to what happens during a product's travels," GARD's Lowe says. "What we are capable of doing with our technology is enlightening that whole process so it becomes completely visible all the way through the supply chain. Pallets are still the only way product gets delivered. We need to shed light on a shipment from where it's grown or produced all the way to the shelf and to the consumer's table."