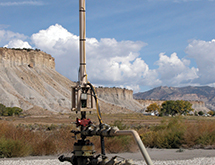 Ligon Industries LLC – Hydraulic Cylinder Group
Since its inception in 1999, Ligon Industries' hydraulic cylinder group has grown significantly because of its acquisition of companies located strategically across the United States.
"Our founders had retired from their previous companies but still believed strongly in American manufacturing, so they raised funds and went out looking for companies involved in primary or core manufacturing," says George Winchester, president of the Birmingham, Ala.-based company.
The eight companies acquired by Ligon Industries each function as their own individual entity focused on a local market and product type, giving them the sort of flexibility to meet customers' needs that is typically associated with smaller regional companies. Ligon operates hydraulic cylinder manufacturing facilities in Galion, Ohio; Tonawanda, N.Y.; Spencer, Wis.; Monticello, Hampton and Laurens, Iowa; Great Bend, Kan.; and Fresno, Calif. The facility in Monticello, Iowa – purchased in May 2013 – is the company's most recent acquisition.
"Our focus is on being nimble and close to our customers while also leveraging our large size and capabilities," Winchester adds. "We work with companies that need a lot of engineering support and variety in the products they supply. We're capable of producing a wide variety of components at low volumes, which allows us to work with many different customers to give them what they need."
Ligon provides hydraulic cylinders to manufacturers of equipment used in a variety of industries including mining on- and offshore oil drilling. The company manufactures cylinders ranging in size from 8 inches to 50 feet long and from 1 inch up to 30 inches in diameter.
In addition to its hydraulic cylinder group, Ligon also owns and operates six companies that provide aluminum castings and aluminum products for the wastewater treatment industry.
'Best of Both Worlds'
Although each of the facilities in Ligon's hydraulic cylinder group functions as an independent entity with its own leadership team and sales force, the company is ensuring that they remain consistent when it comes to product quality. Seven of Ligon's eight facilities are ISO 9000 certified.
"Since the last recession, we've focused pretty heavily on improving our quality systems," Winchester says. "Our facilities were once competitors, but going forward, we've been working hard on integrating our information systems and creating an environment where we can give customers a local feel with large company support.
"We want the best of both worlds – we're keeping our authority at the ground level so customers retain the confidence that we can support them locally, but still want to provide the leverage of a large company and are moving toward a central engineering standard and modeling tool so we can share designs across the entire company."
Preparing for the Future
Ligon this year began installing a hydraulic cylinder test laboratory in its Galion, Ohio, facility that will allow it to test its products and technology internally and benchmark products against competitors' offerings. The laboratory will be operational by the end of the year.
"Many of our competitors don't have the capability  to test internally," Winchester says. "Our primary customers love that we're putting this in, and we think it's a strong selling point for our future."
The investment in the laboratory reflects a shift in the company's overall business strategy. "For the past 15 years, we've been predominately focused on growth through acquisition," Winchester says. "It's fair to say that today we have a different mindset. Although we are open to acquisition, we are beginning to focus on putting ourselves into a position where we can grow organically through increasing our market share."
Winchester hopes the laboratory and other investments such as new equipment will have a long-term positive impact on the company's business model and allow it to increase its market share and potentially branch out into new markets. "These are strategic investments," he adds. "Our products have a business cycle that is closely related to the U.S. economy, so we encounter large swings up and down. The way to offset that in the future is for us to grow organically instead of bringing in fixed costs and debt through acquisition."