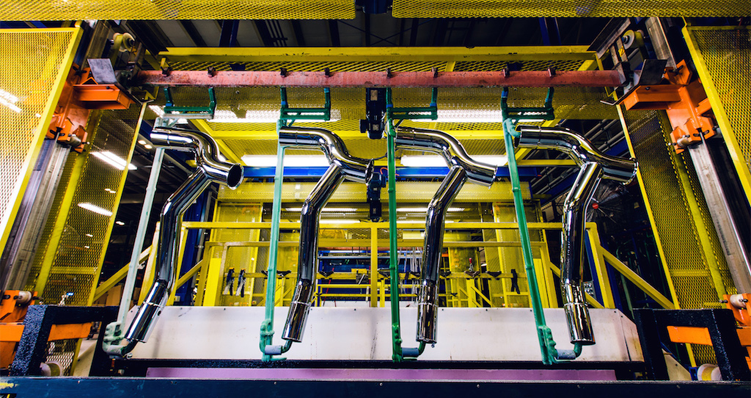 Lincoln Industries' business may center on metal, but its values are critical to its success, CEO and Chairman Marc LeBaron says. "Every good company has a set of values they post on the wall, but very few of them live and breathe those values and quantify them in their work," he says.
However, "That's something we've gotten very good at," he asserts. "We're known for our commitment to our people, the culture and the organization, [and our] focus on relationships, trust and honesty."
Based in Lincoln, Neb., Lincoln Industries is the largest metal-finishing company in North America. The company started operations as Lincoln Plating Co. in 1952. "It was a very typical, small job shop," LeBaron explains. "People would bring in teapots or car parts and we would refinish them and send them back."
During the 1960s, Lincoln Plating began doing commercial work for small manufacturers in Nebraska. But with the passage of the Clean Water Act in 1972, the company saw its industry change, with the addition of more environmental regulations.
"That had a pretty profound effect on all plating companies," LeBaron says. "They went from being a relatively unregulated industry to one of the most regulated industries in the United States."
A Business Evolution
Lincoln Plating adjusted to the changes and moved to a new 50,000-square-foot facility in Lincoln. But the company had to expand its client base in order to cope with the costs of waste treatment and its infrastructure.
"Most plating companies back then, and even today, are really localized," LeBaron says. "Lincoln started focusing on larger companies [and doing] things that a local plater couldn't do."
This appealed to the company's customers, who appreciated working with a company that was environmentally compliant. "In the mid- to late-1980s, we started focusing on becoming a national supplier to large companies on technically difficult plating projects," he recalls.
"Until that point, it was all focused on finishing and plating," LeBaron continues. "Then, it started to change [when we looked at] how do we create more value for the customer in this supply chain."
Lincoln Plating developed the concept that it would manage the entire supply chain for its clients. "If it was chrome-plated stamping, we would work with the customer to design the part, manage the tool fabrication process and work with the stamper pick out materials," he recalls.
"We went about recreating the supply chains and became proficient in supply chain management," LeBaron explains, noting that Lincoln Plating grew rapidly. By the time it reached the 2000s, 70 percent of its revenue came through supply chain management, assembly or light fabrication.
In 2007, the company changed its name to Lincoln Industries.  "About the same time, we started looking at vertical integration on the manufacturing side, particularly on large tube products that were difficult to transport," he recalls, noting that the company became a supplier to companies such as Peterbilt and Kenworth.
"We started identifying a lot of opportunities in small diameter fabrication," LeBaron says, noting that this led to its 2015 purchase of DS Manufacturing, a Minnesota-based firm that specialized in small-diameter tube fabrication.
Leader of the Pack
Today, 74 percent of Lincoln Industries' work consists of large- and small-diameter tube fabrication, supply chain management and stampings. The balance, LeBaron notes, consists of coatings.
In addition to its location in Minnesota, "We operate out of five locations in Lincoln with over 450,000 square feet," LeBaron says. "We also have a few other people scattered around the United States in various roles, such as customer service, business development and engineering."
Lincoln Industries has established itself as the leader in its industry, as it serves such clients as Harley-Davidson, Polaris Industries Inc. and Peterbilt. "These are all premium-brand customers," he says, noting that it provides them with strong support. "We have more capabilities than anyone in the industry right now.
"We can take on major projects without any kind of an issue," LeBaron continues, noting that Lincoln Industries recently added a large nickel chrome plating line to its Lincoln facility. "To our knowledge, it's the largest in the United States and allows us to run very large products efficiently."
Growing Strong
Lincoln Industries has taken other steps to move itself forward, LeBaron says. While it continues to focus on work as a contract manufacturer/finisher, "We've started two new divisions where we market and sell our own branded product," he says.
One is Khrome Werks, which has its roots in drag racing. "They focus on aftermarket motorcycle products, such as exhaust systems, handle bars and trailer systems," he says, noting that the division is introducing some creative new finishes.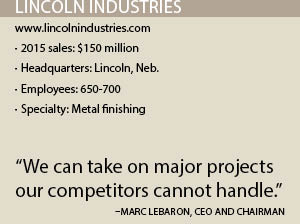 Its second division, Lincoln Chrome, focuses on serving those that want to add to their class-8 trucks. "When you see people with the big, 10-inch stacks or bumpers, those are the kind of products that we manufacture and distribute through our Lincoln Chrome division," LeBaron says.
Lincoln Industries also is exploring additions to its technology in the field of heat management. "If you look at anything that has an engine, whether it's an UTV/ATV, class-8 truck or a motorcycle, heat is becoming more and more of an issue as those companies try to deal with new exhaust requirements," he says.
"One of the ways they do that is managing heat within the system," LeBaron continues. "We are spending a lot of time through our Innovation Hub developing new products and new coatings for heat management."
A Great Group
Lincoln Industries has benefited from its acquisition of DS Manufacturing, LeBaron says. "Many of our customers were requesting that we fabricate and manufacture small-diameter tube products, but it was difficult to find sources," he says.
"DS turned out to be a great group of people," he states. "They were doing some high quality small tube fabrication already, and by bringing them on stream, we were able to quote and accept new projects that we couldn't do in the past.
"On the other side, they had a lot of projects and opportunities that needed the right coating and finishing services, and didn't have access to that," he says. "Between the two, there's been a real synergy."
Educating Customers
Lincoln Industries' recent initiatives include its Innovation Inspired 2016 technical summit, which it held in Lincoln. "We start from the philosophy that the more our customers know and understand what it takes to produce highly engineered coated products, the better we can do to meet their needs and produce something they really want," LeBaron says.
The event featured seminars on manufacturability for coatings, coating selection, heat management and coating uses. "We also did education [seminars] on tube fabrication and facilities and talked about some of the limitations of some of the things we can do," he says.
"It really is a technical summit and technical conference more than anything else," he asserts. "We got a great response and customers realize it's a chance to share valuable information and our expertise in these areas."
Great Growth
Lincoln Industries plans to continue investing in technology, LeBaron says. "About two years ago, we created our innovation hub, which is focused on identifying new solutions for customers or opportunities we see out in the community," he says.
"We think that our technology will grow," he says. "We're continuing to look for more brands to add to our portfolio. We think we've got a great future for growth."
Sidebar:
Problem Solvers
Lincoln Industries offers its customers multiple coating lines, including ThermoLinc, which is designed to solve a variety of heat management challenges. "[These include] insulating coatings, emissivity coatings, textiles and other high-temperature finishes," the company says.
Its ArmorLinc line is designed to solve corrosion, wear and protection challenges. "These functional coatings protect against all types of wear and serve many other functional purposes as well," Lincoln Industries says.
Its StyleLinc line is used primarily for cosmetic and aesthetic appeal. "This has been the core of our business and continues to grow as we add new finishes that are unprecedented in the market, as well as cosmetic coatings that can reach very high temperatures," the company says.