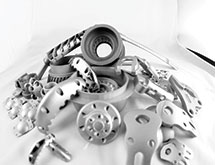 Linear Mold & Engineering
Linear Mold & Engineering, a mold-manufacturing and engineering firm that has developed expertise in 3-D metal printing, recently completed its newest equipment additions. The Livonia, Mich., company has installed three selective laser melting (SLM) 280 HL Twin Beam 3-D metal-printing machines. That brings Linear's total number of SLM 3-D printers from SLM Solutions to six machines and a grand total of all SLM and EOS machines to 14 as the company expands capacity to keep up with the demand for metal prototypes, pre-production and production end-use parts.
The company is evaluating machine capacity for each upcoming quarter of 2015, and will be acquiring multiple additional 3-D metal-printing machines throughout the year. Linear anticipates much growth in the design and manufacture of 3-D metal-printed components for the automotive, aerospace and energy industries using both Direct Metal Laser Sintering (DMLS) and SLM technologies. "We are also investigating use of other systems, such as E-Beam machines, to complement the current laser powder bed systems," President John Tenbusch says.
The company also designs and builds injection mold inserts with conformal cooling channels through 3-D metal printing processes for the mold manufacturing market. Conformal cooling offers a more uniform way to cool the parts, thus reducing cycle time and improving both productivity and quality.
"The decision to expand, which was announced last year, was based on customer demand for 3-D printed end-use production parts," Tenbusch says. "We also chose the SLM 280 HL from SLM Solutions based on the company's wide range of materials and speed to support production runs specific to this particular phase of Linear's growth. However, this does not preclude us from buying EOS or E-Beam machines for specific projects."
Linear operates six SLM machines from SLM Solutions, as well as eight DMLS machines from its longtime vendor EOS GmbH. "We are advancing our equipment plans for acquiring 3-D metal-printing machines from the two largest providers of this equipment in the world," Tenbusch comments.
Market Growth
Linear's business includes work in various market segments such as automotive, aerospace, defense, medical, energy, oil and gas exploration, and consumer products. "We are recognized as one of the larger privately held firms in North America using 3-D printing with metals," Tenbusch explains. "We also build injection molds and do injection molding. We are pretty well rounded with lots of skillsets in different areas, such as design engineering, machining and post-process finishing of our 3-D printed production parts."
Linear currently occupies three buildings totaling 67,000 square feet. It is planning a facility expansion to accommodate the 3-D printing growth and add additional space for its mold shop that continues to grow, but not at the same rate.
"We started out as an auto prototype supplier in 2003," Tenbusch recalls. "We started out as 100 percent automotive and have since diversified."
The company is currently growing its additive manufacturing business. "About two years ago, additive manufacturing was roughly 10 to 15 percent of our business. It has grown substantially," Tenbusch states. "By the end of the second quarter 2015, it will be nearly 50 percent, and we anticipate it to be 75 percent in 2016. Additive manufacturing has just taken off." Applications include finished parts for aviation, oil and gas exploration, energy and conformal cooling mass manufacturing.
"We can take a customer from education into production," Tenbusch says. "We bring them in, tell them about the process and teach them the technology. We also offer tw0- and four-day classes on the 3-D metal printing process."
The growth of the additive manufacturing sector took off after GE Aviation acquired Cincinnati-based Morris Technology in November 2012. "This added legitimacy to the use of additive manufacturing in production applications," Tenbusch says. "There are a lot of companies interested in the technology but they don't know how to use it and how to implement it. Over the past two years, we have been focused on educating customers about how it can benefit them for production."
One of the main advantages of additive manufacturing is it produces less material waste. "Some machines are throwing away 75 percent of material volume," Tenbusch explains. Additive manufacturing, on the other hand, can reduce this amount to about 10 percent. "There are applications of re-design that can eliminate welding or brazing of parts for multi-part consolidation." Additive manufacturing also offers quicker lead times of 40 days or less for serial production parts.
These obvious advantages have led to Linear supplying a number of Fortune 500 customers. "We have proven to them this technology is the way to go," Tenbusch states. This includes working with clients through Linear's Center of Excellence program, which allows for onsite machine use and in-depth engineering cooperation.
The company is certified to AS9100, ISO 9001:2008 and ISO/TS16949, and is currently working on ISO 13485. "Our dedication to serving our customers' needs has been rewarded with continued opportunities from our existing customers, as well as word of mouth from those customers serving as a testimonial to potential new customers to Linear," the company says. "At Linear, we push the limits of industry practices, exploring new ways to ensure the highest quality in tool design, rapid prototyping and additive-manufactured serial production parts.
"We are constantly pushing the industry's boundaries to ensure the most up-to-date technology, additive fabrication methods and management strategies in order to keep Linear and our customers at the forefront of our industry. In today's global market, suppliers must maximize quality levels and shorten lead times while maintaining competitive pricing."