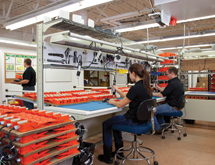 When your hands are busy with a delicate operation – such as welding, drilling a tooth or just turning on a light – a reliable foot switch is a necessity. That's why Linemaster Switch Corp. always puts its best foot switch forward with durable designs that meet a panoply of requirements, especially for medical products.
"The challenge in medical is much more complicated designs and requirements because the Food and Drug Administration (FDA) is involved," Director of Marketing Jim Logsdon points out. "So once the FDA is involved, things certainly become a little bit more difficult to put together. Regulations are certainly much higher, and everything has to be a particular way in the medical world, for the most part."
A frequent requirement for footswitches used in medical products is being waterproof. "It also would require some magnetic immunity if it were going into a magnetic resonance imaging suite," Logsdon adds. "They can't have any kind of metal that could be sucked into a magnet."
Linemaster Switch Corp. has approximately 550 standard catalog items, but Logsdon estimates that approximately half of the foot switches the company manufactures are custom designs. "Custom could be something as little as changing the length of the cord that deviates a tiny bit from our standard product – no matter how little, it would be deemed a custom foot pedal."
These include foot switches for metal bending machines, welding equipment positioners, tattooing equipment, horns in emergency vehicles, farm equipment such as sugar cane harvesters, surgical instruments such as medical bone shavers and even guitar sound systems.
"We are the leading manufacturer of foot controls in the world," Logsdon declares. "Amazon.com started to buy from us, as well," Logsdon says. Consumers can buy Linemaster's foot switches online to turn lamps or Christmas tree lights on or off or to turn on power tools, such as saws or lathes.
The company's main manufacturing plant in Wichita, Conn., measures 50,000 square feet. Linemaster also has a 30,000-square-foot manufacturing plant in Plainfield, Conn. The two locations are approximately 20 minutes apart by car.
"The majority of our work is in the Wichita, Conn., facility," Logsdon says. "The smaller Plainfield facility is our cable assembly department and our main warehouse. Some of our subassembly is done down there in Plainfield. The majority of the final build is done here in Wichita, along with the testing."
Automated Testing
Lean manufacturing came to Linemaster approximately six years ago, Logsdon recalls. "We hired a lean expert to incorporate some of the lean ideas," he remembers. "We've built a large number of automated test equipment modules, so that should take the human error out of testing the foot controls.
"Our plan was to take most of our more complex foot switches and create an automated test box in-house," Logsdon explains. "When our quality department tests these things, it's an automated test controlled by this box. That eliminates having one of the quality people do the same test."
The automated test equipment is unique to every switch. "We test all our standard products and other products as required to 1 million cycles," Logsdon asserts. "We do a drop test on them often, and then a bullet test, where we drop a 10-pound weight from a certain distance onto the foot switch. That's typically done for testing of the foot guard to make sure that they are safe."
Linemaster also does scratch tests and alcohol testing on the finishes of its switches to ensure that the paint is not removed. "We do water testing for waterproof foot controls, and put a piece of tape over a printed logo to make sure that the print doesn't lift off," Logsdon says.
The company has its own paint finishing department. "We have our own drill room, where we do a lot of the secondary drilling operations," Logsdon says. "We also do pad cutting for traction pads on the bottom of the foot pedals. We have a label department that prints all our standard labels and a lot of different assembly areas."
Outsourced Manufacturing
Much of Linemaster Switch's manufacturing is assembly rather than forming of parts. "We have a litany of different sources we use for injection molding, casting and that type of thing," Logsdon says. The company's products are distributed internationally. Logsdon estimates 95 percent of its engineering is done in-house.
Production of Linemaster's products requires quick turnaround. "Our stuff doesn't typically sit on the shelf very long," Logsdon maintains. "All the custom stuff is just-in-time. We do have stuff on the shelf for stock items."
A typical lead time is eight weeks, Logsdon estimates. Two weeks are required for assembly once all the materials for a switch have arrived.
Obtaining all the components for a product can vary from six weeks to 18 weeks, Logsdon estimates. "Certain vendors' stuff carries a very lengthy lead time, at least 12 weeks," he says.