Safe and secure
Responsible for supplying cutting-edge and industry-leading storage equipment to almost every area of industry and commerce, Lion Steel is aggressively pursuing growth opportunities both at home and abroad
For more than half a century, Lion Steel has been responsible for the manufacture of high-quality storage products. Sold under the brand name of 'Probe', these products include lockers, shelving, cupboards and work stations, mobile shelving, library shelving, cloakroom equipment and specialist cabinets. Manufactured to the highest of standards at Lion Steel's two UK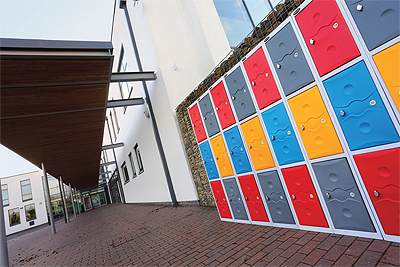 facilities, its Probe range is marketed through a professional network of local dealers who are on hand to provide professional advice and support to customers across every area of industry and commerce.
"We consider ourselves to be the most innovative storage product manufacturer in the UK, if not Europe, with arguably the largest, broadest range of products at our disposal, which we continue to expand upon," states Lion Steel's Managing Director, Richard Williams. "We are perhaps best known for the comprehensive range of versatile lockers that we produce, with over 3000 units being manufactured to the highest of standards per week, many of which are based around bespoke designs that we create in partnership with our customers."
Over the past five decades, Lion Steel has built itself into a leader in its field in the UK, today holding a roughly 35 per cent share of the UK market. "We certainly feel that there is more room to grow domestically, and this will likely coincide with expansion into new sectors, namely the commercial market for which we are actively developing new products for," Richard continues. "At the same time, we are also moving forward with pursuing various export opportunities, particularly across the Middle East, which is a big growth area for Lion Steel with a strong demand for products manufactured in Britain. We have a new export manager in place who has already helped us to secure contracts in countries such as Qatar, so we see a lot of potential out there for us moving forward."
The market that Lion Steel operates in is one that is very much driven by a demand for new and innovative ideas, and the company's expert R&D team is always working to bring new concepts and solutions to its customers. "We strive to lead the market when it comes to product development," Richard says, before going on to detail several of the company's recent innovations. "One of the things we are looking at quite closely at present is a new range of mobile phone or tablet charging solutions, particularly as more devices incorporate USB-C sockets".
"We are also doing a lot of work involving new lock systems which have been moving away from mechanical combinations to electronic solutions, for example those which allow for locking and unlocking via mobile phone apps using Bluetooth wireless technology. We have been working closely with Amazon in this field, incorporating it into around 50,000 of its Amazon Locker self-service kiosks."
Another unique characteristic of the company is that its two manufacturing sites are responsible for producing virtually all of its products under their own respective roofs from raw materials. "The manufacturing capabilities that we have come to possess gives us the flexibility necessary to deliver bespoke products of the highest quality, on-time and to budget," Richard states. "As well as having all of the required ISO standards in place, we have kitted out our facilities with specialised machinery that has been carefully selected to suit our product range, and we continue to seek out technology that will allow us to produce said range quicker and easier."
While Lion Steel is able to leverage its 50 years of experience, it also believes that it is a company that is constantly learning as it aims to take itself to the next level. "We have never, and will never, consider ourselves to be at a point where we have reached all of our goals, and this dedication to continuous improvement is something which will influence how we move the business forward in the coming years," Richard proclaims. "Utilising our collective knowledge, expertise and track record, as well as our industry-leading marketing resources and the support of our parent company, we have exciting plans when it comes to developing new products and establishing the Lion Steel and Probe names in new markets".
"On the domestic front, we will be looking to establish a presence within the commercial sector through the creation and launch of dedicated product ranges to target new customers. At the same time, we will continue to aggressively pursue export opportunities, gaining a better understanding of the needs of different geographic regions and working closely with companies to bring to them the products and solutions they require. The core aim of the above is simple, and that is to bring Lion Steel's market leading range of products to as many potential customers as possible across the UK, Europe, the Middle East and beyond."
Lion Steel Equipment Ltd.
Products: High-quality storage products