Lister Petter – engine icon
In October 2017, Keith, Sean and Ryan Mason took on a big challenge. Having already achieved success in the marine and industrial sectors with Sleeman & Hawken Limited, they completed the takeover of Lister Petter, a historic British manufacturer of engines and gensets, providing solutions for a range of sectors including construction, commercial and agriculture.
This news has been cautiously welcomed in the industry. On the one hand, it is very positive in continuing the legacy of an iconic 150-year-old British name in the industrial world. It also secures the jobs at its UK manufacturing facility and helps support the various UK suppliers the company deals with, as well as the many overseas distributors that have built their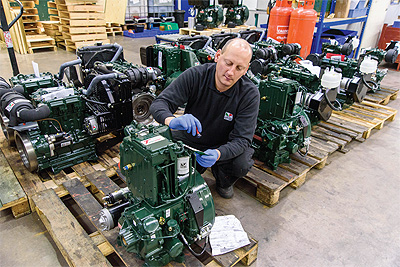 businesses on the back of Lister Petter. On the other, the company has had a number of different owners in recent years, as well as some other issues concerning finance and deliveries. Keith is fully aware of what needs to be done: "It is about getting the quality back, it is about stability, and getting lead times down from ten weeks to three or four."
The first step towards restructuring is to identify problem areas, and then come up with ways to solve them. Ryan outlines the difficulties that need to be addressed: "Ten years ago, there were 250 staff with multiple sites around the world. Now, there are just 20 employees in a condensed, albeit modern, production facility in Hardwicke, Gloucester. It has been through receivership, and has suffered from a lack of investment. It's an important time, and hopefully the existing clients will support our plans going forward." Keith is happy to report a reassuring response: "Feedback has already been very good, and the water pump and generator markets have been encouraging in these early weeks. Some historically large customers, who turned to other manufacturers, have come back to place initial orders with us."
In effect, moves have been made to reinstate what was already working effectively, but also to build on it, as Keith explains: "One step is to re-engage with the main dealers. Some have been in place for many years, so it is hoped that by restoring the dealer network, it will be possible to install confidence in the brand again to help us all grow." It is also worth emphasising that the expertise of Sleeman & Hawken is being brought into the new setup: "We have very experienced staff that have dealt with Lister products for decades. We have also dealt with many of the suppliers to the factory already, so we hope these relationships will help us increase sales and make deliveries more efficient."
Another way to improve both the efficiency and the quality of production, has been to invest in new technology: "The first thing we did was to install a new MRP (Material Requirements Planning) system. With so many different components and lots of different build specifications, this was critical in getting the factory more organised," Ryan states. "It also means we can forecast our requirements much further in advance and get more goods on order, helping to save on freight and administration costs. This has been alongside the re-introduction of many previous quality checks and balances that had been overlooked in recent times."
With 2018 approaching, the new owners are considering the next direction of Lister Petter. As well as retaining and improving the current offering, the Masons are looking at what else can
be done: "We are moving back into the marine engine market, which Listers has not been a part of for five years. We have redeveloped the Alpha and T-Range marine engines for both propulsion and auxiliary power, which we are hoping to launch in January," Keith predicts. Ryan adds a note of caution, reiterating that the focus is getting things back on track first: "There are ambitious plans for the future, but first we need to consolidate. Hopefully by Easter the groundwork will be laid to offer a broader range. There is a lot to take on board and we need Listers to walk again before it can run!"
There is a substantial history behind Sleeman & Hawken as well, having been involved in manufacturing and distribution for over five decades. A majority of that has involved Lister Petter products: "In that time I have had dealings with several previous managing directors. Having been in close communication over that period, there has always been a connection with the brand, something that we have always felt very close to," Keith recalls.
Ryan is adamant that the pull of the historic brand still exists: "There is a demand for simply assembled, reliable and easy to maintain machinery that can be fixed on-site without the need for complicated diagnostic equipment, which is not always available in some of the more remote regions where these machines operate. UK manufactured product is still held in high regard in the market, so we have to be proud of our UK facility whilst still remaining competitive on price."
It is easy to be cynical about a company takeover, especially during a challenging period. However, it is worth remembering that the new team taking on this rebuilding exercise clearly have experience in the industry. There seems to be a belief and desire to maintain the integrity of what this 150-year-old business stands for. Indeed, there is a push to return to the practices that built its reputation in the first place, and to restore confidence in both the short and long term. Most crucially of all, it seems to be about bringing back the previous customer base, who are after the level of quality that comes from a dedication to craftsmanship.
Finally, Keith, Sean and Ryan have a message to pass on: "We would like to thank our loyal clients and suppliers, who have stuck around long enough to give us this chance as the new stewards of Lister Petter. It has been very heart-warming receiving their well-wishes, and we hope to do them justice in 2018."
Lister Petter
Products: Industrial engines
www.listerpetter.com