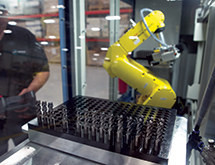 It seems that no one desires to wait for anything these days. Fortunately, they often don't need to. Today, a product can be ordered on Saturday morning and arrive at a doorstep on Monday. As it is in the consumer world, so it is within the business world as well. Manufacturers like LMT Onsrud that are able provide their customers with what they require and almost immediately are the ones that will win.
LMT Onsrud began in 1946 and since that time it has been committed to providing the best-quality router bits and cutting tools within the industry. Tooling lines range from wood materials to plastics and composite machining to the latest end mill lines utilized to cut aluminums and exotic metals. Its products are used in industries such as aerospace, defense and medical.
"Typically, the business that can provide the tooling or the tooling quotation in the most timely fashion, along with making the product within the shortest turnaround time, will acquire the business," explains Leslie Banduch, president of LMT Onsrud.
"When we receive a quote request for special cutting tools, our goal is to turn this quote around to the distributor in less than 24 hours," Banduch continues. "Manufacturing-wise, depending on the tool we are manufacturing, we try to ship solid carbide special tooling between five and eight business days."
LMT Onsrud's delivery performance is better than what its clients might experience with the 12- to 24-day lead-times held by many of its competitors. Banduch says the company has made targeted investments in each department to achieve short turnarounds, all while still maintaining high quality.
Total Alignment
"Our goal is to provide cutting tool solutions that exceed our customers' expectations, and to achieve that we need to be able to react to our customers' needs quickly," Banduch says. "Sales understands this, as does our engineering and manufacturing departments."
The greatest factor in LMT Onsrud's commitment to quality and flexibility is its manufacturing capabilities. Performing more operations internally decreases reliance on outside suppliers thereby reducing delivery time on its products.
With an external sales force equipped with tablets and laptops, Onsrud has provided its staff tools necessary to streamline its processes for receiving and communicating information. When custom tooling is required, it is important to gain as much information from the customer as possible. This information can quickly be relayed back to LMT Onsrud for quoting. Depending on the specifications, field sales can also quote on location.
Manufacturing-wise, LMT Onsrud has implemented several lean manufacturing processes. When orders are sent to the operator, a color-coding system cues the operator as to which orders need to be manufactured first. The company has also optimized its plant space by carefully calculating the best machine placement. End mill cells, designated for the aerospace and oil and gas markets, two of the company's major customer bases, have also been created.
"One operator can operate four machines at a time with all the equipment within reach," Banduch says. "We also worked with our suppliers of our CNC cutter grinders and focused on reducing our set-up times when making required tooling changes within the machines. This has led to a 66 percent reduction in set-up time."
The company has even reduced the quality assurance process time frame, all while still conducting the necessary steps to ensure its tools' performance. In the past, critical measuring equipment was located within the quality department and employees would have to walk to that department to have the parts measured. Now these items are positioned on the shop floor.
Global Demand
Banduch says the company's focus on speed is in direct response to a business community that is becoming more demanding. Along with providing production cutting tools to the wood and plastics industries, the company serves manufacturers that make high-precision components used within the aerospace, energy and medical industries. These applications fashioned from exotic corrosion-resistant metals such as titanium, cobalt, chrome, inconel, stellite, and composite materials can result in more custom tooling being required.
"As the materials became less expensive in nature to use in the manufacturing process, along with everyone seeking lighter-weight materials, you started seeing composite materials move into other product areas," Banduch explains.
Another trend that continues to grow is the "glocal" nature of the business community. In 1999, LMT Onsrud was purchased by its current parent company, LMT Group, which set LMT Onsrud on a path to increase its global presence.
"As part of the larger organization, we aren't required to establish ourselves in China, because we already have locations there," Banduch says. "Business today is global, but you still need to be where the customers are located."
International Symbiosis
At the same time, LMT Group, a German-based family owned company and of which LMT Onsrud is part, utilizes LMT Onsrud's long-time U.S. presence to grow its presence within North America. In 2010, LMT Onsrud and its sister company LMT USA moved out of their individual facilities into one 64,000-square-foot facility located in Waukegan, Ill. LMT USA is the U.S. sales division of the LMT Group, and by collocating, LMT Onsrud can better support the sales team with its manufacturing.
"We realize that we have room to grow and so we continue to spread our story, improve our presence within the marketplace and stand behind our brand name," Banduch says.