Under the spotlight
Carrying a reputation for a wide range of reusable packaging products, varying from standard Attached Lid Containers to one-of-a-kind supply chain solutions such as the Pallet Lid, manufacturer Loadhog is experiencing significant growth in demand for its innovative and environmentally-friendly solutions due to a growing interest in achieving a circular economy
Loadhog takes pride in developing not simply products, but entire solutions that efficiently tackle its customers' supply chain issues. "Because we are specialists in manufacturing returnable transit packaging, a lot of companies are turning to us, as they are looking to replace their old packaging methods with our reusable solutions," remarks Loadhog's General Manager, Shaun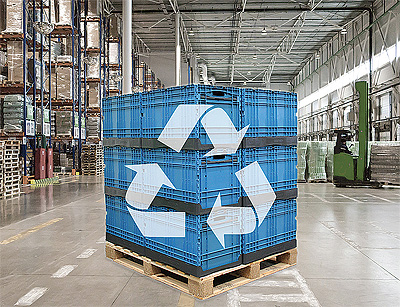 Khan. "Some 70 per cent of the plastic we use in our products is recycled, which certainly attracts customers to us, because Loadhogthey are gradually beginning to recognise the importance of reducing their environmental impact. I think that Greenpeace's recent announcement that every minute a truckload of plastic enters our oceans has also had an effect on the companies' perception of the matter. The fact that through clever design we can produce highly economic containers using recycled material and still maintain high performance makes it a win-win, with both the customer and the wider environment benefitting from these solutions."
Loadhog's largest customers include leading retailers such as Decathlon. This global sports retailer has truly embraced this new approach by switching to recycled packaging alternatives. Decathlon utilised Loadhog's swap-out scheme, in which the manufacturer takes a company's old containers, recycles them in-house, and then moulds a new design. The global sports retailer needed a new collapsible container design, with features and benefits to suit its multi-faceted operation. "We have invested over £500,000 in this project. The collapsible container offers fantastic return efficiencies, boasting an impressive 5:1 stacking ratio," Shaun explains.
Along with investing in new products, Loadhog has also spent over £1.5 million on two new injection moulding machines, which will be installed at its Sheffield facility early next year. "Our aggressive growth provides us with resources to make such investments, these are imperative, as we have to grow in capacity," Shaun reasons. "In a growing market it is important that we retain our ability to offer outstanding customer service. Unlike many of our competitors who offer long lead times to their clients, we are fortunate in being able to handle customer requirements very quickly, largely due to us being present in multiple locations worldwide. We are making the necessary investments to ensure that we can continue to fulfil our customer's needs."
Fast growth in each geographical market has been the order of the day for Loadhog in the past few years. No wonder it was ranked as one of the fastest growing export businesses in the UK in the annual Sunday Times SME Export Track 100 league table in 2017 and this year Loadhog's trading performance overseas has grown by 94 per cent.
"The numbers certainly look very good. Take Central Europe, for example. Our sales are up by more than 100 per cent, which is an excellent justification of the earnest investment we have placed in that region in recent times. We have promoted a Sales Director for the area from within the organisation and assembled sales and admin teams that are helping us strengthen our position there. Together with this we are in the process of establishing a subsidiary business in France that will further reinforce our coverage of this important strategic area for the company," Shaun points out.
"Eastern and Southern Europe are another two regions, where we are looking to enlarge our footprint. To this end, we are currently recruiting additional sales people, who will help us penetrate these markets better. America and Australia are also showing positive signs of growth and we are working with some major customers to support their supply chains."
Loadhog's domestic UK Market is certainly not lagging behind either, "It is an area that is enjoying a 70 per cent growth in comparison to last year, which is an encouraging figure when taking into account the lack of clarity around Brexit. The fact that we are well-positioned in the UK and Europe gives us confidence that we will continue to serve our customers on both sides of the Channel without interruption, regardless of the negotiations' outcome."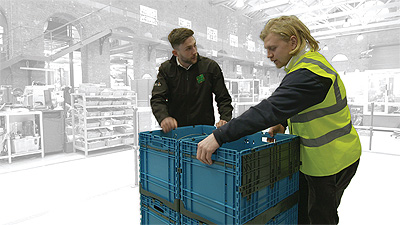 Analysing the current state of the market, he states that despite its challenges, the business environment has created opportunities that suit Loadhog's capabilities. "While more and more retailers declare their interest in our products, another industry we do a lot of work for – automotive, is also beginning to recognise our solutions as viable for their supply chain needs." In a timely confirmation to his words, Airbag Disposal UK has just announced that it has placed orders for Loadhog's 63-litre, 69-litre, and 190-litre UN-certified containers to transport and recycle airbags and associated components in a safe, legal, and environmentally-compliant manner.
"As we are looking to finish 2018 with a turnover of around £12.5 million, we have set ourselves a target to be a £17.5 million business by 2020," Shaun opens up on Loadhog's future objectives. He also cites innovation and new product development as critical drivers of future growth. "We are known as an innovative company and as such, we are compelled to add new products to our range, especially when it comes to solutions designed to support the battle with waste, offering more environmentally-friendly options to our clients."
Loadhog
Products: Returnable transit packaging solutions