Like many growing manufacturers, Loc Performance Products Inc. needs skilled labor. The Michigan-based defense contractor and commercial product producer can invest in its equipment and customer base, but its true challenge is finding experienced workers for its manufacturing equipment. "In our industry, trying to find machinists is very tough," COO Jason Atkinson says. "It's not something that's pushed at the high school level any more."
Loc has experienced strong growth the past several years. It was a $45 million company in 2014 before the U.S. Army TACOM Life Cycle Management Command awarded Loc a $161 million defense contract to upgrade aging Bradley Fighting Vehicles. Since then, Loc reached record sales of $118 million in 2016 and is projecting to hit $140 million this year.
Accommodating that increase in business requires employees – the company had 50 open positions as of April – so Loc has made efforts to improve its recruitment. The company collaborated with colleges such as Henry Ford Community College and Schoolcraft College to develop a two-year apprenticeship program that provides on-the-job training alongside classroom work. The program has since been recognized on the federal level.
Some prospective workers aren't interested in the community college experience. For those people, Loc developed an internal education center that offers training from a 25-year veteran machinist in a classroom environment. "The guys who don't want to go to school or don't have time to do both we train internally," Atkinson says. At the in-house education center, new hires learn everything from how to read a blueprint to parts manufacturing so that by the time they are handed over to a manufacturing supervisor they've produced and inspected components.
Support for Loc's training efforts has come from the Southeast Michigan Community Alliance (SEMCA), a nonprofit organization that specializes in talent development programs. SEMCA operates a Skilled Trades Training Fund designed to help Michigan businesses boost their employees' skills. Atkinson credits the fund with allowing Loc Performance to create 70 new jobs at the company since 2015. "It's been a really good program to help support our growth," he says.
Drag Racing to Defense
When Victor Vojcek founded Loc in 1971 the company had only four employees in its 5,000-square-foot facility. Vojcek's passion was drag racing, so it made sense that Loc Performance started out designing and manufacturing parts for racing vehicles. The racing industry provided a good lesson on quality for the young company. "He [Vojcek] said, 'If you make the part wrong they never came back. You never had another opportunity,'" Atkinson recalls.
The company's ability to deliver high-performance powertrains and other high precision components created opportunities for growth. Loc eventually moved from Taylor, Mich., to to a 125,000-square-foot manufacturing facility in the nearby town of Plymouth. By 1985, Loc began to provide the defense industry with suspension systems for tracked vehicles such as tanks. Five years later, it became the first small business to secure a multi-year contract to supply final drives for the military's M1 Abram's tank.
The company is now best known for supplying the suspension and final drives for every tracked vehicle in the U.S. military, from the P7 amphibious vehicle to the M1 and the Bradley Fighting Vehicle, and several wheeled vehicles such as Humvees and mine-resistant ambush protected (MRAP) vehicles. Throughout its history, Loc has successfully participated in more than 1,025 direct contracts with the United States government.
Despite its reputation as a defense contractor, the company has made inroads into the industrial market over the past several years. Those efforts began during the Obama administration when sequestration forced large cuts to defense spending. At the time, as much as 90 percent of Loc's business was in the defense sector. "We realized we had to do something different," Atkinson says. "We had to expand our footprint in other industries."
Loc was already providing systems to companies such as Caterpillar but started to more aggressively market its abilities for other industrial vehicles such as strip mining trucks, locomotives, fracking and drilling equipment. To support those markets, Loc launched 150 parts for equipment from Caterpillar, General Electric and Cummins. The strategy worked and Loc's business was split evenly between defense and commercial customers in 2014. Today the split is 75/25 defense to commercial due to the ECP1 program and other significant defense contracts
Lean Thinking
"What it helped us do is learn how to get lean and competitive," Atkinson says of the transition. Lean has been an important mantra for Loc for most of the past decade. Atkinson joined the company in 2008, coming from a Tier I automotive supplier with 1,000 employees to Loc, which had only 200 workers. Immediately, he realized Loc needed to become lean to compete with other suppliers. "I started looking at how we do things and how we're going to do things more effectively," he says.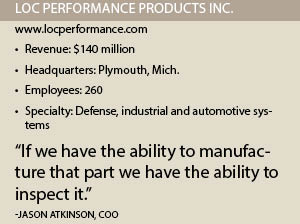 Loc had been used to competing under the International Traffic in Arms Regulations (ITAR), which limit defense contractors to domestic companies. Growing in the commercial space meant Loc needed to become more streamlined to compete against a global supplier base.
Those efforts have resulted in Loc using robots to help load production machines and the implementation of a new ERP system called Plex. Every piece of production equipment is tied into Plex, allowing the company to view where a component is at in the manufacturing process at any given time.
Developing more efficient production methods is only part of the lean process. Companies must also be able to measure their success and find ways to continually improve. To that end, Loc adopted a suite of metrics for efficiency and throughput that mimicked auto industry standards. Using those metrics, Loc improved its on-time delivery from 34 percent in 2008 to 99.6 percent today.
Complete Capability
All of Loc's manufacturing is completed at its 265,000-square-foot facility in Plymouth. Loc is a vertically integrated company, enabling it to perform nearly all of its manufacturing in-house without the need to outsource work. "We try to in-source as much as we can to have control over our product line," Atkinson says.
There are 150 machine tools in Loc's plant, including CNC mills, lathes, grinders, hobs, shapers, coating equipment and assembly applications. To support those machines and provide full service, Loc has a team of in-house designers that develop all of the final drives for military vehicles.
As the company grows, Loc continues to invest in its capabilities, including quality. Precision and durability are critical for vehicles, especially military vehicles that must withstand difficult terrain and extreme temperatures. Loc ensures good quality by following the latest ISO/TS16949 standards from the International Automotive Task Force in addition to being ISO 9001 and AS  9100 certified.
But in many cases, it strives to go beyond those standards. The company uses PC-DMIS software along with touch probe and scanning technology to measure manufacturing precision, while its newly built metallurgical lab can check material quality and its paint lab can perform salt spray testing and coating validation. "If we have the ability to manufacture that part we have the ability to inspect it," Atkinson says.
Opening Doors
Implementing lean philosophies and systems allowed Loc to challenge other global automotive suppliers, but it also led to better defense contracts, such as the agreement to modernize the Bradley Fighting Vehicle. The contract requires Loc to manufacture parts, provide field service repairs, conduct installations, provide training to soldiers and perform a 10-kilometer road test for each upgraded vehicle. The company is performing the upgrades at Fort Hood in Texas, Fort Bliss in Texas, Fort Carson in Colorado, Fort Stewart in Georgia and Fort Riley in Kansas.
Extensive contracts such as the one for the Bradley upgrades are typically awarded to OEMs. But when the military issued the request for proposal, Loc chose to be aggressive and go after the contract. Still, it was a long shot and Atkinson admits he was shocked when the military selected Loc.
Cost and service quality ultimately made Loc the leading bidder. The company submitted the lowest price for the upgrades, but its past performance on defense projects also gave military brass confidence that it would follow through. Loc's newly implemented ERP gave the company an edge in demonstrating to the government that it had the systems in place to manage the supply chain and quality assurance aspects of the project so that it could deliver the required 30 vehicles every 30 days. "We saved the government $220 million on this contract," Atkinson says.
The long-term benefits will be even larger. According to Loc, the Army is projected to save more than $2 billion over 10 years as a result of the upgrades.
Loc has since earned exceptional ratings in management, quality, schedule, subcontractor management, remanufacturing, training and risk mitigation from the government's Contractor Performance Assessment Report (CPAR). Loc's experience with such a large government contract could open the door for small- and medium-sized companies on future bids. "If the government is willing to break out that work to other small businesses that can at least compete, they will get a satisfactory product on time and saved hundreds of millions of dollars in doing so," Atkinson explains.
That same kind of dedication has been recognized by other customers. U.K-based BAE Systems had contracted with another global manufacturer to supply planetary speed reducers, a type of gear box. The system ended up having field failures which led to an opportunity for Loc to quote the system.
Loc spent a year pitching the company before persuading BAE to switch its supplier. After taking over the process, Loc moved all the assembly and processes for the planetary speed reducers to its own facility. By having total control over the part, Loc provided BAE Systems with 100 percent on-time delivery and a better than 99 percent quality rating.
Continuing Growth
Atkinson promises that 2017 will be a year of significant growth for Loc. The company is pursuing an acquisition that could soon double its size. Even without making the potential acqusition, Loc is already on pace for aggressive expansion as a result of the Bradley Fighting Vehicle contract and its renewed push toward industrial customers.
Some of that growth is coming from its overseas customers. Loc participates in the Foreign Military Sales program, which allows it to sell defense components to select foreign countries and international organizations. In recent years, Loc has supplied track, suspension arms and road wheels for M1 Abrams tanks to Morocco, and it has other customers in Spain, Turkey and Australia.
Its growing customer base has put more stress on Loc's manufacturing capacity. To accommodate the demand, the company is pursuing a 60,000-square-foot addition at its production facility. The addition will likely house equipment for large assembly work that supports customers such as BAE Systems and Caterpillar. "Right now we're literally bursting at the seams and have no space left in our current manufacturing footprint," Atkinson says.
Atkinson is confident Loc will handle the changes as it expands. "We're pretty much not afraid to take on any challenge or any program. When we identify an opportunity or industry, we want to get involved in, we get together at every level and it's a team effort," he says. "We've never taken on a job that we didn't deliver."