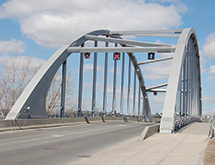 Locweld Inc., the largest lattice transmission tower and substation structure manufacturer in North America, focuses on providing top-level service to its customers. Founded in 1947, the company started making garage and patio doors before switching to its current product in the 1950s. It operates on 30 acres of land in suburban Montreal with 220,000 square feet of manufacturing space. Locweld has a 50,000-ton annual capacity, new equipment, and an in-house galvanizing and design team.
The company produces between 1,000 to 1,500 transmission towers per year. "Many people who are not in this business might be surprised to learn that each tower is not identical. When driving down the street, they all may look the same but they are not," says Terry Gilliland, executive vice president.
Each transmission tower is designed according to precise heights and elevation specification to carry the power wires. Typical ice, wind and other weather conditions for the site are also factored into the designs, as well as the distance from pole to pole. "People probably don't realize how much engineering goes into these," Gilliland notes.
As such, Locweld is a custom producer, not a mass manufacturer. As soon as one structure is done, it moves onto drawings for the next.
Locweld's largest customers include major North American utilities and their construction contractors such as:
Hydro-Québec, Hydro One, Manitoba Hydro, SaskPower, American Electric Power, Georgia Power, Public Service Electric Gas and Vallard Construction.
In addition to being the major North American company in the tower market, Locweld has also exported to Brazil, Africa and India.
Locweld's steel transmission line structures are constructed from 69kV to 765 kV. The company's towers are test-assembled onsite before delivery to ensure ease of assembly. Its tubular poles are designed and also an important product for Locweld. The company's other products are substation structures, bridge structures and decking and rock anchors.
On the bridgework front, the company has serviced nearly all Montreal-area bridges, including providing steel deck panels for the Victoria Bridge and the Jacques Cartier Bridge as well as orthotropic steel decks for the Champlain Bridge. Locweld also fabricated a number of rail bridges in Canada and the United States.
Historic Success
After opening in Montreal in 1947, the company moved to its current location in the 1960s. It was started by Morris Fast. Today, Locweld is run by a triumvirate of three owners: Michael Cyr, president, Gilliland and Maurice Brunet. Cyr handles sales, administration, financials, estimating and purchases while Gilliland focuses on business process improvement and IT. Brunet holds down the fort by managing the operations.
As a custom fabricator, Locweld's orders are constantly changing along with the needs of their customers. One project may require 1,000 towers while the next only five.
Lean Commitment
"Ever since Mike, Maurice and I became sole owners, we believe in change. Any philosophy, such as lean manufacturing, that can benefit us and our clients is something we are interested in," Gilliland says. "So we look at things like lean manufacturing and believe in those philosophies. We are implementing changes in the shop constantly. We spend a lot on capital expenditures to stay up with the most recent technology."
Locweld recently conducted a big conversion of its plant using lean manufacturing techniques for better organization. It was a conversion made even more challenging given the size and scale of machines Locweld deals with. "It was a big commitment," Cyr says. "The shop looks a lot different than it did two months ago."
"We are dealing with raw material, heavy beams and angles, 40 to 60 foot in length," Gilliland says.
Additionally, it is not uncommon for electrical transmission towers to stand more than 100 feet high and have thousands of pieces upon completion. As such, the manufacturing process requires optimal planning and efficiency.
It is this effectiveness that has brought Locweld to its current success.
"Sales have doubled in the last two years," Cyr says. "I'm most proud of the people who work here. They are the ones who make it all possible."