When a manufacturer sells its products and services through an independently owned dealer network, it appreciates the security of knowing that it is being well represented in the market. LogicBay plays a hand in making sure manufacturers are providing their dealers with the right tools to be successful, CEO John Panaccione says.
Based in Wilmington, N.C., the company provides Partner Relationship Management (PRM) software and services to optimize the sales and distribution network of a manufacturer's extended enterprise. Panaccione explains, usually extended enterprises consist of three sections – the supply chain, the manufacturing operation and the sales distribution channel.
"The supply chain side of the enterprise has been dramatically re-engineered with advancements in inventory and just-in-time models that all involve data most people are very familiar with."
But the third portion – the sales distribution chain from the manufacturer, to the dealer, to the customer – has had less attention paid to it until recently, mostly due to changes in new ways end customers want to interact with manufacturers. "That's the [area] where our technology is focused," Panaccione says.
The sales channel, he notes, primarily consists of independent dealers and distributors that represent manufacturers. One example, he mentions, is Caterpillar, which is one of the highest performing and well-known dealer networks in the world.
"That type of channel is common in manufacturing," Panaccione says. "That's where our expertise lies – we're focused on addressing the issue of helping our clients support their dealers and distributors so that they can sell and service the end customers the best they can every day."
Today, LogicBay's clients not only include Caterpillar, but also Equinox Louvered Roof, Knotwood, Meritor Inc., Texas Instruments Inc., Hyster-Yale, Daimler Trucks and many others.
Essential Expertise
Panaccione has an extensive background in sales and technology. While serving in the U.S. military, "I learned a lot about what I'm doing now," he recalls, noting that he transitioned from the military into technology roles with MetLife and the high-tech industry working for Asymetrix.
"We did a lot of technology-based learning in the late 1990s using the Internet to train and certify folks in the corporate sector," he recalls, noting that the company also provided services at the university level. "We also started to build some university-based certificate programs that evolved into a training/learning practice."
Panaccione later joined Cognitive Arts in Chicago. "I ran sales for that company and learned how technology can improve the sales function," he says, noting that he founded the company that would become LogicBay in 2003.
"We started the company with a focus on using technology to improve the performance of sales channels," he says. "That's what we've been focusing on ever since for the last 15-plus years."
Ready to Adapt
Now is a good time for LogicBay and its offerings, with the trend of Industry 4.0. "We started seeing the surge for the need for an Internet platform like ours prior to 2010," Panaccione says, noting that its software provides clients with savings on multiple fronts.
For example, "Our clients make more money because they're able to interact with channel partners and their end customers more efficiently," he says, adding that partners can also enjoy the benefits by reducing ramp up times to achieve revenue goals more quickly.
"Applying technology to workflows is clearly where you save money," he says. "But the icing on the cake for our customers, is their ability to generate new revenue by reaching a broader customer base seamlessly through their sales channel partners all within one technical infrastructure."
But even with these advantages, it can still be challenging to get companies who are set in their ways to adopt a technology solution. "In many cases, the status quo is easier. However, the real driving force at the end of the day is the customer," Panaccione says.
"As markets evolve, younger customers become decision makers," he says, noting that this is happening in every industry, particularly manufacturing. "They want to buy from organizations that provide the most useful insight and new ideas to solve problems they're facing. Oftentimes, the buyer wants to start at the source – the manufacturer – to gain these insights. This drives changes in roles between the manufacturer and its sales channel partners."
This has driven manufactures to accept the reality that they need to retool, Panaccione says. "Those companies that [do] win, and those that don't continue to struggle," he says.
Areas of Excellence
LogicBay provides support of six core business objectives to its clients, including recruiting and onboarding partners. For example, if a manufacturer wants to expand in a new region in Europe, "We use our technology and processes to enable the onboarding workflows that get those new partners up to speed quickly," Panaccione says.
Another area where LogicBay excels is in training and enabling. "We do a lot of very sophisticated training globally," Panaccione says. "Our technology allows our clients to deliver instructor-led, or web-based training to all their sales reps and service techs throughout the channel, with the ability to track completion rates."
It's important to deliver the right training to the right people, based on their job roles. "Training programs need to be polished and executed smoothly when you're talking about complicated machines," he says.
LogicBay assists customers when it comes to sales support and managing lead flow. "Buyer behavior in almost every industry has changed dramatically, whether it's buying a car or buying a book," Panaccione says. "In manufacturing, it's changed as well.
"When people have a need in the industrial space, they often start by doing their own research," he says, noting that this has been a huge shift for manufacturers, driving them to change how they sell to future end customers.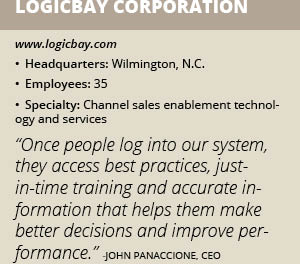 What LogicBay offers is a single source for all leads from all partners' sales companies. Its PRM system gives users "full access and insight into the lead pipeline at the partner level, while providing shared reporting and visibility," Panaccione says.
LogicBay also helps its clients with integrating systems. Through its technology, "We can define who should gain access to what IT systems on a granular level based on a person's job role and level of management responsibility," he says.
For example, "Mary, a service technician for a dealer in Mexico, should only see information related to addressing things that the manufacturer sells in that region," Panaccione says. "If necessary, and from a global perspective, the content can also appear in a region's native language.
"It all traces back to an effective, scalable system of record that's the secret sauce of our system," he says, noting that this defines the role of the employee and what type of information they need to see to do their job well.
"We aim to keep it simple when it comes to managing the technology chaos associated with those various systems by offering a Single Sign On solution," he says, noting that this is anchored back to LogicBay's system of record. "We have insights on who needs to access what systems on any given day, across many independently owned businesses that collectively define a manufacturer's sales channel. That's hard to do, but where we've focused."
LogicBay also provides information on end customers to its clients. "A customer profile tells what products they've purchased and what support they need to get the most out of the product," Panaccione explains.
"Defining those roles and keeping track of all of that is the basis of the system of record," he continues. "Once people access our environment, we know exactly who they are and what they need to do their job better. That's the cornerstone of what we do and how we do it."
Incentivizing Behavior
LogicBay assists its clients through the development of incentive programs. Because manufacturers sell through these independent entities, "You have to incentivize the activities that's going to make those partners do a better job selling your product instead of the competition's," Panaccione says.
The company manages these programs through the PRM, which is fully equipped to handle a wide variety of incentive requirements. "It can track both partner- and individual-level metrics – tied to sales and training objectives – to ensure effective incentive distribution," LogicBay says.
LogicBay helps clients through its ChannelStack™, by acting as a single, centralized repository for information that collects data and packages it in dashboards. "A sales manager who oversees five different dealerships would have a different dashboard that tells him what's going on and uses that to make management decisions," Panaccione says. "We push key, impact metrics to people."
Changing the Rules
Panaccione is proud of LogicBay. "We've got a culture of constantly testing new concepts and keeping our ear to the rail across over 14 years of working with leading manufacturers," he says.
Although it has been a "rollercoaster," he is excited for the future as more manufacturers become accepting of the fact that the industry is changing. "We provide a technology that facilitates that change," he continues. "Oftentimes, in the past, we were the lone voice saying, 'Take a look at these new approaches.'"
At the time, Panaccione says, their use was not universally accepted. "Now they are because end buyers of manufacturers' products are driving the need for change," he says. Manufacturers are realizing they have to change, much like the approach the Oakland Athletics baseball team took to recruiting, as depicted in the movie "Moneyball."
"Baseball teams existed forever, using the same old metrics that scouts would view, but then technology came to bear," he says. "If you're in manufacturing and you're trying to sell around the world, there's a new set of rules you've got to adopt. That's the exciting part right now – recognition that we've got to change our way of thinking."
Sidebar — Giving Insight
LogicBay will continue educating manufacturers about the rise of Industry 4.0. The company will soon host a three-part online seminar series, Industry 4.0: Insights for Sales Channel Leaders:
Sidebar — Avoiding Risks
Clients who have benefited from LogicBay Corp.'s technology include Daimler Trucks North America (DTNA), which was in the process of launching a new truck platform. This ultimately grew to comprise more than 60 percent of its revenue volume as it replaced older products. "It was a major risk and investment for the company," LogicBay says.
But DTNA, which had a dealer network of more than 450 locations and more than 2,500 salespeople, had the challenge of being ready with training, marketing materials and product information when the platform was announced. "Furthermore, once that material was delivered throughout the channel, DTNA needed to track the completion rates and results of those training initiatives through real-time dashboards," LogicBay says.
But LogicBay was able to meet that challenge. "[Our] solution effectively distributed the information about the new truck to the dealer salesforce on the public launch date," it says.
Sidebar — To the Rescue
Hyster-Yale Group (HYG), a global leader in lift trucks and material handling equipment, turned to LogicBay to help it create a technology solution that tied together a collection of internal systems. Its reach had grown rapidly and the reputation of its brands was high, but it faced a major challenge: dealers were having a hard time conducting their day-to-day business and needed improved efficiencies through their information systems.
"We were able to work with Hyster-Yale to break down the functional department silos that all communicated to the dealer network independently through various disjointed systems. Today, it's a seamless environment that the dealers access to get what they need quickly and efficiently to sell and service Hyster-Yale equipment," Panaccione adds.
The eventual solution consolidated many channels into one, while allowing HYG to keep track of a number of KPI important to monitoring the health of its global network of dealers. Through a tight integration with Salesforce.com, the ability for dealers to access the sales and marketing material it needed – in addition to parts and ordering systems – helped it simplify the process of servicing existing customers and bringing on new ones.