Lomar Machine and Tool Co.
Producing custom machines and tooling, with particular interest in fluid conveyance, to meet specialized challenges of customers representing a variety of industries worldwide has kept Lomar Machine and Tool Co. prospering for 40 years.
"Diversification of products, capabilities and a genuine interest in growing with our customers to ensure we can develop solutions for our most technologically advanced clients remains a key company goal," President Ronald Geisman points out. "As needs arise for new products and methods of manufacturing, we are very responsive and receptive to these requests. I am proud of Lomar's ability to take on new opportunities and remain a competitive leader in manufacturing.
Lomar Machine and Tool Co. serves the automotive, aerospace, appliance, agriculture, furniture, HVAC, hydraulics, medical and military industries. The company has five facilities with a combined total of more than 135,000 square feet of manufacturing and office space. Three facilities are in Horton, Mich., and the other two are in neighboring cities of Spring Arbor and Hanover, Mich. All the plants are within seven miles of one another.
Even with various additions to the existing buildings, rapid growth over the past several years has landlocked current operations and forced the company to begin plans for a sixth building. The newest plant will be constructed in Horton and will add approximately 30,000 square feet of space for assembly and office personnel.
"The additional space will allow our assembly department to become more efficient and able to take on a greater workload," Geisman acknowledges. "More room to set up manufacturing cells as they would be at the customers location will allow for a more realistic understanding of potential customer issues during our runoff phase."
A full spectrum of engineering services is offered by Lomar. The company's highly trained and experienced engineers are able to design in five different CAD programs. "Our ability to streamline and involve our engineers with each phase of a custom project is critical to ensuring our equipment is designed to best benefit our customer," Geisman boasts. "All sizes of projects are taken on by Lomar engineers, with the largest and most elaborate equipment taking months to engineer, fabricate, assemble and program."
The company has mechanical, electrical, hydraulic, pneumatic and tooling design engineers on staff. SolidWorks, KeyCreator and Cadkey are some of the CAD-based tools being utilized.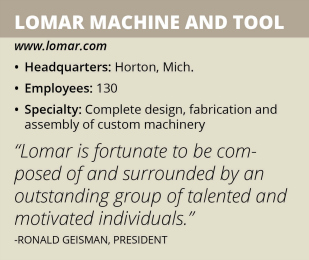 Since fall 2015, Lomar Machine and Tool has been upgrading its Mastercam software to the latest version that handles the transition from design software to machining programs. This also required upgrading the computer on which the software runs.
"Our operators are passionate about utilizing the software to its potential for our company and have exceled in each training opportunity," Geisman points out.
Prototyping of parts is also completed by the engineering team. "We frequently assist customers as they develop ideas for new or updated products," Geisman explains. "This has been essential in understanding potential issues while the idea is in the earliest stages."
Lomar's manufacturing capabilities include machine shop services such as CNC turning, milling and grinding, along with wire and plunge electrical discharge machining. Fabrication, welding and laser-cutting of sheet metal as well as powder-coating and liquid paint finishes are all completed in-house. The company is dedicated to investing in the most current equipment. Most recently, Lomar has purchased a vertical machining center and a twin-spindle lathe with a bar loader and live tooling to increase capacity. It also has replaced two used horizontal machining centers with that of a more efficient dual-pallet machine.
The company's incorporation of lean manufacturing techniques such as improved plant layout is ongoing. "In an effort to best utilize space and ensure our processes remain progressive, we frequently move people, product lines and cells around," Geisman says.
Technology Changing
The cutting-edge production equipment that Lomar Machine and Tool manufactures is durable and built to last. "We have a high production rotary end-former running roughly a five-second cycle 24/7," Geisman says. "Within weeks, it had hit millions of cycles." Some industries, automotive in particular, are able to retool or rebuild Lomar equipment for evolving products as their lines change.
"Lomar enjoys the challenge of advancing with each change in technology and customers' needs," Geisman says. "We often bring equipment back in to fit it with new and innovative electronics while rebuilding some of the worn components. In doing this, we are able to save our customers a great deal of time and money in capitalizing on faster cycle times and better control."
With the majority of Lomar's equipment custom-built, a strong culture of collaboration is essential throughout the company. Geisman attributes the company's success to "having a great work ethic present throughout the company. Lomar is fortunate to be composed of and surrounded by an outstanding group of talented and motivated individuals. As a team, we strive to deliver the highest standard in manufacturing and customer satisfaction."