Look after the customer, and the pounds will look after themselves; Fabulosa's growth through exports
Next, the world
In the last year, since Fabulosa first sat down with Manufacturing Today, the family-led company has diversified its product range and services in alignment with the world starting to return to normal. Born in March 2019, with a single product available in three scents – a 220ml concentrated disinfectant – the business has seen a meteoric rise to success. Today, it is the UK's number one privately-owned brand in the cleaning market, which is testament to the business' keen sense for innovation. James Sharpe, Co-Founder and Managing Director, explains how the end of the pandemic has triggered a big change at Fabulosa.
"From a market perspective, the last year has been as turbulent as you can imagine – between the war in Ukraine, government changes and the end of Brexit, it's been difficult to predict where things are going to go next. We've managed to diversify significantly into different markets, as we knew that when covid was coming to an end that the antibacterial sector was going to shrink. We've moved quite heavily into air care, task-specific cleaners and other products that we knew would survive the change back to normality, which has ultimately allowed us to maintain our growth for another year."
This period has also seen Fabulosa begin to flesh out its new factory and develop its processes with huge investments in new technology. For the last two years, consecutively, the company has spent over £2 million on new machinery and automation however it's had a waiting period to contend with, as James details: "We are still finalizing developments in the factory, meaning we're still only operating at around 50 percent of our plant's overall capacity. Regardless of this, after 15 long months, we are now in a situation where we are capable of producing the necessary formats at the speeds that we want, in order to meet the forthcoming increases in demand. We are running weekly analyses to understand where there is room for improvement, as we are always striving to utilize the best possible practices. But in all honesty, from a manufacturing point-of-view, I already feel like we need to start ordering more machines. It's a cycle, you get over the hump and then it's time to start again – that's just business though, we never stand still."
Growth & investment
A year ago, export sales didn't even account for one percent of Fabulosa's operations, but within the next 12 months its looking to make up around 30 percent of the entire business. James describes this jump as a 'positive worry' but cites the larger than expected volumes to be a challenge for any company making the leap into global exports. As he expands: "Even when speaking with competitors, with whom we share good relationships, the volumes required by the European market have staggered them. It puts a strain on the UK side of things that forces you to consider your priorities. We have pushed the export side really hard, to the point where we may not appear to be dealing with the biggest UK players, but that's true growth for us – how far can we get this brand across the world.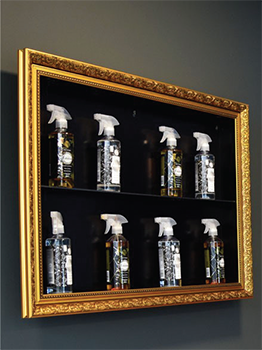 "In the last three months we have made significant strides in achieving our 'worldwide domination,' if you like," he continues. "We have gained retailers across Europe such as Carrefour, Action and Wibra and we already had Babou (B&M France) and we're close to closing with other retailers in Scandinavia, Australia and Africa. We already have in excess of 3000 stores across Europe, but we still don't know the overseas retail market like we do the UK's. For example, we know the sort of volumes we're looking at for a product in Home Bargains, one of the biggest players in the UK for the household category, with 550 stores. With Action, who're described as the Home Bargains of Europe, they have 2250! Their first order was for 320,000 units of cross wall products, which was the single biggest order we'd received in the company's history. The follow up, after the social media campaign's launch and the positive feedback we gained, quadrupled to 1.4 million units."
Following its pattern of growth and investments, Fabulosa has also recently consolidated its ecommerce presence by the launch of its new website – a step towards future-proofing the business. Post-analysis findings showed that the website's predecessor was losing the company sales, even at the point of checkout. It has chosen to move forwards with Shopify and employed a dedicated team to manage the platform, for which a stock-specific warehouse is currently under construction. Other than offering a potential path to breaking into the US, the new site offers customers a far more user-friendly and efficient way to search through and order products.
Company recognition
The future looks bright for the business, with James' vision for the next five years including expansion into as many new countries as possible – a feat with which Fabulosa is already flying. The industry has recognized the company multiple times this year, which James views as the visual milestones he never knew he needed. This year alone he has been awarded a much-coveted place on the Insider Media, North West 42 under 42 list and recognized with a UK finalist position in the EY Entrepreneur of the Year.
Fabulosa is a young company at the heart of things, and, despite its incredible rate of growth, it's still holistically grounded in terms of its ethics. As James concludes: "Our philosophy is to never exploit our customers, unlike lots of brands out there. Others change their prices when they go into different markets or abuse their brand power to take advantage of current market conditions but that's not where we're at. Where certain products have been difficult in a cost-pricing scenario, we have reduced their size to maintain the same price to fit in with peoples' weekly budgets. If you look after the customer, they will look after you and you'll gain the volume. We have maintained this philosophy, so people feel good about our brand."