Recast your mind
Founded on a century old pedigree of innovation, Lovink Technocast is bringing iron casting technology into the 21st century
One hundred per cent owned by Royal Lovink Industries (a 104 year old group of companies with its headquarters and main production facility in Terborg, The Netherlands) Lovink Technocast is a foundry that manufactures metal castings through three distinctive foundry processes: DISA technology and moulding lines, lost foam and hand moulding. The high quality products from all three of these distinctive casting processes find their way to a global customer base in different industries.
Given its long history in the market – Lovink Technocast was founded in 1911 – it is no surprise that the company has established a position as a world leader with an exceptional global reputation. As Alexander van den Hout (co-owner and managing director) explained, the company is known around the world for its quality, and also for the aesthetics of its products. "This has helped us to stay ahead because not every foundry can offer the options that we do," he added before going on to highlight one of the organisation's casting processes: "The lost foam method for example, gives us the ability to make spectacular and complex designs, which conventional casting processes would have to machine or assemble separately to achieve." Examples of lost foam castings include a turbo housing for a truck engine or a complex hydraulic component, with several internal oil passages. "I would say that lost foam gives the same freedom of design as 3D printing – where current technology does not allow us to actually undertake 3D print for larger products with metal economically," adds Dirk Jan van den Hout (co-owner and managing director). "Lost foam technology has all it needs to create high complexity castings at the right price and in batch sizes that are required by the customer. This strong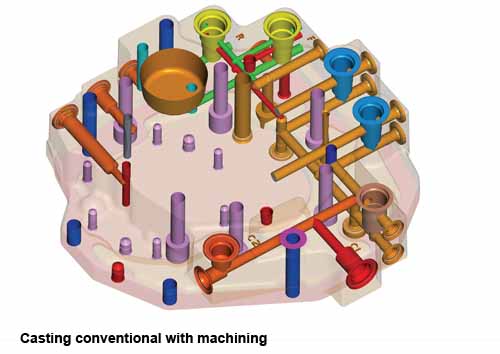 and unique value proposition enables us to create a competitive edge. It puts us in a unique position that makes it possible to run a foundry in Western Europe."
As the examples mentioned above indicate, the automotive and hydraulics industries are very important to Lovink Technocast, with the majority of its lost foam customers coming from Europe and the US. "We create very complex products for those markets," said Alexander. "We are able to take an old design that was made for a conventional casting processes with a lot of machining and assembly and, together with customers, redesign it using the lost foam process.
"In a process of co-creation with the customer we make it the best design possible. We support the customer in re-casting its mind and use the design freedom of lost foam technology to the full extent. Consequential benefits like lowest total cost of ownership and efficiency improvements in the product are passed on to the customer. The co-creation process between Lovink, the customer and possible other supply chain partners, allow all parties to improve their position on the market."
Lovink Technocast has been working with lost foam technology for decades. "During all these years we have been working on building up the knowledge and improving the process to the point that we are now. We are more or less leading from a knowledge point of view but it also means we can't buy in knowledge, we have to develop it ourselves," noted Dirk Jan. "As a result we have established strong relations with all of our key suppliers, and we depend on working closely together with companies such as Capital Refractories and Teubert Maschinenbau GmbH to improve our products and ourselves."
Lovink Technocast has also worked with its supplier DISA since the 1970s, using two of its Disamatic automated green sand moulding lines with vertical sand blocks/moulds. Products from the two Disamatic production lines are mainly sold to the machinery, automotive and materials handling industries. A particular product for which Lovink has created its own unique position in the world of high end cooking appliances is cast enamelled cooker grates and burnercaps. It may not be surprising that the partnership with DISA Industries remains strong. In April 2015 Lovink Technocast ordered a new DISA 270-A vertical moulding line. "The DISA partnership helps us to stay competitive long-term and increase our market share due to continuous implementation and improvement of new technology," said Alexander.
It is clear that while Lovink Technocast already prides itself on its innovative processes, it is constantly striving to improve and ensure it is at the forefront of the market. "We are currently in the middle of a large investment around this new machine and optimised processes," Dirk Jan said. "Our main focus is to make sure that we get the whole new process up and running and start using it. It will have quite a significant impact on this organisation and we have to make sure that both the company and our customers reap the benefits."
As Lovink Technocast moves forward towards the future, its dedication to embracing upcoming technology shows no signs of waning and Alexander concluded with some predictions of what could be on the horizon: "In the coming years I think we will see that it will become easier to incorporate robots into the production process, and integrate these with digital information from the rest of the facility.
"I believe there are interesting times ahead for the whole industry. We will not only continue using new technology, we will also need to focus on adapting our business models. Business models that enable us to create sustainable value and thus maintain our competitive position. In the coming years we will be focusing our efforts on making sure we are one of the companies that can make the step and be ready for the future."
Lovink Technocast BV
Products: Iron casting technology
Sites: One, The Netherlands