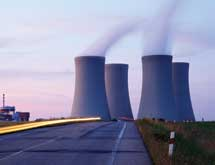 "Ludlum is committed to making the world a safer place to live and work by developing and manufacturing affordable, dependable and long-lasting measurement instrumentation," the Sweetwater, Texas-based company says. "[We have] developed radiation detection technologies and instruments in support of enhancing the safety of personnel and the environment. [We offer] one of the lar­gest lines of radiation detection in­strumentation available from any one company."
Serving Customers
Ludlum provides a plethora of products ranging from survey meters, general purpose meters, meter accessories and radiation detectors to sample counters, contamination systems, air monitors, emergency response kits, dosimeters and testing equipment. The company places a high emphasis on quality and innovation within its engineering department and can customize products to meet a customer's unique needs.
"LMI has significant investments in engineering to ensure [we sustain] a high level of competency and excellence within the organization," it says. "Many of the time-tested and field-proven designs are credited to LMI's engineering expertise in developing reliable instruments capable of withstanding rough-handling and harsh environments. In addition to our ever-widening product line, we also develop and manufacture custom designs and are willing to make modifications to single instruments to better suit the needs of our customers."
LMI provides repair and calibration services for not only its products, but also for those produced by its competitors. "It is not uncommon to still be supporting instruments shipped several decades previously or well past what most traditional instrument companies would deem reasonable," it says.
Continuous Growth
LMI has contributed significantly to the advancement of security along borders and seaports in recent years. It also has equipped first responders with tools that enable them to re­spond to emergencies where un­known harmful materials may be present. When an earthquake and tsunami struck Japan in early March, LMI ramped up its production to facilitate the needs of first responders and agencies assisting in the relief efforts.
Natural disasters and nuclear crises can occur at any time, regardless of economic conditions. As a result, LMI serves an industry that is, for the most part, recession-proof. Increasing political instability has created a stronger need for LMI's products and equipment, which has enabled the company to grow and expand despite the recession. LMI has made a number of strategic acquisitions to help meet customer demand.
A key testament to LMI's success is the fact that it has been around for more than 50 years and remains family owned and operated. All of Ludlum's children are part owners of LMI. Not all of LMI's employees are blood relatives, but they are still considered part of the family. Almost one-third of the staff has worked for the company for 20 years or more, it says.
LMI is committed to giving back to its community. Ludlum has served as a city commissioner, a member of the Sweet­water Chamber of Commerce Board of Directors, a member of the economic development board and an active member in his church. In 1986, he was selected as Sweetwater's Outstanding Citizen.
In 2001, LMI was recognized as the Business of the Year by the Sweetwater Chamber of Commerce; philanthropy was the main criterion for the award. Ludlum wrote a letter to his employees and co-workers thanking them for all they had done for the community through organizations such as Meals on Wheels, Lions Club, Kiwanis Club, Boy Scouts, Girl Scouts, Gateway Family Services and the United Way.