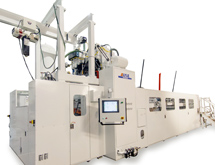 Founded in 1963, Lyle Industries thrives on producing machines that manufacture plastics. As a leader in the thermoforming industry, its equipment produces things such as plastic cups, plastic containers, plastic food trays and other plastic parts for many different industries.
A major end-product is plastic packaging for the food industry. "It's for the food you buy in grocery stores such as cookies, eggs, cakes, strawberries or blueberries," CEO David Schwartz explains.
The machines also manufacture to-go boxes, such as those for Subway sandwiches or TV dinner trays. Other applications for these machines are the production of barrier food containers, meat trays, medical trays, blister packs, deep draw cups, lids, dairy tubs, cosmetic packaging and display packaging.
Its machines are durable, Schwartz says, and this makes Lyle Industries successful. "Business is good," Schwartz says. "We just finished a good fiscal year and we've had a great start to the new year."
All Under One Roof
As a market leader in the manufacturing of thin-gauge thermoset equipment, Lyle Industries conducts 100 percent of its manufacturing under one roof in its rural northern Michigan facility.
The current company ownership has been in place since 1982. Lyle Industries maintains long-term relationships with customers and emphasizes quality verification of equipment and supplies for maximum quality.
Its biggest challenges are increasing health insurance costs and receiving materials on time. To meet these challenges, the company continues to grow and develop better relationships with suppliers and benefit providers, Schwartz says.
"We are always training and improving with our quality engineers," he says.
The industry has changed over the years, moving from hydraulic systems to PLC-based controls. The newest machines are more automated and easier to control. The current technology is also faster and less wasteful. It has recently released an improved controls system that has been very well received by customers.
"What our customers like the best about us is we are very flexible in our designs," Schwartz says. "We custom-produce to their specifications and our aftermarket support for the machines is top-notch. We are here for our customers 24/7. We have customers all over the world so if someone has issues or wants new parts in Taiwan on a Thursday night, we are here to support them."
In The Background
Lyle Industries designs and builds custom thermoformers and trim presses for roll-fed plastics and bottle trimmers for blow-molded plastics. From small production equipment to large production high-speed servo-driven machinery Lyle Industries leads the sector with the latest in cutting-edge technology.
Beyond the forming process, it provides the latest technologies, from in-line steel rule die trim solutions to high-speed match metal off-line trimming. It also works with third-party sources to incorporate the best automation and auxiliary equipment and processes.
"This is a 100-year-old business and there is not a lot unique about it," Schwartz says. "We are in the background. When people go get fast food, cookies or berries, they have no idea we made the machine for the containers. We are in the background building large equipment and machinery and no one knows we are here."
Great Future In Plastics
Lyle Industries' workforce is the key to its success. "We have a great engineering staff with some that have been here 20 years. Our entire workforce has an average of 15 years with the company," Schwartz says. "There are senior guys and plant floor workers families have been in the industry for generations."
The industry is growing at a fast pace so there is great demand for new workers including designers and technicians. Along with other area businesses in the plastics industry, the company is working with a Mid Michigan Community College to create vocational and degree programs in plastics manufacturing. Lyle has contributed nearly a million dollars toward national science education over the years.