Future focused
At the forefront of technological advancement, M Squared Lasers is on a mission to improve our world through the design and manufacture of advanced, laser-based photonics, quantum technologies, and related applications
Designing lasers and laser-based systems, components and instruments, through the use of advanced photonics technology, M Squared focuses on three core areas: quantum technology, which it views as the next generation of technology, lasers for chemical sensing applications, and biophotonics, which uses lasers to observe biological and neurological phenomena.
In particular, quantum technology is allowing M Squared to create newer, more advanced and previously unimaginable applications. Since it was previously featured in Manufacturing Today Europe in September 2016, the company has developed a quantum device to measure gravity.
This device can detect and measure atomic interference; a manifestation of wave-particle duality that matter can display when it is in a quantum state at temperatures slightly above absolutely zero, the quantum gravimeter brings unprecedented levels of precision to measurements of gravitational forces as well as the detection of gravitational fields of hidden objects.
The gravimeter, which uses the company's novel lasers, control and vacuum systems, was developed as part of a project known as ANAGRAM, co-funded by Innovate UK and part of the UK National Quantum Technologies Programme, with M Squared contributing laser engineering and system integration in collaboration with the University of Birmingham.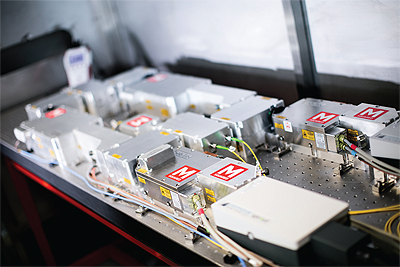 "When the initiative around quantum technologies was announced, this helped underpin our own technology strategy. We had already been enabling the global quantum technology community for a decade through the development of our SolsTiS laser platform, which had been helping scientists around the globe probe complex quantum systems. We also wanted to become a system integrator, so we were in a prime position to drive the commercialisation of quantum technology and specifically the gravimeter from within our business and to position ourselves at the cornerstone of a formative global supply chain," says Dr Nils Hempler, Head of Innovation at M Squared.
"We started off with a collaboration with the University of Birmingham, aligning ourselves critically with their hub, which is one of the four hubs in the quantum technologies programme. We began our journey in-house with hardware development more than two years ago, and demonstrated the quantum gravimeter for the first time in July 2017. Considering how complex the technology is, it was an incredibly fast turnaround and a great achievement," he adds.
Using quantum technology to bring unprecedented levels of precision to gravitational measurements and the detection of gravitational fields of hidden objects, the gravimeter is anticipated to bring a range of social, economic and environmental benefits in the coming years. Indeed, thanks to the gravimeter's results, quantum gravity is paving the way for new applications in sectors like the oil and gas market, where it will help detect new deposits and survey unknown underground infrastructures such as pipes and cables.
"Other sectors interested in the gravimeter include defence for both having the sensitivity to look into the ground and see exactly where to dig and also navigational purposes; if you imagine GPS is being tampered with and isn't available any more, quantum technologies and gravimeters can be used for this. The technology can also be used on submarines, planes, boats or trucks, anything that is to do with navigation and any sectors related to this. Civil engineering is another sector, as companies will be able to see what is under the ground before beginning building of a house, for example," explains Nils.
Continuing to discuss other notable developments that have taken place since September 2016, Nils comments: "We have also focused on the development of our 'Aurora' Airy Beam Light Sheet Microscope, which can observe biological material at a cellular level, so we can look at individual and larger groups of cells. This is a really exciting market and we hope that one day it will help lead to cures for neurological and regenerative brain diseases such as Alzheimer's and Dementia. Our work on the light sheet system was done in collaboration with the University of St Andrews and led to us opening a dedicated office in Surrey that now has a team focusing on commercialising next-generation light-sheet microscopes for medical applications. Our collaborative approach to projects drives technology forward and enables smaller, more agile companies like us compete with larger firms that are already established in certain markets."
With the European Commission planning to launch a one-billion-euro flagship initiative on quantum technology, which will put Europe at the forefront of the second quantum revolution, Nils sees major opportunities coming up in the near future: "We believe quantum technology has the potential to supersede digital electronics in the same way that digital electronics superseded analogue technology. We think we are on the brink of a major shift in how we live our lives and we are very much involved in this development."
Looking at the upcoming developments and opportunities for M Squared, Nils concludes: "Since September 2016, we have been very successful, growing to circa £15 million in revenue and achieving 48 per cent growth. This success has led to increasing our staff, with 20 scientists and commercial staff being added to our company, bringing us to 100 employees. This growth in size is part of our plan to become a truly scalable business; this is something we will continue to do over the years to come as we remain committed to improving our capabilities to ensure we are prepared for the future and always at the cutting edge of laser and electronics technologies."
M Squared Lasers
Products: Advanced laser platforms, lab instrumentation and novel photonics systems and applications