Lighting the way
M Squared is a photonics technology company and it's on a mission to harness the power of light to improve our world through the design and manufacture of advanced, laser-based photonics technologies and related applications
M Squared is at the forefront of technological advancement, with a wide range of applications and mix of customers around the globe. Chief executive officer and co-founder Dr Graeme Malcolm explained the core elements of the business: "We design lasers and laser-based instrumentation using cutting edge photonics technology. We focus our efforts in three main areas: quantum technology – which is really the future of electronics: we had analogue with valves, digital with computing and smart phones, and now quantum – the next big technological
breakthrough. We are at the point where quantum science allows us to enable newer, more advanced and previously unimaginable applications. We also focus on lasers for chemical sensing, using our lasers to detect chemical agents and their chemical composition – so looking for things like explosives or chemical warfare agents, or even for standard industrial chemicals, oil and gas, or food and drink. The final area is biophotonics, which is the use of lasers for healthcare applications. Our new form of microscope can observe biological material at a cellular level, so we can look at individual and larger groups of cells. For example, this enables neuroscience to see how neuron networks join up and further our understanding of how the brain works – we hope this will one day lead us to cures for diseases such as dementia and Alzheimer's. Those are our three key themes, but there is really a whole plethora of interesting applications being born from our technology."
One exceptional side to M Squared is its dedication to innovation and advanced manufacturing techniques, which Graeme explained: "We manufacture all our products in-house and really challenge ourselves to go further developing new techniques, using new materials and creating advanced software. One example of this combination of hardware and software is the development of a microscope system that is able to image large volume specimens (such as brain cells in neural networks) over long periods of time – this will really help scientists study what is happening to them. This new technology will have uses that range from developing greater understanding around neuroscience, as well as for cancer biology, or for pharmaceutical research."
Thanks to the hard work done at M Squared, it received a Queen's Award for Enterprise in Innovation this year, an achievement Graeme commented on: "It's real recognition for the team and great for the business. It was awarded for our SolsTiS laser platform– a toolkit that is helping scientists explore the quantum realm. It has been responsible for enabling the progress scientists are making in quantum and is already being used in the world's most accurate clocks, to teleport information, in antimatter experimentation and in the construction of 'ion-drives' (the next generation of space propulsion)."
The company works hard to continually improve and innovate, and in order to achieve this M Squared places a high priority on research and development, which Graeme highlighted: "We take a very open collaborative approach to innovation. We structure the business with an 80 per cent focus on making world-class products and 20 per cent on innovation. There are 25 members of staff focusing on research and development – currently we're running in the region of 25 collaborations on projects worth around 20 million pounds. Over the last five years we have collaborated with more than 70 different groups worldwide – places like Oxford, Cambridge, MIT, Stanford, Max Planck Institute in Germany, and University of Copenhagen. The work we do in this area will undoubtedly provide future growth for the business." M Squared also works hard to recruit new people into the industry by going to universities and giving talks, as well as conducting outreach work – this is to ensure that the next generation of specialists in laser technology is developed.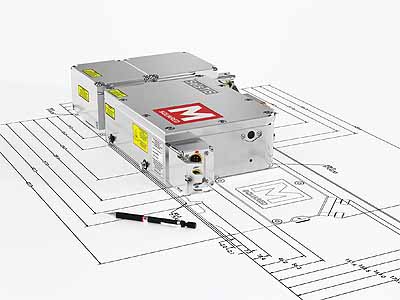 It is no wonder then that M Squared's products have extensive uses for highly technical research and day-to-day uses, and the position the company has in the market was something Graeme discussed: "We are seeing a growing demand in sensors, computing and communications – China has launched a satellite that has quantum key encryption in it, so these technologies are getting adapted and used rapidly. I think this is going to be like the digital revolution, like the semi-conductor was decades ago."
The business is ready for these upcoming developments, and Graeme explained that it is in a strong position: "Overall last year our revenue was about ten million pounds and typically we are doubling every couple of years. So we have a high rate of growth in the business and at the moment we have about 80-85 employees that are split between the UK, US and Germany where we have local offices."
M Squared has already reached the milestone of a decade in a fast moving industry, and the plan for the future is exciting, which Graeme provided a brief insight into: "The step-up is integrating laser systems and developing photonics technology. This is the big opportunity for us because it opens up areas where we can solve big problems." M Squared is without doubt a company that is forging the technology that will play a major role in the world, from the average person's laptop or phone, to amazing breakthroughs in international medical research.
M Squared Lasers
Products: Advanced laser platforms, lab instrumentation and novel photonics systems and applications