Poised for growth
Hard work in the past 24 months is paying off for M&A Pharmachem in 2018, as the Bolton-based manufacturer is increasing its production rates and targeting overseas markets
''Fing a genuine UK pharmaceutical manufacturer is a rare thing today," says Gerard Pessagno, Managing Director of M&A Pharmachem Ltd, "but we are just that, and this is our key unique selling point, because we manufacture all of our products in Bolton." The company, which celebrated its 40th anniversary in 2017, is widely regarded as a leader in the production of premium analgesics. It doubled its distribution figures to eight million packets per month last year, thanks largely to key strategic infrastructure investments, and strengthening the business relationships with all of its industry buyers.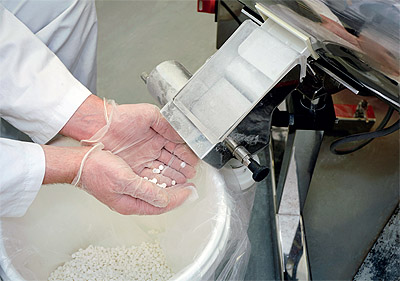 Boasting the largest granulation suite in Europe and the fastest tablet pressing machine on the continent, M&A Pharmachem added three new superfast state-of-the-art packaging lines in 2017, to magnify its production levels. "Our intention is to place further investment in our factory by adding even more packaging lines and pressing machines. This will increase our capacity and reduce our costs of goods, making us more competitive and profitable," Gerard reasons.
M&A Pharmachem is a trusted supplier of the NHS in all four home nations, delivering products worth £2.5 million per year for use in hospitals. The company also manufactures drugs for Boots, Lloyds, and Actavis, specialising in the lines of Paracetamol-containing medicines, as well as Aspirin, and more niche products, such as Gabapentin and two of its most recent additions, Codydramol 500/20 and 500/30. "We launched a total of ten new products in 2017, together with two branded generics, which not only increased our penetration and volume, but also offered the NHS a saving of 25 per cent versus the status quo," Gerard reports.
The market landscape has proven challenging for the company, given the fierce competition it faces from rival Indian suppliers. Gerard comments: "The majority of the UK market is served by Indian manufacturers, offering cheaper imports and lower labour costs. We manage to stay competitive, because of the continuous improvement in our manufacturing and packaging departments. As a result of being in complete control of these two processes, we retain the flexibility to react to market demands in an immediate fashion.
"Furthermore, we benefit from the uncertainty caused by Brexit at the moment. Historically, there have been no concerns over the Indian manufacturers' ability to deliver huge quantities to the UK market, however the insecure political situation has intensified concerns. If there is any doubt that one importer may not be able to continue supplying a customer, while there is a UK manufacturer of whose abilities clients can be certain, why would they not choose the latter," Gerard asks rhetorically.
In the year of its 40th anniversary, M&A Pharmachem received national exposure, when the organisation was invited to participate in a documentary, produced and broadcast by the BBC. Another highlight for the company was its selection to represent the pharmaceutical manufacturing sector at the 2017 Parliamentary Review. "It was a big accolade for us, which gave us access to both parliament, and key lawmakers in the Government," Gerard notes with satisfaction. Structural changes also marked the year. "We successfully split the M&A business from our sister company, CD Medical, which permitted us both to focus entirely on our core businesses."
M&A Pharmachem's display of enviable agility in its customer partnerships can also be cited as a reason for the increase of the business' volumes. "We challenged some of the large wholesalers in the UK to support us more, and take advantage of this by reducing their cash, tied up in stock holdings. Three of them agreed to do that, which resulted in us delivering a reduction of cash in their stock. This also helped us grow our volume by over 500 per cent in each of these accounts." Driven by the ambition to take the number of packets it distributes to up to 12 million per month, the manufacturer introduced a new tool to facilitate its planning activities. "It is a customer forecasting mechanism, which directly feeds into the amount of each pack that we manufacture. Continuing the strategy of gaining such forecasts is central to our goal to carry on manufacturing to order all of our products," Gerard remarks.
"We are proud to have grown our exports," he beams, "and we are expecting the business' export share to be worth around £1.5 million this year, as opposed to virtually zero last year." Evidently, M&A Pharmachem has drawn a clear-cut path to further develop its international inroads. The company is working on acquiring the necessary marketing authorisations that will allow it to trade in an ever-growing number of countries. Gerard hopes that the business will then make the most of obtaining the permits, and develop long-term relationships with one individual distributor in each country.
He insists that 2018 will be about "reaping what we have sown," expressing confidence that the decisions taken by the company in the past 24 months will come to fruition this year. "Investing in the factory, launching new products, and establishing solid relationships with our key customers, as well as the expected revenue increase from our export business, are all coming together to reinforce our position in the market."
Bringing our conversation to an end, Gerard reiterates that M&A Pharmachem's long-term objective is not merely to be a recognised supplier at home and abroad, but also to educate a larger number of customers of the benefits of 'buying British', and encourage them to support English products manufactured by English workers.
M&A Pharmachem Ltd
Services: Manufacturing analgesics