Big changes have been afoot for Chandler, Ariz.-based MAAX Spas. The hot tub manufacturer doubled its size in less than two years with marketshare gains and a major acquisition. As MAAX Spas navigates its way through this significant expansion, running a tight ship is more important than ever, especially in an industry packed with over 50 competitors.
"We have some competitors who make beautiful hot tubs," President John Johnson notes. "I'm really proud of the industry because it's come a long way in the last 10 years." According to Johnson, there is a high level of consistency and quality in products across the board in this category, which means there are many companies worth competing with. "It's not necessarily a challenge for us; it's more of an opportunity," he adds. "If our competition gets better and raises the bar, then that's a great opportunity for us to challenge ourselves in the expanding market.
"Our main challenge over the last 18 months has been the acquisition and growth of the company," Johnson continues. In December 2014, MAAX Spas bought L.A. Spas in a multimillion-dollar purchase, adding it to the company's large portfolio of brands that includes MAAX Collection, California Cooperage, Elite Spas, PowerPool and Vita Spa. Vita Spa was acquired in 2009. Following the most recent acquisition, L.A. Spas' operations were completely consolidated into the company's 100,000-square-foot facility in Chandler, making MAAX Spas one of the largest hot tub and swim spa manufacturers in North America. Consequently, the number of employees jumped from 125 to 240.
Efficient Manufacturing
To stay ahead in this industry, the hot tub manufacturer remains focused on continuous improvement. Because the products are tremendously labor intensive, MAAX Spas pays special attention to important details on the production floor that can greatly impact production levels, such as reducing walking distances, scrap and cycle times.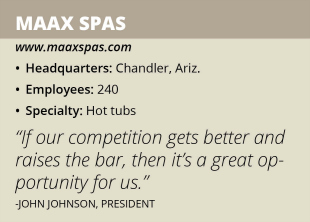 Inventory management is key for MAAX Spas. Prior to 2004, the company employed a batch-and-cue method in which inventory was based on set levels. Since then, the manufacturer has converted approximately 90 percent of its raw materials to a kanban system. Johnson credits this change of practice for helping the company better control inventory and reduce disruption during the manufacturing process. "We're building over 90 different products, and if you look at all the different options, we have over 100,000 SKU potentials we could produce here," he explains. "Managing inventory to make sure you don't run out of a specific widget becomes critical. If you have 100 people working on the manufacturing floor, and you run out of a widget, then you're sending 100 people home and not satisfying your customer." For MAAX Spas, managing stock levels means improved inventory turns, reduced overall dollars associated with raw materials and improved working capital gains. Most significantly, it allows the company to produce the product how and when its needed.
Quality Leader
MAAX has been around since 1969, when it opened as Modern Fiberglass and Metal. Through the years, the business gradually diversified into the production of fiberglass bathtubs and showers, changing its name to MAAX in 1987 and then entering the Spa category in 1997. Today, MAAX Spas is one of the world's leading spa manufacturers.
"Built to the MAAX" is a term used by the company to describe its high-quality standards. In addition to superior materials and components, MAAX hot tubs are manufactured to appliance-grade standards. This means the spas are made to the same safety and service standards as other home appliances. Some spa frames are also made of steel, rather than wood, impeding decay and pests.
One key feature among MAAX's line of hot tubs is the Northern Exposure® insulation system, a unique thermal barrier technology that recycles the free heat energy for more efficient heating and lower energy costs for the customer. The complete exterior of each spa, including floor and cover, is lined with layers of reflective copper material; higher-end models also include 3M™ Thinsulate™ insulation. This three-layer exterior cover is an advantageous alternative to the spray foam insulation found inside most hot tubs.
By wrapping all the insulation around the exterior, rather than insulating the inside, the space inside the hot tub is empty and easier to access for any possible maintenance later on, and the hot tub can be reset to its original factory settings. "If you have to remove foam and then put it back in, you never get back the same insulation value you had originally," Johnson explains. "To be able to deliver that lifetime experience of enjoyment to the end-consumer is really what we're most proud of."