MAC Equipment strives to continuously improve its product lines and spends significant time, money and effort on product development – a distinctive quality that sets it apart from its competitors, Vice President of Operations Ernie Iznaga says.
"Typically, most companies will take a year or more to develop a new product," he says. "MAC has done an ex­ceptional job fine tuning its '3P' (production-preparation-process) product development process and can perform the rapid prototyping of new products very quickly.
"Using lean manufacturing and 3P principles, we can get a small group of experts together, come up with a conceptual design and create a working model in our manufacturing plants in the span of a week," Iznaga says. "During a week-long 3P event, we can make several real models, test them and make sure the tests met or exceed our performance expectations. The 3P process coupled with our vertically integrated manufacturing approach provides MAC with a tremendous competitive advantage."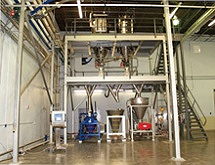 Its latest innovation, a low-profile air filtration system called the Space­Saver, was developed using 3P. With about a dozen in-house experts, the company was able to quickly design a prototype. "In one week, we went from a blank sheet of paper to a working prototype model," he says. "Since then, we've gone through two or three design improvements and enhanced the unit's performance. We're doing some beta testing now and the performance results have been terrific."
The company, based in Kansas City, Mo., specializes in custom engineering and manufacturing of pneumatic conveying and dust collection systems, and offers solutions to air filtration and material management challenges for process industries including food, petrochemical and agriculture. Founded in 1969, it has plants in Sabetha, Kan., and Houston, as well as an office in Cincinnati.
In the next several months, the company plans to introduce new products for the petrochemical and sugar markets. "MAC and our parent company, Clyde Process Solutions, have a diverse portfolio of products serving a variety of industries," he says. "We are developing product lines that in some cases will revolutionize material handling and provide unprecedented safety and reliability to clients in those industries."
Exceeding Expectations
MAC's new product lines were developed with input from employees, suppliers and customers. "The customer didn't tell us how to design it, but we wanted to have their voice in the design," Iznaga explains.
Establishing long-term relationships with its customers is important, he adds. "I think MAC does a great job of getting close to customers and [producing] custom-engineered solutions to fit that customer," he says. "We are not making widgets; we are making highly engineered solutions to solve specific problems. We take every opportunity to spend time in the field working alongside customers to understand the problems they see."
The current economic conditions, however, have been challenging for the firm. "We feel the pain along with our customers," Iznaga says. "It is a capital-intensive business. Clients may have to delay orders because they've been affected by the economy. However, we've been able to stay close to the customer during these times and when they do place orders, they place them with us." Staying diversified has helped the firm during the weak economy. "We work in a variety of industries, so when one market like construction is down, [the rest are doing well]," he says. "Food and agriculture have been stable. We've benefitted from that diversification strategy."
MAC is part of UK-based Clyde Process Solutions – which provides global material handling solutions – and Iznaga believes the partnership will help it along its path of diversification. "When the economy turns around, we'll be very well-positioned, even better than today," he says.
Focused on Lean
In January 2009, MAC started going lean. "MAC has a stra­tegy to continuously improve the way we design and manufacture our pro­ducts," Iznaga says. "Every eight weeks, we have kaizen events at the plants and select areas and different processes to improve. The shop employees are happy to see the improvements and often request kaizen events in their work areas. Many of them have been through lean training and understand the philosophies. In fact, many of the kaizen improvement ideas come from our factory workers. Our shop folks are truly outstanding."
The company also implemented processes such as Relentless Root Cause Analysis and "poka-yoke," commonly known as mistake-proofing. "Using kaizen, we try to put Mistake proofing into processes so the operator doesn't just check quality through inspection but also builds quality into the process itself," he says. "In this way we have fewer defects, if any, by the time the product is ready to be shipped to the customer."
Iznaga describes the lean transition as a "challenging but phenomenal success. In Houston, we've im­p­roved productivity by more than 30 percent and reduced the square footage required for production by well over 25 percent. In Sabetha, we've improved productivity, shop cleanliness and organization, and we've introduced new services for customers, such as a rapid rebuild program for air locks. [We] expanded our ability to machine valves to extremely close tolerances."