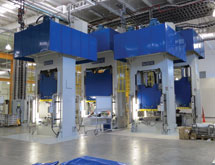 Macrodyne Technologies Inc.
Macrodyne Technologies Inc. may not be the largest firm in its industry, but the company sees its modest size as an advantage, President Andrew Kirk says. "We're small enough to be cost effective and responsive to customers," he explains. "When they need something, they need it now."
Based in Concord, Ontario, Macrodyne produces hydraulic presses, press lines and die-handling equipment. Kirk co-founded the company in 1989 after working in the hydraulic press industry for many years.
When the opportunity came to start his own business, Kirk and his partners leaped at the chance and initially provided consulting and design services. However, "After a few years, we realized there was an opportunity to [manufacture the equipment] ourselves," he recalls.
In 2001, Macrodyne built its current facility, which was designed specifically for building very large hydraulic presses and features a heavy-lifting capability that enables it to better service and support the equipment it manufactures. Today, "We're probably the largest Canadian hydraulic press manufacturer," Kirk says, noting that a brick-and-mortar location fits well in Macrodyne's industry. "People actually want to see that you have the ability to build large equipment in-house. Though it would be possible to have subcontractors provide the facilities, it would be inefficient and fraught with risk."
Macrodyne services many sectors, including the automotive industry. Its clients include Tower International and Magna International Inc., for which it provides stamping presses and presses for automotive interiors.
"We supply presses for a wide variety of metal forming," Kirk says, but asserts that Macrodyne's skills are not just limited to metal. "We supply presses for many other areas, including wood, rubber, plastics or compaction presses for refractory brick."
He also praises the company's engineering group. "We have a lot of experience in-house," he says, adding that Macrodyne also supplies "completely automated press lines, which are not that common among press builders in North America. We have developed considerable expertise in automation integration, which sets us apart from our domestic competitors who primarily provide standalone presses."
Ready for Revivals
During the most recent downturn in the automotive industry, Macrodyne's automotive work decreased because of the economy. "That took a good chunk out of our manufacturing [business]," he recalls.
But with the company's versatility, it coped by switching its concentration to other markets. "When automotive was down, we were building presses for the forging and aerospace industries," he recalls.
Fortunately, the automotive sector is seeing a comeback. "Sales are growing again, [but] we're still doing a lot of work in the other industries," he says, noting that the appliance market also was hit strongly during the recession. "We're hoping they [too] will revive."
Doing It All
Kirk is proud of Macrodyne's team. With its staff of 40, "We're relatively small compared to [some competitors]," he says. But despite its modest size, it still focuses on taking on "the larger, complex projects," he says.
The company manages this by providing training that prepares its workers for many different types of design and manufacturing work, including mechanical, electrical and hydraulic aspects. This meets the needs of customers that are looking for turnkey suppliers. "Nowadays, companies want a supplier that can provide everything from start to finish," he says.
A Great Group
Kirk also praises the work of Macrodyne's machine suppliers. "Macrodyne utilizes state-of-the-art hydraulic technology from all of the world-leading manufacturers of hydraulic components, including Bosch Rexroth," he says.
"Our expertise utilizing hydraulic technology from multiple partners further enhances our flexibility to offer a solution to our customers that is truly the best option for their specific application requirements," he says.
Its suppliers also meet the ISO standards Macrodyne follows, Kirk says. Through careful relationship building, "We've developed a strategic group of suppliers that we have worked with for many, many years," he says.
Kirk predicts that Macrodyne will grow to take on even bigger, more complex projects. "The future of the business is obviously larger and more competitive projects," he says, noting that the company wants to be better known worldwide.
After nearly a quarter century, Macrodyne has completed work in Brazil, Mexico, Ireland and mainland Europe, and plans on expanding.
"We're a relatively small fish," Kirk says. "We've got to open [ourselves] up to the rest of the world."